Online Loans in Louisiana
Line of credit limitsup to $1,500*
Head to our Rates & Terms page to learn more.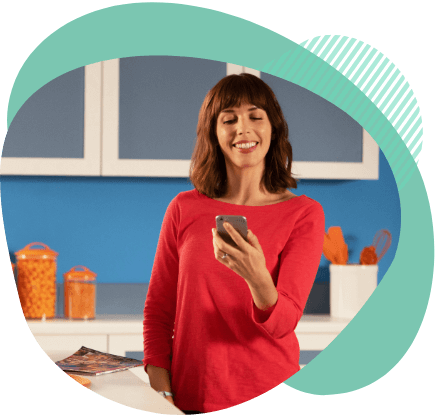 Same-Day Deposit Available
If approved before 1:30 p.m. CT Monday – Friday†
Instant Decision*
Receive an immediate decision

Get a line of credit in Louisiana from CashNetUSA.
When you're in need of fast cash for emergency expenses, you often don't have time to do it all in person. You need the money quickly and reliably — without having to visit an in-store lender, stand in line, fill out paperwork and then wait for a decision.
That's why CashNetUSA offers an online line of credit with a streamlined application process. You can complete our online application in minutes and get an instant decision.* If you're approved for a line of credit, you can draw funds and may get them deposited to your bank account as soon as the same business day if you're approved before 1:30 p.m. CT Monday - Friday.†
Because it's a line of credit, your available credit is replenished as you repay. So you can take another draw when you need more funds — without having to reapply.
How does a line of credit compare to a Louisiana payday loan?
CashNetUSA offers Louisiana residents lines of credit with credit limits ranging from $100 to $3,000. Most customers are approved for up to $1,500. This is considerably more than what is allowed by state law for payday loans, which are short-term loans for just a few hundred dollars.
A CashNetUSA line of credit is a form of revolving credit with regularly scheduled minimum payments based on credit usage. Payday loans are typically repaid immediately upon the borrower's next payday.
Louisiana Payday Loan vs. CashNetUSA's Line of Credit
Louisiana payday loan1
Funding amount
Up to $350
APR
Average of 405%
Fee
Finance charge may not exceed 16.75% of the face amount of the loan
Repayment
Maximum loan term of 30 days with no rollovers
CashNetUSA's line of credit2
Funding amount
$100 - $3,000
APR
299%
Fee
15% transaction fee for each draw
Repayment
Revolving credit with regular billing periods
How do I apply for a line of credit with CashNetUSA?
Apply online in minutes.

Receive an instant decision.* If more information is required, you may need to send in additional documents like paystubs or other proof of income.

If approved, receive a credit limit and draw money from your line of credit. You can draw as many times as you want, whenever you want, up to your available credit limit (minimum $50 draw).

Request a draw before 1:30 p.m. CT Monday – Friday, and you will generally receive funds that same business day.

Repay gradually over time or in full. Every billing cycle, you will have a minimum payment. You can pay more with no penalty in order to repay more quickly.

Increase your available credit as you repay, freeing up funds to draw, up to your credit limit.

Draw from your available credit whenever you need funds.

Requirements to apply for a line of credit with CashNetUSA.
You must meet the following requirements in order to be eligible for a line of credit from CashNetUSA.
18 or older

Verifiable, steady source of income
Active checking account
U.S. citizen or permanent resident
Learn more about online loans in Louisiana.
There are several loan products available online in the state of Louisiana. Some of the most popular include the following:
Payday loans. A payday loan — which may be referred to as a cash advance or a cash loan — is a form of short-term funding where the due date is typically the borrower's next payday. Because of how quickly payment is due, these loans can be challenging to repay on time.
Payday loans in Louisiana come with amounts up to $350 and a maximum term of 30 days. In addition to payday loans you can get from check-cashing businesses and other store locations, online payday loans are also available in Louisiana.
Installment loans. Installment loans are a form of longer-term funding than a payday loan. Because installment loans are repaid over a longer period of time, they tend to have larger loan amounts. Installment loans in Louisiana are typically for a few thousand dollars, depending on the applicant's creditworthiness.
Line of credit. A line of credit is a type of revolving credit, which means the borrower can use it on an ongoing basis so long as they have available credit. Lines of credit typically offer amounts similar to installment loans, but unlike a term loan, the amount replenishes itself as the borrower repays. That way they can access funds whenever an emergency expense arises, without having to reapply.
Title loans. An online title loan is a form of secured funding in which you use the title for your vehicle as collateral. Once the loan is repaid, you'll get the title for your vehicle back. However, if you're unable to repay the loan, the lender may take possession of your vehicle. There is no maximum loan amount of a car title loan in Louisiana, however there is a $350 minimum amount.
Lines of credit and credit cards have some similarities in that they're both forms of revolving credit. While a credit card allows a borrower to pay for things directly with credit, a line of credit issues funds to the borrower's bank account. A debit card can then be used to pay for purchases similar to how a credit card would be used.
Make sure you have a solid understanding of the interest rates and repayment requirements for each type of financing before taking out either form of credit. It's wise to read the loan agreement and disclosures carefully before taking on any kind of consumer financing.
Payday loans in New Orleans can come from brick-and-mortar lenders or from online payday lenders. Many Louisianans prefer the ease and convenience of filling out an online form to apply from wherever they want — no matter if they're in New Orleans, Baton Rouge, Shreveport, Monroe or beyond.
CashNetUSA is an online direct lender, however we do not offer payday loans. Our line of credit can be used to cover similar financial needs while giving borrowers more flexibility.
When you see loans with "no credit check," what it typically means is there is no hard credit inquiry or "pull." However, most lenders will do some form of credit check or at least identity verification when you apply for a loan.