New Orleans Payday Loans
Lines of creditup to $1,500*
Head to our Rates & Terms page to learn more.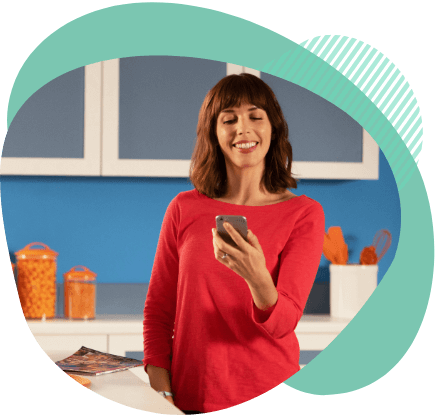 Same-Day Deposit Available
If approved before 1:30 p.m. CT Monday – Friday†
Instant Decision*
Receive an immediate decision
Find an alternative to payday loans in New Orleans.
If you need fast cash, you may find yourself considering a payday loan. You can get a payday loan for up to $350 in New Orleans and throughout Louisiana. The laws are regulated by the state — which caps payday loans at a lower amount than many other states.
If you're in a pinch and need more cash to cover your expenses, a line of credit from CashNetUSA may be a good alternative to a payday loan. If approved, you can be offered a credit limit between $100 and $3,000 — new customers typically receive a credit limit of up to $1,500.
Apply now for a line of credit from CashNetUSA.

What's the difference between a line of credit and a payday loan?
A payday loan is a short-term loan that provides an upfront payment of cash. In Louisiana, the most you can borrow through a payday loan is $350 and you'll typically need to repay the loan within a few weeks (or the borrower's next payday).
A line of credit works similarly to a credit card. If approved you'll get access to a revolving line of credit that you can draw funds from as you need them. In New Orleans, CashNetUSA offers lines of credit from $100 to $3,000. A line of credit will also stay open, meaning you'll have access to the funds you need as long as you've not reached your credit limit.
What are the potential risks of a payday loan?
Payday loans can offer borrowers access to cash fast, but they also often come with risk. Because they're offered to borrowers with bad credit, they typically have high interest rates. Plus, they usually need to be paid in full in just a few weeks. This combination can create a large payment amount that the borrower may not be able to cover.
If a borrower can't repay, they can extend the loan, but this means they'll be charged more interest and potentially more fees.
Another type of funding may be a better option. A line of credit or installment loan allows borrowers to pay back the loan in smaller chunks over time. This means smaller payments that may be easier to fit into a budget.
New Orleans Payday Loan vs. CashNetUSA's Line of Credit
New Orleans payday loan1
Funding amount
Up to $350
APR
Average of 405%
Repayment
Pay in full within 30 days
Additional funding
Reapply to borrow more
CashNetUSA's line of credit2
Funding amount
$100 - $3,000
APR
299%
Repayment
Option to make minimum payments over time or repay in full
Additional funding
Draw from available credit without reapplying
1Based on information from Pew Charitable Trusts. Actual terms may vary based on applicant's qualifications.

How does a CashNetUSA line of credit work?
Apply online in just a few minutes.

Receive an instant decision.* You may need to send in additional documents like paystubs or other proof of income if more information is required to make a lending decision.

If approved, receive a credit limit and draw money from your line of credit. There's a minimum draw of $50. You can draw as many times as you want, whenever you want, up to your available credit limit.

Request a draw before 1:30 p.m. CT Monday – Friday, and you will generally receive funds that same business day.

Repay gradually over time or in full. Pay the minimum payment every billing cycle, or pay more with no penalty and repay faster.

Increase your available credit as you repay, you'll free up funds to draw again, up to your credit limit.

Draw from your available credit whenever you need funds.

Learn more about payday loans in New Orleans, LA.
Tulane Cash Advance
4059 Tulane Ave.
New Orleans, LA 70119
Louisiana Cash Advance
2100 N Claiborne Ave.
New Orleans, LA 70116
Cash Cow
3147 Gentilly Blvd
STE #6
New Orleans, LA 70122
ACE Cash Express
4638 Washington Ave
New Orleans, LA 70125
Advance America
2093 Caton St.
New Orleans, LA 70122
Yes, most payday loan companies will require you to have a bank account to receive a loan. This is true for most personal loans you apply for. If you don't have a bank account, you may be able to research and find a lender willing to work with you. One alternative may be a pawn shop loan.
A pawn shop loan usually offers small-dollar amounts. You'll give the shop an item of value and they will lend you a percentage of the value of the item. If you don't return to pay the loan back, the pawn shop will keep your item and sell it to recoup their funds.
You can find alternatives to payday loans or other bad credit loans in New Orleans and Louisiana with online research. When looking for a loan, consider your financial needs and what the best option is for you.
CashNetUSA's line of credit. A CashNetUSA line of credit may be a good option if you need more credit or if you want to have ongoing access to cash in case of emergencies.
Installment loans. A personal installment loan offers a lump sum payment that you'll pay back over time. They are often online loans, but you can also find them offered in stores.
Title loans. A title loan offers you cash up front and uses your vehicle as collateral. You must own your vehicle outright. When considering a title loan, keep in mind that if you default on the loan, the lender may seize and sell your car to recoup losses.
Ask for help. Before considering a loan, you may want to evaluate other options. Loans for borrowers with bad credit often come with high interest rates and can be expensive. And while they can provide much-needed funds, they must be paid back with interest that will add to your debt. Consider asking a friend or family member for help, or talk to your employer to see if you can get a paycheck advance. If borrowing turns out to be the best solution, be sure to carefully research lenders and evaluate your loan options before applying.
Most payday lenders will not run a credit check with any of the major credit reporting bureaus when considering your loan application, so you may be approved even with bad credit. Your lender may however perform some other financial checks or an alternative credit check to determine eligibility.
Most payday lenders don't report your credit application or repayment history to the major credit bureaus, so your on-time repayment won't boost your score. But beware of default — these lenders can send your debt to collections, which will negatively impact your credit history.
In New Orleans, if you default on your loan, lenders may also start charging you additional interest. This can be up to 36% in the first year and 18% in the second year.