Online Loans in Tennessee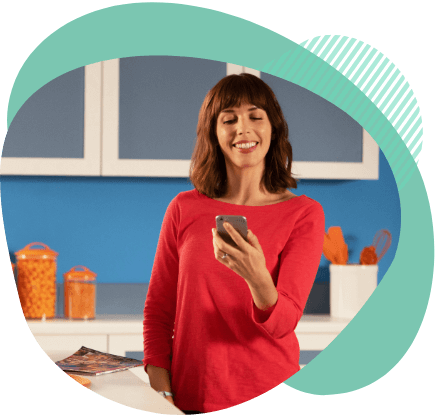 Same-Day Deposit Available
If approved before 1:30 p.m. CT Monday – Friday†
Instant Decision*
Receive an immediate decision
Get an online flex loan in Tennessee from CashNetUSA.
Online loans are designed to streamline the borrowing experience, giving qualified applicants in Tennessee quick and easy access to cash. You complete the application online and, if approved, receive your funds electronically — they're typically deposited straight into your bank account.
In Tennessee, online loans include flex loans, installment loans, lines of credit, payday loans, title loans and more. CashNetUSA offers online flex loans, a form of open-ended credit, statewide.
CashNetUSA's Tennessee Flex Loan provides up to $1,850 for qualified borrowers. To start, complete the application online — it only takes a few minutes. You'll receive an instant lending decision* and, if approved, get funds as soon as the same business day if you request a draw before 1:30 p.m. CT Monday through Friday.†
CashNetUSA Online Flex Loan vs. Tennessee Online Payday Loan
CashNetUSA Flex Loan
Funding amount
Up to $1,850 credit limit
APR
275.85%
Repayment
Option to make minimum payments over time or repay in full
Additional funding
Draw from available credit without reapplying
Tennessee payday loan1
Funding amount
Up to $425
APR
Average of 460%
Repayment
Pay in full — 7 to 31 days
Additional funding
Reapply to borrow more
1Based on information from Pew Charitable Trusts. Actual loan terms may vary based on applicant's qualifications.

How an online Tennessee flex loan from CashNetUSA works.
Apply online — it takes less than five minutes.

Receive an instant lending decision.* Know immediately if your application was approved or denied.

If approved, draw money from your flex loan. You can draw as many times as you want within your credit limit.

Get same-business-day funding when you draw before 1 p.m. CT Monday – Friday.†

Repay over time or in full. Make minimum payments each billing cycle or pay in full with no penalty.

Replenish your available credit as you repay, freeing up funds to draw in the future.

Continue to draw from your available credit whenever you need funds.
Make sure you're eligible to apply.
You must meet the following requirements in order to be eligible for funding from CashNetUSA.
18 or older

Verifiable, steady source of income
Active checking account
U.S. citizen or permanent resident
Learn more about online loans in Tennessee.
Flex loans were introduced in Tennessee in 2015 by the Flexible Credit Act. They're available online and through brick-and-mortar lenders.

Tennessee flex loans are a type of personal loan that provide access to a revolving line of credit. Within your credit limit, you can borrow what you need, when you need it. As you repay, you replenish your available credit, allowing you to borrow for future needs.

The maximum credit limit for a Tennessee flex loan is $4,000. They can be secured or unsecured. Unlike other types of loans, they can be repaid in full without a prepayment penalty, as established by law.
Line of credit
An online line of credit is a form of revolving credit that allows you to borrow up to a certain limit and tap the funds as you wish. You only pay interest and fees on what you borrow. A Tennessee flex loan is one type of line of credit. Other types of lines of credit that can be found online include those secured by home equity or vehicle titles, which are called home equity and title lines of credit.
Installment loan
Online installment loans are a common type of personal loan that provide a lump sum of cash that you repay through regular installments. It's often used for one-time costs such as emergency home or auto repairs or debt consolidation. In Tennessee, qualified borrowers may be able to receive up to $10,000 or more in funding.
Title loans
With an online title loan, you pledge your vehicle as collateral for a personal loan. Because they're secured, online title loans can be helpful if you have an urgent financial need and don't qualify for other types of credit. However, if you default, the lender may take possession of your vehicle. In Tennessee, title loans are limited to $2,500 by law.
Payday loans
Online payday loans — also called "check advance loans" — give you a cash advance on your paycheck to help you cover immediate financial needs. Repayment is due in full at the end of the loan term — typically seven to 31 days. In Tennessee, payday loans are capped at $500 by law, but funding amounts rarely exceed $425. Lenders can charge no more than 15% in interest and fees on the value of the loan, but if borrowing is repeated, this can result in an APR of over 400%. Tennessee consumer protections also limit borrowers to no more than three payday loans at one time.
In Tennessee, borrowers with bad credit have several options for online loans. These include:
Online flex loans
Online lines of credit
Online title loans
Online payday loans
Because a low credit score signals a risk to lenders, online loans for bad credit usually come with high interest rates. Always research your options to find the best rates for your credit profile. Also consider options that don't involve borrowing from a lender, such as asking family or friends for help, selling unwanted items or picking up side work to boost income.
CashNetUSA offers online flex loans statewide in Tennessee. Designed to help borrowers with less-than-perfect credit meet emergency financial needs, our flex loan can be used as an alternative to payday loans. It's available throughout the state including the following cities:
Borrowers in Tennessee who wish to file a complaint about their online loan should first attempt to address the problem with their lender. If working with the lender doesn't resolve the issue, borrowers should consider filing a complaint with the Tennessee Department of Financial Institutions.
Tennessee Department of Financial Institutions
Tennessee Tower 26th Floor
312 Rosa L. Parks Avenue
Nashville, TN 37243