Online Loans in Missouri
Line of credit limitsup to $2,000*
Head to our Rates & Terms page to learn more.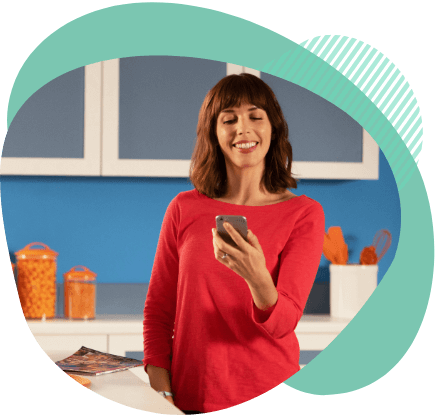 Same-Day Deposit Available
If approved before 1:30 p.m. CT Monday – Friday†
Instant Decision*
Receive an immediate decision

Get a line of credit in Missouri from CashNetUSA.
Emergency expenses seem to happen at the most inconvenient times. And while you can't always prepare for an emergency — you can prepare for how to handle them.
With a line of credit from CashNetUSA, you can access hundreds of dollars to cover urgent financial needs.
You can complete our application process in just minutes. If approved, you will receive a credit limit. That's the amount of money you can borrow from. When you need cash, just request a draw. Funds will then be deposited into your bank account — as soon as the same business day if you request the draw before 1:30 p.m. CT Monday - Friday.†
As you repay what you borrowed, your available credit will be replenished. So the next time a financial emergency comes, you don't need to reapply. You can simply request another draw.
How does a line of credit compare to a Missouri payday loan?
Payday loans are a common way that Missouri residents handle emergency expenses. Personal lines of credit are also good for that purpose, and many people find them to be a more flexible way to borrow money.
A payday loan (or what may also be known as a cash advance) is a short-term loan designed to be repaid upon the borrower's next payday. They are available from in-store check cashing businesses and other brick-and-mortar store locations, or as online payday loans from online lenders.
Payday loans in Missouri have a maximum loan amount of $500, while lines of credit can offer much more. While the interest rate for both products can be high (depending on your application information), the average annual percentage rate for a payday loan in Missouri is higher than the APR for CashNetUSA's line of credit.
Check out the table below to see the details of how the two loan products compare.
Missouri Payday Loan vs. CashNetUSA's Line of Credit
Missouri payday loan1
Funding amount
Up to $500
APR
Average of 377%
Fee
Interest and fees may not exceed 75% of the principal loan amount
Repayment
Loan term of 14 - 31 days with up to six rollovers allowed
CashNetUSA's line of credit2
Funding amount
$550 - $2,800
APR
325%
Fee
No additional fees
Repayment
Revolving credit with billing periods that may be bi-weekly, semi-monthly or monthly depending on borrower's pay schedule
How does a CashNetUSA line of credit work?
Apply online in minutes.

Receive an instant decision.* If more information is required, you may need to send in additional documents like paystubs or other proof of income.

If approved, receive a credit limit and draw money from your line of credit. You can draw as many times as you want, whenever you want, up to your available credit limit (minimum $50 draw).

Request a draw before 1:30 p.m. CT Monday – Friday, and you will generally receive funds that same business day.

Repay gradually over time or in full. Every billing cycle, you will have a minimum payment. You can pay more with no penalty in order to repay more quickly.

Increase your available credit as you repay, freeing up funds to draw, up to your credit limit.

Draw from your available credit whenever you need funds.

Requirements to apply for a line of credit with CashNetUSA.
You must meet the following requirements in order to be eligible for a line of credit from CashNetUSA.
18 or older

Verifiable, steady source of income
Active checking account
U.S. citizen or permanent resident
Learn more about online loans in Missouri.
There are a handful of different personal loans available online in the state of Missouri, including:
Payday loans. Payday loans can provide cash to people when they need it most, but they are known to be a very expensive form of credit. State law places a cap on interest and fees for a Missouri payday loan at 75% of the principal loan balance (and any subsequent renewals).
The payment period for a payday loan is very short (the due date is typically the borrower's next payday) and the loan must be repaid in full. Because of this, some borrowers are forced to extend the loan (also called a "rollover"), which increases the cost of borrowing.
Installment loans. Online installment loans are a longer-term loan option than short-term payday loans. These loans also usually have higher dollar amounts. Missouri installment loans must have a payment schedule consisting of at least four equal installments over a period no less than 120 days.
Line of credit. Lines of credit are a more flexible form of funding than term loans such as payday loans or installment loans. With a line of credit, you receive a credit limit up to a specific amount of money. From that amount, you can draw funds to your checking account where they can be used as cash. As you repay, your available credit replenishes to be drawn from again — no need to reapply.
Title loans. A title loan is a type of secured funding in which the title of your vehicle is used as collateral. The amount you can get with a title loan varies, but can be influenced by the value of the vehicle. This is one option for a person in need of emergency funding, but they may lose their vehicle if they default on the loan.
There are plenty of options available if you're looking for payday loans in St. Louis. Brick-and-mortar businesses are typically what people think of initially, but it's becoming more common to get loans online.
CashNetUSA is a direct lender that's been providing online loans since 2004. We do not offer payday loans, but our line of credit makes for a great payday loan alternative.
If you're looking for payday loans in Kansas City, you can drive to a physical financial institution, stand in line, fill out paperwork and wait for a decision. Or you can apply online for a payday loan alternative from CashNetUSA. Our line of credit is great for covering the same type of expenses payday loans are used for.
A line of credit is similar to a credit card because they are both types of revolving credit. That means the amount that can be used by the borrower replenishes as the credit is repaid. One of the main differences between a credit card and line of credit is that lines of credit deposit funds to your bank account that can be used as cash or with a debit card. A credit card uses credit directly to pay for purchases.
It's important to understand the repayment processes for each type of financing before utilizing either form of credit. Be sure to read your loan agreement and all disclosures before you accept any credit offers.
Usually if you see loans with "no credit check," being advertised, it means there is no hard credit inquiry with the major credit bureaus. Most lenders will do some form of credit check when you apply for a loan. Some lenders (such as CashNetUSA) conduct an alternative credit check.
If you ever have questions or concerns about your loan — or complaints about a state-licensed lender in Missouri, you can contact the Missouri Division of Finance.
Address: Truman State Office Building, Room 630, Jefferson City, MO 65102
Phone: 573.751.3242
Fax: 573.751.9192
URL: https://finance.mo.gov/