Payday Loans in St. Louis
Lines of creditup to $2,000*
Head to our Rates & Terms page to learn more.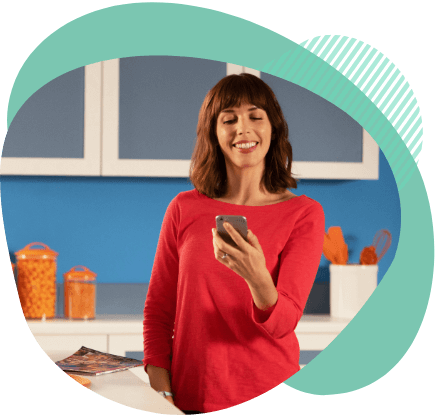 Same-Day Deposit Available
If approved before 1:30 p.m. CT Monday – Friday†
Instant Decision*
Receive an immediate decision
Get a payday loan alternative in St. Louis, MO
Payday loans are available in St. Louis, Missouri and can be found in-store and online. These short-term loans are also referred to as cash loans or cash advance loans. They can be used for emergency expenses or other instances where cash is needed fast.
Payday loans are designed to be repaid on your next payday. State law limits term length to 14 to 31 days. In Missouri, the most you can borrow through a payday loan is $500.
CashNetUSA offers Missouri residents a line of credit as a payday loan alternative. If approved, you can receive a credit limit of $550 to $2,800. Most customers receive about $2,000.
With a line of credit, you don't need to reapply when you need more funds. You can draw from your available credit limit, and you'll only be charged interest and fees on the amount you borrowed.
Apply now for a line of credit in St. Louis, MO.

St. Louis Payday Loan vs. CashNetUSA's Line of Credit
St. Louis payday loan1
Funding amount
Up to $500
APR
Average of 377%
Repayment
Pay in full — 14 - 31 days
Additional funding
Reapply to borrow more
CashNetUSA's line of credit2
Funding amount
$550 - $2,800
APR
325%
Repayment
Option to make minimum payments over time or repay in full
Additional funding
Draw from available credit without reapplying
1Based on information from Pew Charitable Trusts. Actual terms may vary based on applicant's qualifications.
Learn more about payday loans in St. Louis, MO.
According to Missouri law, amounts for a payday loan cannot exceed $500. No minimum rate is specified.
While payday loans provide quick cash, that speed comes with a cost — high interest rates. In St. Louis, the average APR for a payday loan is 377%.
Payday loans typically must be repaid in full at once, which is usually just a couple of weeks. Borrowers may not have the full amount, which can lead them to extend the unsecured loan. In Missouri, payday loans can be rolled over up to six times, which creates opportunities to increase debt.
Other borrowing options, like lines of credit and installment loans, can help borrowers meet their financial needs and allow them to repay their debt in smaller amounts over longer periods of time.
In St. Louis, some brick-and-mortar payday lenders include:
Alltru Credit Union
1407 Washington Ave.
St. Louis, MO 63103
Missouri Payday Loans
709 N Tucker Blvd.
St. Louis, MO 63101
Check `n Go
1415 N Grand Blvd.
St. Louis, MO 63106
Lemay Loans
838 Lemay Ferry Rd.
St. Louis, MO 63125
ACE Cash Express
6528 Manchester Ave.
St. Louis, MO 63139
Yes, it's required to have an active checking account. Some local stores may ask for a post-dated check, but more lenders are opting for online payments, which are quicker and easier than check cashing. These online loans require a checking account to authorize an automatic debit for repayment.
Missouri borrowers can get a $500 maximum loan amount. Other Missouri state laws regarding payday loans include:
The loan repayment period is 14 to 31 days.
Borrowers are limited to six rollovers.
Borrowers may only have one outstanding loan at a time.
There are credit services, money management programs and other resources in St. Louis. Contact the following financial services for assistance:
Justine Petersen
1023 North Grand Boulevard
St. Louis, MO 63106
314.53.2411
Operation HOPE
1200 Market Street, Suite 120
St. Louis, MO 63103
314.613.3196
LifeWise STL
1321 South Eleventh Street
St. Louis, MO 63104
314.421.0400
Most payday loan providers do not run traditional credit checks as part of their loan application process. They don't disclose borrowing history to credit reporting companies, either. So, having what may be considered a "bad credit score" may not prevent you from receiving a loan.
However, if borrowers do not repay their loan, there are two ways their credit score can be affected.
The first is if their lender sells the loan debt to a debt collector. The debt collector may report the debt to a credit reporting company, which could hurt the borrower's credit score. The second is if the loan provider wins a lawsuit against the borrower to collect unpaid debt. The court case information may appear on a credit report and lower credit scores.
Line of credit. Lines of credit give you access to credit that you can use when you need it. You can borrow up to your credit limit or only draw a portion, and you only pay interest and fees on the amount you borrow.
Installment loan. With an installment loan, you receive an amount of money up front and pay it back over a set period of time, along with interest and fees. The installment loan minimum is $500 in the state of Missouri. State law specifies that installment loans must be repayable in at least four equal installments, and the repayment period must be at least 120 days.
Title loan. A title loan lets you use your car as collateral in exchange for funds. Just know that if you default, your lender may repossess your vehicle. Using a mobile home as collateral is prohibited in Missouri.