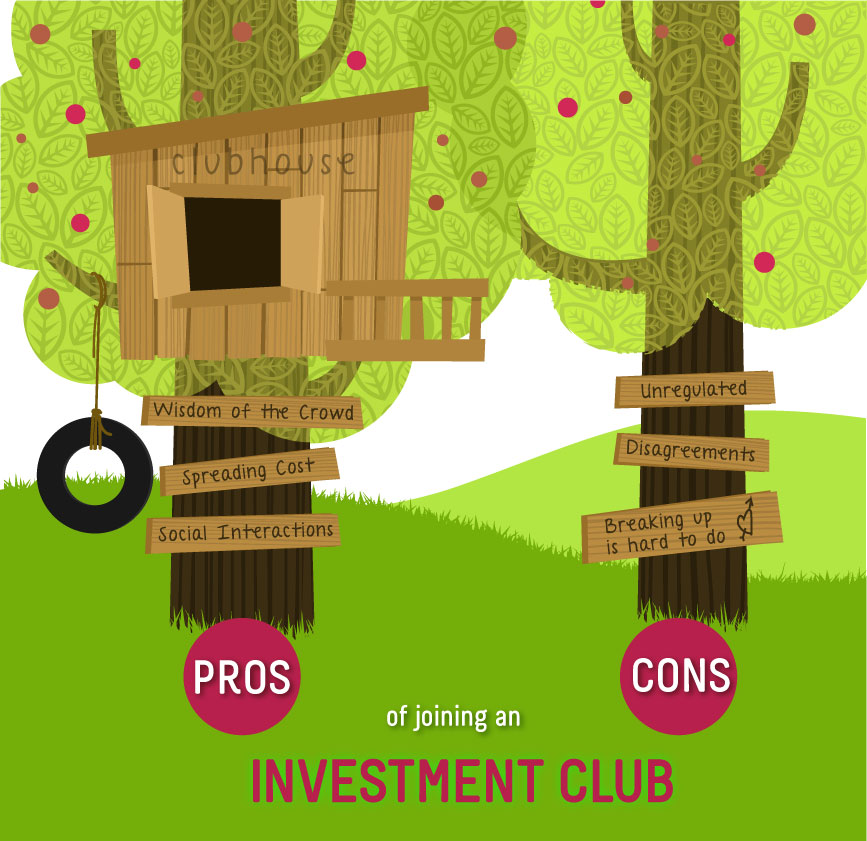 Individual investing is as much a national pastime in America as watching football or barbequing on the fourth of July. That being said, since everyone has to start somewhere, a place people sometimes look to first is an investment club. I joined one as a young adult and found the experience to have some pros and cons worth sharing:
Benefits of Joining an Investment Club
Wisdom of the Crowd – What better way to learn about something than by shared experiences and ideas? I had gone into the club knowing a bit about stocks and researching the financials of companies, but I didn't know much about more complex strategies like using stock options. I learned quite a few different things about investing that I hadn't experienced previously.
Spreading Costs – It was nice to be able to spread trading costs across several people instead of paying the full costs myself. Even though trading costs have dropped with many online brokerages lately, the costs still add up for frequent traders.
Social Interactions – We actually used to enjoy our meetings quite a bit. We'd enjoy some food and drink together while going through investment ideas and agendas. To this day, I'm still friends with two of the other participants.
Downsides of Joining an Investment Club
Unregulated – You have to have a very high degree of trust with the people you're getting into the club with. Not only could someone run off with the money, but also you have to worry about whether people will adhere to the club rules.
Disagreements – Democracy is great when you're in the majority! But if you disagree with the direction the club is headed, you may be stuck participating in trades or going in a direction with your money that you disagree with.
Breaking Up is Hard to Do – Jokes aside, it is very complex to wind down an investment club. This is especially challenging if only one person wants to leave. The problem is, throughout the experience, as stocks are bought and sold, there are tax liabilities. It becomes difficult to figure out who owes which taxes, and who shares which portions of the profits without some very rigid and complex rules up front.
After several more years of investing and watching after leaving the investment club, I've been of the opinion the primary focus should be on proper diversification and reducing fees (decreased or avoiding trading expenses and the lowest annual expense ratios you can find) since most people can't beat the market to make up for fees.
The information in this article is provided for education and informational purposes only, without any express or implied warranty of any kind, including warranties of accuracy, completeness or fitness for any particular purpose. The information in this article is not intended to be and does not constitute financial or any other advice. The information in this article is general in nature and is not specific to you the user or anyone else.
Comments