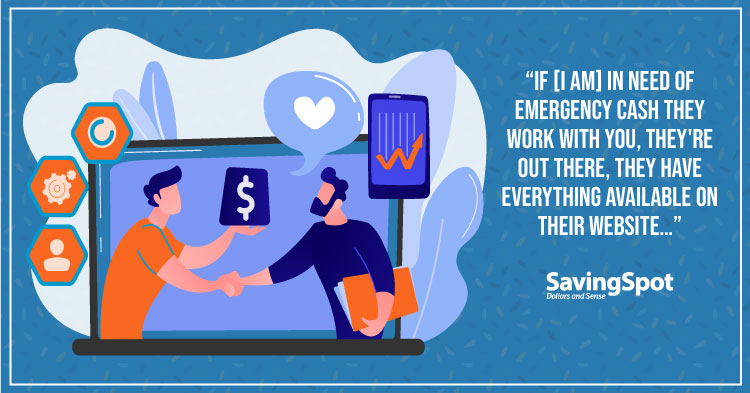 Relief for Unexpected Expenses: A CashNetUSA Success Story
Disclaimer: Customer was compensated for sharing their experience
Trudy, a hardworking single mom, was balancing two jobs to make ends meet. For a time, she was doing pretty well for herself and her two kids — her regular school bus route plus her part-time job at a nursing home covered what she needed to support her family. But then Trudy got sick and that regular income was compromised.
Overwhelmed with medical bills on top of her regularly monthly bills, Trudy needed help. Read on to see how Trudy used CashNetUSA to help find the financial relief she needed to make it through trying times.
Trudy Faces Unexpected Financial Hardship
"I just was in a really bad spot, and I had been looking for a payday loan or a lender that would work with me, and I came across CashNet[USA], and it was really simple, it was easy, they didn't want a lot of information. It didn't seem like they were gonna drag you down the street and charge you outrageous things.
So I applied, I got approved, and then things got worse, and I missed a couple of payments and got behind, and finally got caught up with them, and then I stopped loaning with them…
I found them not too long ago again, and I thought, "Oh well, I don't know if I would still be a good customer being… It took [me] so long to pay back… so I updated all my information and one of the representatives got a hold of me and they said, "Yeah, you can come back as a customer."
Times were tough for Trudy and they got even tougher. CashNetUSA understands that things happen that are out of our control and offers payment arrangements to eligible customers to help get them through tough times.
A Streamlined Process Paired With the Right Support 
"I did it all online. I had talked to representatives. And they train their employees good. They can answer 50 million questions, whatever you throw at them…They are very knowledgeable. I have never ever had one be snippy or short or anything. They've all been very courteous. And they actually ought to teach some of these other people that are out there."
As soon as Trudy got the funds, she put them to use, providing the relief she was after. When she had questions, CashNetUSA was able to navigate her to a solution that worked.

Trudy Takes Control of Her Finances
 "I had a bill that was nagging me, and I just wanted to get it paid off and I could get it taken care of, and they wouldn't be slapping more extreme interest on me… so I just figured with this [CashNetUSA Line of Credit] I could get it taken care of and all that interest didn't add up.
I was able to get the other thing paid off that had the extreme high interest. And it saved me about $300 that year. It was a department store card. And at the time I could only pay the bare minimum, but the bare minimum was basically charging interest right back to it twice. And I only owed $300 or $400 on it, but I couldn't get more paid up because I'd been in the hospital. So it was nice to get it all paid off, and then with CashNetUSA, I was able to kinda weed it through that time frame and a little better interest, and didn't bite into my pocket book some more."
Trudy felt like she was running in place with her department store credit card. She was empowered to take control of her finances with her CashNetUSA line of credit and stays up-to-date on what is available to her.
Budgeting and Balance: Finding Your Way Back To Stability
 "Take control of your finances. Watch what you spend. If you have to go talk to somebody that can help you budget or gets you to financial freedom, do it. Sit down and take notes. Write it down if you have to. Make goals and make sure you have something or a back-up plan.
If [I am] in need of an emergency cash they work with you, they're out there, they have everything available on their website… It's not the blind leading the blind. There's plenty of reviews on the website that shows you what kinda customer service they throw out there. And like I said, I've shopped around and as far as I'm concerned, they're number one."
Trudy was able to breathe easy knowing CashNetUSA is available and ready to help in the future. Her line of credit gives her the safety net she needs for peace of mind while she focuses on budgeting and taking the next steps towards financial stability.
Thank you to Trudy for sharing your journey with us and showing how a CashNetUSA loan can help bridge the gap during trying financial times. If you'd like to read more customer experiences, visit our success story page.