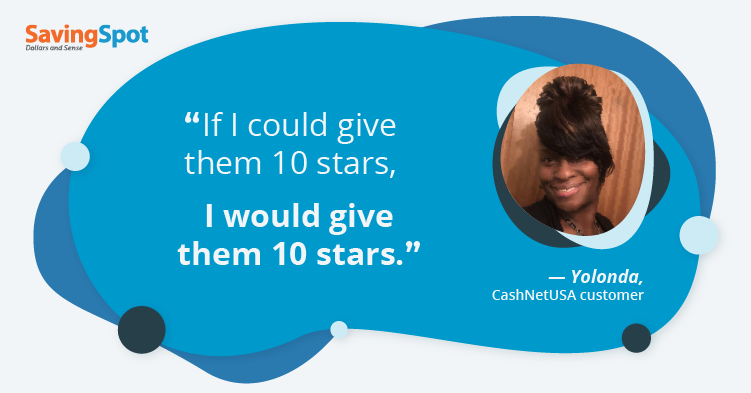 Securing Financial Help to Pay Bills: A CashNetUSA Success Story Video
Disclaimer: Customers were compensated for sharing their experiences. Content edited for clarity.
Yoloanda is a busy mom with a successful career of nearly 20 years. After her husband experienced a loss of income, she looked for financial assistance to help cover bills and support her family. Read how Yoloanda got back on her feet with CashNetUSA funding.
Yoloanda Carefully Monitors Her Credit
"I have myself set up to receive notifications for any credit [activity], like if my credit score go[es] up or […] down. That way, I know what to work on to make sure it stays up and [does] not go down. […] That way, I can kind of build my credit up to where I want it to be 'cause I do want to be a homeowner here soon."
Yolonda knows that credit health is one of the most important factors in her overall financial wellbeing. If your credit score is low, making on-time payments and keeping your credit utilization ratio low are two of the best ways to improve it over time. Learn more about the factors that affect your credit score.
When the Unexpected Happened, She Needed a Way to Make Ends Meet
"[My husband] ended up losing his job, so we got behind in our mortgage. […] Bills had [gotten] backed up. I needed the money to get us afloat."
Losing a job is never easy, but is sometimes unavoidable. For help finding employment and assistance in your area, head to SpringFour. You can also check out Steady to earn money through part-time opportunities.
Yoloanda Secured a Fast Financial Solution
"I chose CashNet[USA] because the amount that they were providing me was closer to what I needed. […] I like to deal with you guys 'cause everything is [online]."
If you're in need of fast funding to help pay for unexpected bills until your next paycheck, apply online with CashNetUSA.
She Appreciated the Convenient Repayment Options
"[With automatic repayment,] money is coming directly out the account, which I loved. I just make sure […] it matched my payday."
You can make repayment easier by completing an ACH authorization to allow direct payments from your bank account before your bill is due. CashNetUSA customers can also make payments online or using the convenient mobile app.
CashNetUSA Is Here To Help You Improve Your Finances
"My experience with CashNet[USA] has been awesome. […] I also liked the little [Upswing] perks that you guys have now where if you pay consecutively on time, it'll lower your APR. The emails I would get had educational things in it.
I do feel like I'm in control of my finances now. I would definitely go back to CashNet[USA] if I needed to. […] If I could give them 10 stars, I would give them 10 stars."
At CashNetUSA, you're more than just a credit score. We're here to help you move forward financially with free resources, useful budgeting tools and more.