Payday Loans in Columbia, SC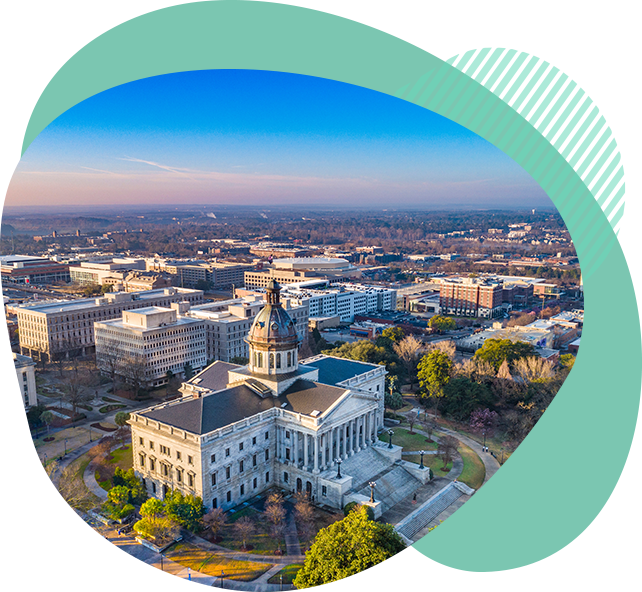 A line of credit could be a better option for you.
CashNetUSA offers lines of creditup to $1,600*
Head to our Rates & Terms page to learn more.
Same-Day Deposit Available
If approved before 1:30 p.m. CT Monday – Friday†
Instant Decision*
Receive an immediate decision
Payday Loan Alternatives in Columbia
Payday loans are a financial solution that many people in South Carolina rely on to cover emergency expenses. They're designed to be repaid quickly — generally on the borrower's next payday. Payday loans are an expensive form of borrowing, however, and many people who use them end up unable to repay on time.
That's why CashNetUSA offers a line of credit in South Carolina as an alternative to payday loans. It's a more flexible borrowing option that lets you keep funds available for when you need them most — and only pay interest on what you use.
With a line of credit from CashNetUSA, approved new customers could receive a credit limit of up to $1,600. From that amount, they can draw funds to their bank account to use as cash. As they repay, the amount they have available replenishes to use again in the future.
How do Columbia payday loans work?
With Columbia, South Carolina payday loans, borrowers receive a loan in exchange for a check. The check is made out to the in-store lender for the loan amount, plus a fee. The lender then gives the borrower cash for the amount of the check, minus the amount of the fee. For instance, a lending company that charges a 15% loan fee would need a check for $115 to issue a $100 cash loan.
On a predetermined date (generally the borrower's next payday), the lender then cashes the check with the borrower's bank. Because of how these loans work, you may also hear payday loans referred to as cash loans, cash advances or payday advances.
Payday Loans in Columbia, SC vs. CashNetUSA's Line of Credit
South Carolina payday loan1
Funding amount
Up to $550
APR
Average of 393%
Fee
Maximum fee of 15% of principal amount of the transaction
Repayment
Repaid up to a maximum of 31 days
CashNetUSA's line of credit*
Funding amount
Up to $1,600*
APR
229% - 325%
Fee
No additional fees
Repayment
Revolving credit with billing periods that may be bi-weekly, semi-monthly or monthly depending on borrower's pay schedule
Ready to apply for a line of credit with CashNetUSA?
If you want a simple loan application for fast cash without going to the local store, get started with CashNetUSA!
What can I expect from CashNetUSA?
CashNetUSA is a leading provider of installment loans and lines of credit in several states throughout the country. Our mission is to provide hardworking people with the access to credit they deserve.
Proven Track Record
As part of the public company Enova (NYSE:ENVA), we've helped more than 4 million customers over our 15+ years in business.
Data Security
Your privacy is our top priority. We keep your information safe with a network protected by TrustedSite®.
Customer Support
If you ever need help, our U.S.-based customer service team is here seven days a week to answer any questions.
Learn more about payday loans in Columbia, South Carolina.
When people need short-term loans in Columbia, they have a variety of check-cashing loan companies that can cover some of their financial needs.
Check `n Go
7358 Two Notch Rd. Ste A
Columbia, SC 29223
North American Title Loans
7007 Parklane Rd.
Columbia, SC 29223
Advance America
7535-A Garners Ferry Rd.
Columbia, SC 29209
ACE Cash Express
1520 Broad River Rd.
Columbia, SC 29210
Auto Money
3320 N. Main St.
Columbia, SC 29203
Check Into Cash
741 John C Calhoun Dr.
Orangeburg, SC 29115
Keep in mind, CashNetUSA is not affiliated with any of these businesses and offers this information as a resource, not a recommendation. CashNetUSA is a direct lender in South Carolina, and allows Columbia residents to apply for and repay lines of credit without having to go to a physical location.
If someone has bad credit or a less-than-perfect credit score, it's understandable that they'd want to know if applying for a loan will affect their credit. For South Carolina online credit, CashNetUSA conducts an alternative credit check, which will not affect your FICO® credit score.
You'll commonly need to meet the following requirements to apply for any type of personal loan in South Carolina:
Active checking account.
Driver's license or State ID.
Social Security number.
Phone number.
Proof of income.