Payday Loans in Shreveport, LA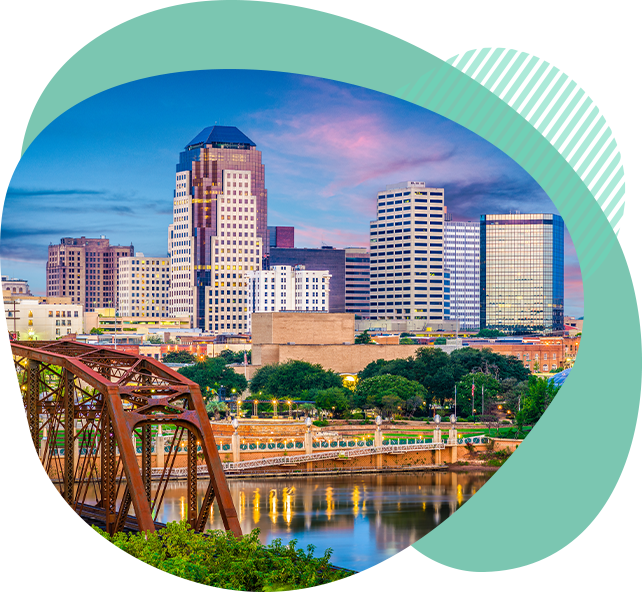 Consider a line of credit instead.
CashNetUSA offers lines of creditup to $1,500*
Head to our Rates & Terms page to learn more.
Same-Day Deposit Available
If approved before 1:30 p.m. CT Monday – Friday†
Instant Decision*
Receive an immediate decision

Payday loans in Shreveport.
Payday loans in Shreveport, and throughout Louisiana, can offer quick cash in emergencies for borrowers who don't have perfect credit. You can receive up to $350 and find lenders online and in-store.
Payday loans are often considered a risky form of borrowing because they have a short repayment term (30 days or less), high interest rates and typically need to be repaid all at once — which can make it difficult for borrowers to cover the full amount on the due date. Louisiana doesn't allow rollovers unless the borrower pays 25% of the loan plus fees.
Exploring alternatives to payday loans in Shreveport.
Borrowers with less-than-perfect credit might have other loan options available. Louisiana residents can apply for a line of credit through CashNetUSA that can provide access to more funds and flexible repayment options compared to payday loans.
A line of credit is a form of revolving credit that provides access to funds up to a certain limit. If approved, you'll receive a credit limit that you can borrow from. You can borrow the full amount or just a portion — you'll only pay interest on the amount you borrow. As you pay off the balance, the funds will become available for you to borrow again, which means there's no need to reapply the next time you need cash.
Compare Shreveport payday loans to CashNetUSA's line of credit.
Shreveport payday loan1
Funding amount
Up to $350
APR
Average of 405%
Repayment
Pay in full within 30 days
Additional funding
Reapply to borrow more
CashNetUSA's line of credit*
Funding amount
Up to $1,500*
APR
229% - 299%
Repayment
Option to make minimum payments over time or repay in full
Additional funding
Draw from available credit without reapplying
1Based on information from Pew Charitable Trusts. Actual loan terms may vary based on applicant's qualifications.

How a line of credit from CashNetUSA helped others in Louisiana.
See how CashNetUSA helped Dan when an unexpected expense caught him off guard.
It was one bill and then it would cascade into another…it's mainly just trying to make sure that we have enough room to survive before the next payday. [My] needs were met through CashNetUSA versus some of the other places.
Why Dan chose CashNetUSA.
Online application, accessible 24/7
Transparent loan terms
Learn more about payday loans in Shreveport.
Shreveport Cash Advance
5616 Hearne Ave.
Shreveport, LA 71108
ACE Cash Express
3802 Jewella Ave.
Shreveport, LA 71109
Cash Cow
2712 W 70th St. Suite D
Shreveport, LA 71108
Advance America
6730 Pines Rd. #202
Shreveport, LA 71129
Ready Cash Advance
9073 Mansfield Rd.
Shreveport, LA 71118
Keep in mind, CashNetUSA is not affiliated with any of these businesses and offers this information as a resource, not a recommendation. CashNetUSA does not provide payday loans in Shreveport. We offer an different form of credit - an online line of credit.
If you need fast cash, you have options. Depending on your financial needs, a different type of loan may be a better fit. Loans for borrowers with bad credit will have higher interest rates and may be considered a risky form of borrowing. Consider all of your options before deciding if taking out a loan is right for you.
Line of credit. A line of credit lets you borrow money up to your credit limit. As you pay the loan back the funds become available to borrow again. If you need access to more cash or want to have a cushion for emergencies a line of credit could be a better alternative.
Installment loans. With a personal installment loan you'll get a lump sum of cash deposited in your bank account that you can pay back in smaller chunks over time. They can offer higher loan amounts than a payday loan and breaking up the payments can make it easier to fit into your budget.
Title loans. Title loans are another type of short-term loan that can provide funds in an emergency. With a title loan, your car acts as collateral to secure the loan — meaning if you default on the loan the lender will seize and sell your car to recoup their losses. To get a title loan you must own your car outright.
Pawn shop loans. Pawn shop loans are typically cash loans for small dollar amounts, and the lender isn't a financial institution. You'll give an item of value to a pawn shop, who will loan you a percentage of the value of the item. If you don't return to repay the loan the shop will sell your item.
Requirements may vary depending on the loan company, but to be eligible to receive a payday loan in Louisiana, borrowers typically must have the following:
Proof of identity like a driver's license or government ID.
Proof of income.
A valid checking account.
Payday lenders typically do not run a credit check on potential borrowers. However, legitimate lenders will almost always perform some kind of identity or income verification before approving a loan.
Yes, you can find online payday loans available to Louisiana residents in Shreveport and other cities such as New Orleans and Baton Rouge. Many loan providers allow you to apply in-store or online. They may also offer other financial services and products.
You can also find online lenders who offer alternatives to payday loans. These lenders typically offer fast cash and hassle-free applications. They specialize in online lending and offer products like personal loans and lines of credit.