Payday Loans in Salt Lake City
Get a line of creditup to $1,700*
Head to our Rates & Terms page to learn more.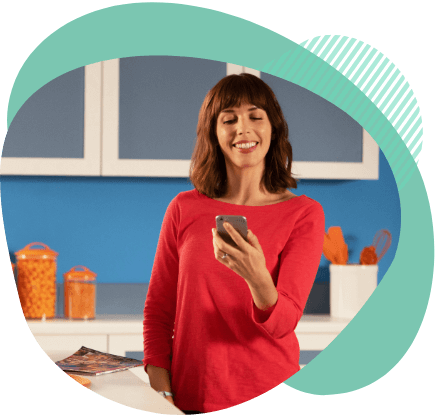 Same-Day Deposit Available
If approved before 1:30 p.m. CT Monday – Friday†
Instant Decision*
Receive an immediate decision

Get a payday loan alternative in Salt Lake City, UT.
Payday loans are available both in-store and online in Salt Lake City, Utah. They are also known as deferred deposit loans. They may be advertised as cash loans, cash advance loans or no credit check loans.
These are short-term loans. Payday lenders provide funds quickly under the agreement that the borrower repays within a few weeks — usually with their next paycheck. In Utah, you can extend (or "rollover") a payday loan for a maximum of 10 weeks. There is no minimum or maximum amount of money you can borrow in Utah, but there is also no limit to how much interest a lender can charge.
CashNetUSA offers Utah customers a line of credit as an alternative to payday loans. A line of credit offers approved borrowers a credit limit from which they can draw funds to use as cash. As the money is repaid, the customer's available credit increases. So when they need funds again, they can make another draw without reapplying.
Interest and fees are only charged from the amount borrowed. If approved for CashNetUSA's line of credit, Utah customers can receive a credit limit of $100 to $3,000. Most customers receive up to $1,700.*
Apply now for a line of credit in Salt Lake City, UT.

Salt Lake City Payday Loan vs. CashNetUSA Line of Credit
Salt Lake City payday loan1
Funding amount
No limit
APR
Average of 554%
Repayment
Pay in full — can extend up to 10 weeks if necessary
Additional funding
Reapply to borrow more
CashNetUSA's line of credit2
Funding amount
$100 - $3,000
APR
299%
Repayment
Option to make minimum payments over time or repay in full
Additional funding
Draw from available credit without reapplying
1Based on information from Pew Charitable Trusts. Actual terms may vary based on applicant's qualifications.
Learn more about payday loans in Salt Lake City, UT.
Utah state law does not specify a minimum or maximum payday loan amount. There is also no limit to how much interest a lender can charge. The average annual percentage rate (APR) for a payday loan in Utah is 554%.
Fast cash with no credit check might sound appealing, but there are risks involved when taking out a payday loan.
Most payday loans must be repaid in full. According to Utah state law, a loan cannot be extended past 10 weeks. This length may seem generous at first, but it creates room for multiple rollovers — which cost borrowers more.
Payday loans are also known to be a very expensive form of credit. Because there isn't a limit to how much interest loan companies can charge in Utah, borrowers may find themselves paying high interest rates and sinking deeper into debt.
Other borrowing options available in Utah, including lines of credit and installment loans, offer lower interest rates and lower risk. With these payday loan alternatives, borrowers can pay smaller amounts over a longer period of time.
Line of credit. With a line of credit, you can borrow some or all of your available credit limit, and you don't need to reapply each time you draw funds. Plus, you only pay interest and fees on what you borrow.
Installment loan. When you take out an installment loan, you receive the full amount up front and repay in installments over time, along with interest and fees.
Title loan. If you choose to take out a title loan, your car title becomes collateral. In Utah, a title loan applies to not only a motor vehicle, but also a mobile home or motorboat. Just be aware that if you default, your lender may repossess the item.
There are multiple loan services in Salt Lake City, UT. A few brick-and-mortar stores include:
Check City
2120 S State St.
Salt Lake City, UT 84115
1st Choice Money Center
1423 S 300 W Suite A
Salt Lake City, UT 84115
Check `n Go
757 E 3300 S
Salt Lake City, UT 84106
LendNation
832 W North Temple St.
Salt Lake City, UT 84116
Loans for Less
3396 S 300 W
Salt Lake City, UT 84115
Yes, you need an active checking account for your loan application. Some in-store loan providers will cash a post-dated check, but most opt for online payments rather than check cashing. Still, online loans require a checking account to authorize an automatic debit.
Because there is no limit specified by Utah state law, you can apply for any amount to fulfill your financial needs. However, lenders are unlikely to approve you for more than you can repay. Most short-term loans in Salt Lake City range from $100 - $1,500.
Salt Lake City borrowers can look to the following resources for financial solutions, education and coaching:
Comunidades Unidas
1750 West Research, Ste. 102
West Valley City, UT 84119
801.487.4143
NeighborWorks Salt Lake, Murray Office
4843 S Poplar Street
Murray, UT 84107
801.539.1590
NeighborWorks Salt Lake, Salt Lake Office
622 West 500 North
Salt Lake City, UT 84116
801.539.1590
AAA Fair Credit Foundation
136 E S Temple St Suite 1400
Salt Lake City, UT 84111
801.483.0999