Emergency Loans With No Credit Check:
What You Should Know
CashNetUSA doesn't offer "no credit check loans." Instead, we use an alternative credit check.
Sorry, we don't currently offer loans in . You may be eligible for an offer through our partner brand, NetCredit.
Check Your Eligibility
By clicking "Check Your Eligibility," you will be redirected to NetCredit.com.
Head to our Rates & Terms page to learn more.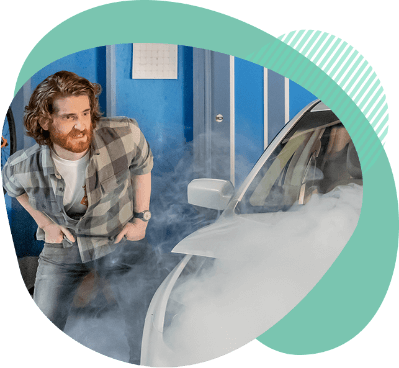 Same-Day Deposit Available
If approved before 1:30 p.m. CT Monday – Friday†
Instant Decision*
Receive an immediate decision

What is an emergency loan?
An emergency loan is a funding option that borrowers use to cover surprise expenses. A number of different types of loans can be used as emergency loans. They include secured loans, unsecured loans, payday loans, and online installment loans. Online lines of credit are another form of credit that can also be used for emergency expenses.
Because borrowers are usually looking for funding as soon as possible, emergency loans are designed for speed. They typically have a quick application process, and borrowers may receive an instant decision. If the loan is approved, funds are usually provided quickly — in some cases on the same day.

What are some emergency loan options?
There are many types of credit that can be used as emergency loans. They differ in a number of ways — collateral requirements, the repayment term and loan funding amount, for instance — but all are designed to provide fast funding. The right loan will depend on the individual needs of the borrower.
Some types of emergency loans come with specific risks — title loans, for example, carry the risk that the borrowers will lose their car if they default. In addition, borrowers with poor credit looking for bad credit loans will almost always face higher interest rates, which increases the cost of borrowing. Before choosing an emergency loan, be sure to compare loan options, loan agreements and interest rates to make sure the repayment terms are right for you.
Secured Loans. A secured loan requires property to secure the funds. This includes title loans, which use your car as collateral. These types of loans can have a lower interest rate than unsecured options, but for borrowers with bad credit it still may be very high.
Unsecured Loans. Unsecured loans don't require you to borrow against collateral — which in the case of title loans is your vehicle. Because of this, borrowers don't risk losing their pledged property in the event of default.
Payday Loans. These short-term loans are designed to cover unexpected expenses until your next paycheck. Payday loans can provide fast cash for borrowers with bad credit. However, these loans have high interest rates and the loan amount must be repaid in full, typically in just a couple weeks. Because of this, borrowers may have difficulty repaying and be forced to roll over their loan.
Online Installment Loans. Installment loans provide a lump sum of funding and allow borrowers to repay in regular monthly installments over a period of time. This can make them a better fit for a borrower's budget. Installment loans can be either secured or unsecured, but typically, online installment loans for borrowers with bad credit are unsecured.
Online Line of Credit. Online lines of credit are not loans but a form of revolving credit. They let you borrow money up to a predetermined limit and pay it back with interest. As you repay using weekly, bi-weekly or monthly payments, your funds become available to use again and again without having to reapply. People with low credit scores may find this type of funding useful to provide quick access to funds for emergency situations, such as frequent car repairs.

What does "no credit check" mean?
A "no credit check" loan typically refers to a type of loan that doesn't rely on a traditional hard credit inquiry through one of the major credit bureaus to determine approval. Instead of pulling your FICO score, lenders may look at alternative financial data to make their decision.
There is generally no such thing as a true "no credit check loan" as most financial institutions require at least a soft credit check of your credit score or an alternative credit check.
Soft Credit Check.
A soft credit check, or soft pull, is a credit inquiry with one of the main credit bureaus that won't affect your FICO score. It appears on your credit report, but isn't visible to lenders. Only you can see soft pulls. This can occur when you apply for an online installment loan through particular lenders, or when a company pre-approves you for a credit card.
Hard Credit Check.
Many traditional lenders use a hard credit check when borrowers apply for funding. It often occurs when you're buying a home, a car, applying for a student loan or credit card, applying for a personal loan or apartment rental, or looking into line of credit increases. Unlike a soft credit check, a hard credit check will appear on your credit report at the major bureaus and in some cases — usually when too many occur over a short period of time — could negatively impact your FICO score.
Alternative Check.
Some lenders might perform a credit check that looks at factors beyond your traditional credit score. This might include your income or information from alternative data sources. This can give lenders more information that helps them approve applicants that might otherwise be denied due to a low credit score. Because alternative credit checks typically don't involve a hard credit check, they won't appear on your credit reports at the major bureaus when you apply.

What credit score does CashNetUSA require for loan approval?
CashNetUSA doesn't have a minimum credit score, but you must meet the following requirements in order to be eligible to apply.*
18 or older

Verifiable, steady source of income
Active checking account
U.S. citizen or permanent resident

CashNetUSA has a fast, easy process for emergency funding.
At CashNetUSA, our application and funding process is designed for speed. We offer two products that can be used for emergency expenses — installment loans and lines of credit. Check our Rates & Terms page to see what we offer in your state.
Apply with us Our application is made of two short forms that request basic information and can be completed fast. Our advice? Have your bank account or savings account information handy before you start!

Get an instant decision* We offer an immediate decision based on your online application.* Other types of traditional lenders, like banks, can take days or even weeks to give borrowers like you an answer.

Get cash advances as soon as the same business day!† If approved before 1:30 p.m. CT Monday – Friday, you can receive your funds the same business day!†

Learn more about emergency loans with no credit check.
It can be more difficult to secure a loan through a traditional lender, but it's possible to get one depending upon who you bank with. Your credit history can also play a large factor, as bad credit can often lead to rejections from traditional lenders. Online lenders, however, are more likely to provide the funds you need for unexpected expenses if you have verifiable income and an online checking account.
There is no one-size-fits-all solution, but installment loans (which rely on monthly payments) and lines of credit are widely used for financing emergencies. Both allow borrowers to pay back over a longer period of time than payday loans, and unlike secured title loans, don't carry the risk of borrowers losing their collateral in the event of default.
In the past, people would traditionally go into the bank or credit union for loans, but online loans make it possible to get emergency funding faster and without having to leave home. A simple internet search can provide many examples of lenders, but it's important to distinguish credible financial institutions from false ones.
It's important to choose a trustworthy direct lender when deciding to take on an installment loan or line of credit. To weed out unreliable online lenders, try finding businesses with a long history, possibly over five to 10 years of being in operation.
Just as important as longevity is the trustworthiness of your lender. Be sure to research and read the reviews of the company from a reputable source, such as Trustpilot, and verify legitimacy by looking up the lender with the Better Business Bureau, or BBB.
A credit bureau is a financial institution that looks at your previous credit history and gives it a score based on payback rate, your credit history length, and the amount of debt you owe currently, among other factors. They also provide credit reports when you're applying to purchase a home or vehicle.
The three credit bureaus are TransUnion, Equifax and Experian. These credit bureaus are responsible for also protecting your credit history, as you can place locks on your credit reports should your identity or personal information come under attack. Please contact your respective credit bureau for more information on locking a credit report.
Consider these options before taking secured loans, unsecured loans, payday loans, installment loans or lines of credit.
Ask for help from family and friends. Borrowing money from family and friends can be a great way to catch up on finances without having to pay interest. To reduce friction and cause fewer relational problems, consider the following.
Budget your finances. Start a spreadsheet of all your expenses including bills, monthly utilities, food, childcare, rent, mortgages, and other living costs. Add these items together and assess your financial situation. See if you can cut back in any categories, such as entertainment or groceries. Then, set a budget you'd like to target each month for each category. By setting allotted budgets, you'll become more conscious of where your money is going and possibly forgo an online loan.
Consolidate your debt. Debt consolidation means combining two or more debts into one pool and closing the accounts so they can no longer be accessed. Once closed, the debt is paid down using a Debt Management Plan, also known as a DMP. DMPs usually have extremely low interest rates, sometimes as low as 1% APR (annual percentage rate.) Signing up for a DMP may affect your financial history, however, and could cause a temporary dip in your credit score. This can be a great option for those looking to reduce their outstanding debt balances and reach a good credit score.
An emergency loan may be the right option for you if you've experienced recent financial troubles. It's generally not advised to use emergency funds for student loans or medical debt. They also might not be ideal for those who can't make their payments in full and on-time and tend to have very high APRs.
When signing up for an emergency loan, make sure that you'll be able to make your payments. Ask yourself: Will this loan fit into my budget? Emergency loans can help cover surprise costs, but they will add to your monthly expenses, too.
DISCLAIMER: This content is for educational and informational purposes only, and is not intended as financial, investment, or legal advice.