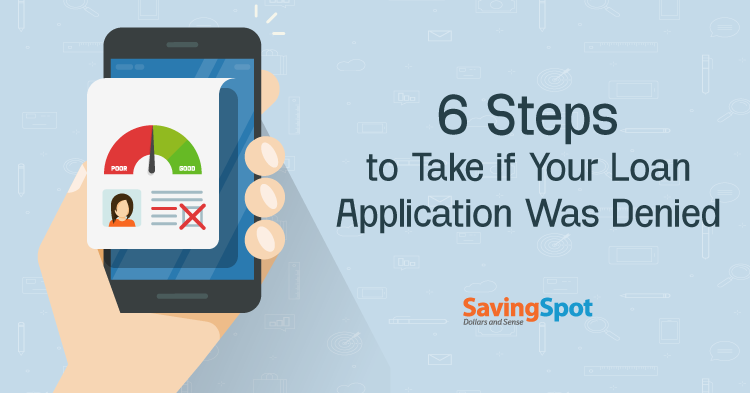 What to Do if Your Loan Application Is Declined
If you're looking for an online loan but received an application decline, there are several steps you can take to improve your chances of getting approved the next time you apply. However, an application decline may be a good sign to take a closer look at your finances.
While financial institutions and creditors vary by products and specific application requirements, they generally ask a lot of the same types of questions on a loan application. Read on for six steps you can take to improve your finances and reapply for a loan if your application for credit was declined.
Step 1: Review Your Application Details
Sometimes, simple entry mistakes on a loan application can lead to an application decline. If your loan application was declined, it may help to carefully review your application details, including your bank's routing number, employment history as well as your Social Security number, address and date of birth. You may be able to correct any errors, if applicable, and re-submit your application. While this step likely won't reverse most credit application declines, information accuracy is a crucial factor when lenders extend capital to their customers.
Step 2: Review the Principal Amount
Another possible reason why lenders decline a loan application is that the amount requested is too high for the borrower, based on application details. Responsible lenders want to make sure that their customers can reasonably afford to take out and repay the loan on the agreed-upon timeline. This means that, based on your current income, you'd be able to afford repaying the loan without stretching your budget too thin. If the principal amount seems too high for your existing budget, you may want to consider reducing the amount that you request on a loan application.
Step 3: Evaluate Your Credit Health
Credit health is another important factor that lenders review on loan applications. However, some lenders require a higher score and/or a good credit rating in order to approve a loan application.
In order to review your credit rating and history, you can access your credit score for free. If you're very new to credit or haven't yet applied for credit, you may need to establish your credit history before taking out a personal loan. You should also review your credit history for any errors and take the steps to dispute inaccuracies, if necessary.
Staying on top of your bills and frequently checking your credit score are two good ways to monitor your finances. Additionally, making on-time payments can help your credit score improve over time.
Step 4: Review the Loan Requirements
Financial establishments vary by the products they offer, in addition to the specific application requirements for each of those products. It's possible that your loan application was denied because you did not meet the basic requirements for the loan. For example, some loan products are only offered in certain states. Make sure to review the specific loan application requirements you wish to apply for, which are typically available on a lender's website.
Step 5: Look for Alternatives
Another potential solution to borrow money if your loan application was denied is to look for an alternative lender. For example, if your credit score does not meet the requirements for one establishment, such as a bank or credit union, you can seek online lenders that use alternative credit checks.
Step 6: Apply Again
Whether you've decided on a different lender or choose to re-apply, you can always fill out an application for credit again when you're ready. However, keep in mind that a hard credit inquiry appears on your credit history when you seek credit. Too many hard credit inquiries in a short amount of time can lower your score. However, the effect is usually temporary.
 The information in this article is provided for educational and informational purposes only, without any express or implied warranty of any kind, including warranties of accuracy, completeness or fitness for any particular purpose. The information in this article is not intended to be and does not constitute financial, legal or any other advice. The information in this article is general in nature and is not specific to you the user or anyone else.