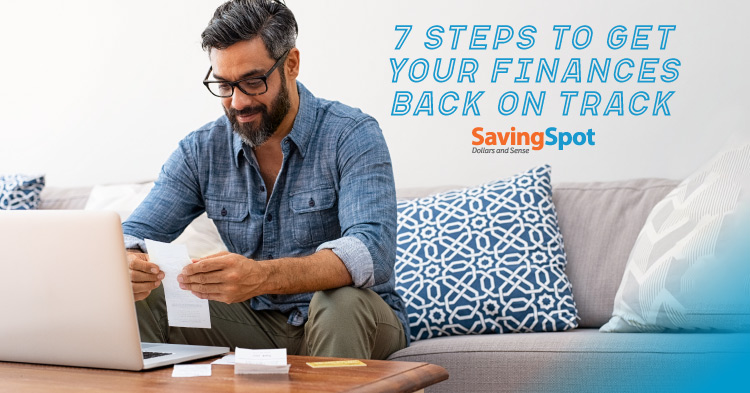 What to Do if You Can't Pay Your Bills
Whether you're short on money this month or are regularly running out before payday, cash shortages never seem to come at a convenient time. However, failing to meet financial obligations can lead to problems down the line, like fees, higher interest and even bad credit. It's a tough question — what should you do if you're unable to pay your bills?
Follow our seven-step guide to get your finances back on track if you can't pay bills.
Step 1: Evaluate Your Expenses
You may have to temporarily prioritize some bills if you're unable to meet all financial responsibilities in full. Food, utilities, shelter and transportation costs are typically the most essential expenses in a budget — you must have them in order to live and work. Think of these as "needs," and any other expenses that aren't absolutely required as your "wants."
Cover your needs, and as many remaining bills as your budget allows. Avoid spending money on non-essentials while you're behind on bills. Make a note to pay more money towards any other financial responsibilities next month, or as soon as possible. Keep in mind that you may incur fees, interest or other penalties for late or missed payments, so aim to pay bills on time and in full in the future in order to help save money.
Step 2: Reduce Your Spending 
If possible, look for ways to reduce monthly spending, particularly on non-essential "wants" in your budget. If you don't already follow a financial plan, use this guide to create a budget that works for your lifestyle.
While you may not be able to cut costs in all spending categories, use these tips to inspire a more frugal mindset:
Institute no-spend days: Pick a day to stay home and get creative with your time without spending a dime.
Delay all discretionary purchases: Avoid spending more money until you're up to date on all financial responsibilities and bills.
Notify friends and family: Whether you live alone or are head of household, support from family and friends can go a long way when working with a reduced budget.
Explore alternative transportation: Can you share commutes with a loved one? Do you have a less expensive daily alternative? For example, walking or biking to work can help save money over driving, even if it's just a few days per month.
Step 3: Contact Your Creditors
While it may seem counterintuitive, it's a good idea to keep your creditors aware of any payment issues, such as the loss of a job or a change in income. Notify all applicable creditors in case you're unable to make a payment, or to provide an explanation for partial and/or late payments.
Some companies may also provide payment deferment options for those experiencing financial hardships. Payment relief or deferment programs can help you manage expenses and protect your credit score.
Step 4: Apply for Public Resources
Depending on your situation and location, you may qualify for financial assistance at the local, state or federal level. While programs will vary widely, they may be able to help you pay for utilities, health care, food or even home repairs. Head to SpringFour to explore options and apply for resources.
Step 5: Monitor Your Finances
Proper financial planning can help reduce the impact of a surprise bill or emergency expense later down the line. Keep a close eye on your complete financial picture, from checking and savings balances to payments, due dates and credit health. It's easy to monitor your fiscal fitness with the latest personal finance software and smart phone apps.
Step 6: Open or Grow an Emergency Savings Fund
Experts recommend saving money in a separate account to cover emergency expenses and unplanned bills, as well as to help support you in case you lost a job. High-interest savings accounts also offer a much better rate of return than checking accounts, so you can earn more money for doing practically nothing. Aim to increase your monthly savings rate, even if it's just a few dollars more per month.
Step 7: Increase Your Income
While it may take a while to secure new employment or advance professionally, investing in career-related education can pay off for years. Look for professional training, certification or programs that can help you earn more money each month. You can also reduce the strain on your budget with remote work or a part-time job that fits your schedule.
The information in this article is provided for educational and informational purposes only, without any express or implied warranty of any kind, including warranties of accuracy, completeness or fitness for any particular purpose. The information in this article is not intended to be and does not constitute financial, legal or any other advice. The information in this article is general in nature and is not specific to you the user or anyone else.