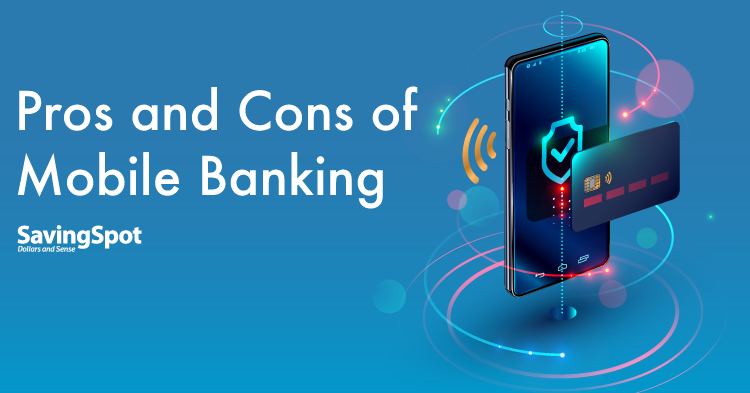 What You Need to Know About Mobile Banking
Mobile banking has opened the doors for groundbreaking financial technology and brand-new ways to manage your money online. The term encompasses practically everything from peer-to-peer payment apps and mobile investment tools, to online lending and account transfer technology.
However, there may be drawbacks to certain areas of mobile banking that are not always apparent. While specific features and compatibility requirements vary by financial institution, mobile banking users should be aware of the benefits and potential drawbacks of online-only banking. Read on for some of the most common pros and cons of mobile banking.
What Is Mobile Banking?
Mobile banking is a generic term, but generally refers to the act of managing your money online and/or with a smart phone. Users connect to a bank app powered by their financial institution, or log in to an online-only financial institution to access their account. However, the expansive field of mobile banking offers a wide variety of features beyond account management, including investment and borrowing services, peer-to-peer payment platforms, budgeting apps and more.
Some areas of mobile banking allow users without a typical bank account to open an online checking account to manage their finances with a smartphone. While online-only financial institutions may not have brick-and-mortar locations, they generally offer most of the features that users of a traditional bank need.
What Are Potential Pros of Mobile Banking?
Reputable mobile banking institutions provide a safe, secure environment for money management.
Convenience: With technology that allows you to save, invest, transfer, pay and purchase right from your smartphone, you may not need to head to a brick-and-mortar bank anytime soon.
Accessibility: As long as you have an internet-connected device, mobile banking is available from virtually anywhere that you can use a smartphone.
Lower fees: While costs and fees vary by institution, online-only banks typically have lower fees/costs associated with the account, which may include balance and transfer fees.
Speed: Instead of physically driving to the bank, you can pay, transfer money, deposit checks and more in much less time when compared to traditional banking methods.
What Are Potential Cons of Mobile Banking?
Mobile banking users should be aware of some potential downsides when it comes to online-only financial institutions and apps.
Compatibility: Mobile banking is generally reliant on compatibility between financial institutions, businesses, hardware and software. If one mobile banking institution does not have compatible technology that works well with other users, its features may be limited or unavailable. In other words, some lenders are incompatible with certain online-only banks like Chime. This may lead to issues when you need access to credit and are unable to connect your account or verify your income for your loan application.
Security: While reputable institutions take additional measures to secure personal data and sensitive information, managing your money from a smartphone may still be prone to security weaknesses, particularly if you do not take measures to secure your phone, use unique passwords and avoid phishing attacks. Additionally, using outdated or unofficial software, or logging in via an unsecured connection may leave mobile banking users more vulnerable to identity theft and fraud.
Limited access and services: Due to the lack of physical locations, online-only banks may not offer live customer service assistance in case you need help with your account. Additionally, they may not offer as many ATMs/access options as a nationwide bank with physical locations. Though some online-only financial institutions offer in-person or fee-free services, they are typically limited per month, as they require partnerships with other banks/financial institutions.
Should I Use Mobile Banking?
While there may be some downsides associated with mobile banking, financial technology can help you stay on top of your accounts while you're away from home. In order to minimize potential issues associated with mobile banking, you may want to make sure that your mobile financial institution is compatible with other technology, such as a specific company, app or partner you wish to use. For example, not all lending companies are compatible with online-only banks' routing number format, which may limit your loan choices in the future.
Online-only financial institutions may have additional limitations, including fewer account services, ATMs and limited live assistance that traditional banks and credit unions typically offer. However, most nationwide and/or regional banks and credit unions offer the option to use a mobile banking app, so traditional bank users can still take advantage of this technology.
Mobile banking users can take additional steps to help promote a safer online experience, including installing official apps/software only, monitoring their account(s) and always using the most up-to-date version. You should also make sure to use an encrypted, secure connection whenever possible. While phishing attacks are not exclusive to mobile banking users, it's helpful to learn how to spot and avoid online fraud.
The information in this article is provided for educational and informational purposes only, without any express or implied warranty of any kind, including warranties of accuracy, completeness or fitness for any particular purpose. The information in this article is not intended to be and does not constitute financial, legal or any other advice. The information in this article is general in nature and is not specific to you the user or anyone else.