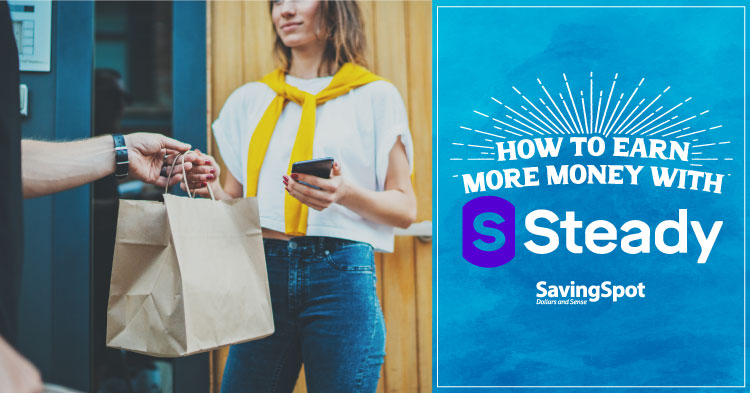 The Flexible Way to Make Money Quickly
The only certain thing in life is uncertainty. While you can't predict the future, you can prepare for it the best you can. The basic solution for unexpected expenses is saving more — that way, when those surprise costs hit, you don't have to make major changes to your budget or add on further debt to cover it.
Saving is tough when you're living paycheck to paycheck. Add in an unforeseen expense and balancing your finances just got that much harder. If you're frustrated by an essential car repair bill or stretched paying your monthly bills, you're not alone. A recent study shows many Americans can't afford a $400 emergency expense.1 While many turn to online loans to cover costs quickly, there are other options to help pay your bills. Let's explore one of the easiest ways to increase your income.
Earn More, Stress Less
For many living paycheck to paycheck, tucking away extra cash to create a savings buffer feels unrealistic. If you're unable to increase your pay or work more hours at your current job, add a side hustle to create a bigger financial cushion and start making that savings account achievable. There are over 57.3 million freelancers in the U.S., inclusive of gig-workers.2 In fact, 55% of gig workers also maintain full-time jobs.2 Even a few hours of extra effort each month can have a big impact.
Let's use the example from the statistic above: Americans struggle with a $400 emergency expense. If you break that into a six-month goal, that's about $66 a month. If you could dedicate one working day a month (eight hours) to a side gig, you could hit that goal easily. Two days a month? Now you've cut your timeline to your first savings goal in half. Plus, most side hustle opportunities allow you to work around your current schedule, so you can fit it in when it's most convenient for you.
Sounds like an easy enough plan. But how do you connect to these part-time opportunities?

Your Gateway to the Gig Economy
What Is Steady?
CashNetUSA has partnered with Steady, a free mobile app that connects users with opportunities for supplemental income via side hustle, gig, freelance, at-home and temp work. Steady advocates for the millions of people who are changing the way America works. That's why they've created a platform that helps their community of users to find jobs, increase their income and plan for financially stable futures.
While we can't help prevent unavoidable expenses, CashNetUSA is dedicated to supporting you — and that doesn't mean just your loan. We partner with businesses we believe can empower you to make the most of your finances and help you get back on your feet sooner.
How Does Steady Work?
Steady is simple and easy to use. After signing up online or through the Steady mobile app (available for free in the Apple Store or Google Play), there's a brief survey to gain a better understanding of your career goals and education.
That's it! Once you've completed the survey, you can browse the site or app for potential jobs. The app tracks your income history and suggests future opportunities to help you meet your financial goals. If you choose, you can even safely link your bank account through their secure partner Plaid.
The Value of Steady
In addition to their app platform, Steady provides other resources to its community to help combat financial issues brought on by the coronavirus.
Emergency grants: $100 to $1,000 cash awarded to qualifying Steady members who experienced severe income drops due to COVID-19.
Income Boosters program: Steady partners with other businesses to help grow your finances, improve your financial health or save more on purchases.
Steady Together: Telemedicine coverage for Steady members, spouse and in-household children, as well as guidance on work that is attainable and in high demand.
If you'd like to build your emergency savings, pay off more debt or gain financial peace of mind, Steady may be your answer. Visit Steady now to see if it's the right fit for you.
1Federal Reserve. (2019). Report on the Economic Well-Being of U.S. Households in 2018 – May 2019.
2Duszynski, Maciej. (2021). Gig Economy: Definition, Statistics & Trends