Although you may wake up with the cows on Black Friday to take advantage of good holiday deals, don't get milked out of your hard earned cash.
Shopping for holiday gifts used to be pretty straightforward. Today, thanks to the economic downturn, many people are more prudent when it comes to spending, however, even the most prudent shoppers should beware.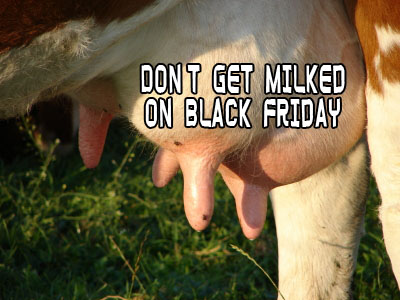 Now, more than ever, retailers want your cash. They are not just after the careless impulse buyers; they want the careful and cautious buyers too. They, like most corporations, have year-end financial goals and are not taking any prisoners. After all, as my uncle who worked in retail for many years would say, "It's not called Black Friday for nothing."
When the Black Friday bell tolls, retailers expect to hear their cash registers ring and so they should as many claim it to be the busiest shopping day of the year. Holiday shoppers have spearheaded the holiday shopping season for years by embarking upon retail stores before the crack of dawn to take advantage of good deals. Suffice it to say, retailers want to take advantage of the holiday shopping frenzy, by milking every dollar and cent they can get out of the wallets of holidays shoppers into their corporate coffers.
Their strategy to pump up profits is not as bold and audacious as you might think; it is often predictable and timely. Their goal is get you into their stores and keep you there as long as possible. They know the longer you stay in their store, the longer you'll shop: likewise, the longer you shop, the more you'll buy.
Cha-Ching! So, they entice you with Black Friday deals.
Taking nothing for granted, they pull out all the stops to get you into their stores by deeply discounting the hottest widget, gadget or "got to have it" items of the season to milk you out of your money. Although their clever marketing should be appreciated, it does not have to serve them exclusively. Serve yourself first. Follow the practices below and get cream of the crop merchandise at bargain prices that won't bust your budget.
Make a list of the products that you want to buy and prioritize them from most important to least. This way you won't be tempted to buy something you don't need or had not planned on buying. Retailers count on you to stay in their store and throw additional items in your cart. Stick to the list and save.
Research prices, products and store return policies. Let's face it — you don't want to get stuck with a product that does not work or fizzles out faster than you can say, "Happy New Year!" Likewise, you don't want to pay too much either. Plus, if something is wrong with it, you want to make sure you can return it. Read online reviews of the products that you want to buy. Sites like eponions.com and amazon.com are great places to start. You can also compare prices at pricegrabber.com.
Scan the ads in the newspaper and on the internet. Map out a strategy of where to go first based on your prioritized list. Buy the most expensive, deeply discounted items first. Those are the ones that are usually sold in limited quantities so you will probably want to be first in line to save on big ticket items.
Armed with these powerful tools in hand, go out there and grow your savings by cultivating these holiday buying strategies without busting your budget.