Veggie Sandwich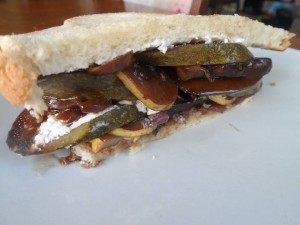 This vegetarian harvester sandwich recipe was sent to us by Jennifer S in our Second Annual What's Cookin', Good Lookin' Recipe Contest.
This is a fantastic vegetarian sandwich, you can even make it vegan by omitting the cheese. Every meat-eater I've ever known has loved this sandwich.
Ingredients
Good Sourdough Bread
2 zucchini
2 yellow summer squash
1 larger red onion
4 portabella mushroom caps
1 8oz package of crumbled blue cheese
1/3 cup olive oil
1/3 cup balsamic vinegar
1 clove garlic
2 shallot
Salt & pepper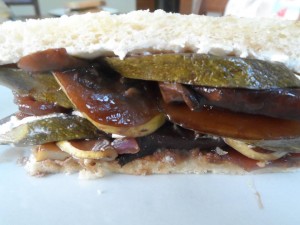 Directions
Slice the veggies into thick slices. Marinate in olive oil and balsamic vinegar. You can grill the veggies on a grill or you can cook them with the marinade on the stovetop.
Toast the sour dough (I brush a little olive oil and toast it in the oven) , pile on the veggies and top with Goat Cheese!