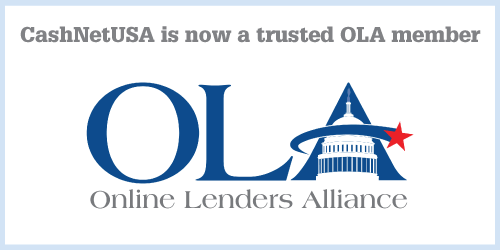 With so many online short-term lenders around, it's hard to know which ones are trustworthy. Some typical questions a payday loan customer might face are: Will this lender keep my information secure? Will it be upfront about its rates and terms? Will it let me change my mind about a loan? Thanks to OLA, finding the answers to these questions is a piece of cake.
OLA — or the Online Lenders Alliance — is a group that represents the online payday loan industry. It formed in 2005 to give reputable lenders a way of distinguishing themselves from dishonest lenders. The distinctive mark of an OLA member is the Code of Conduct and Best Practices they follow, which raises their business practices to a higher standard. It is no stretch to say that OLA members are more responsible short-term lenders overall.
Take, for instance, the online lender CashNetUSA. As an OLA member, CashNetUSA has adopted the OLA Best Practices as the foundation for how it does business. Here are just a few examples of the procedures it embraces:
• Make sure customers understand all loan terms
• Uphold a cancellation policy that gives customers time to change their mind
• Protect customers' personal information with website security and a privacy policy
• Refer customers to credit counseling, education and assistance where appropriate
Noticeably, the word repeated most often in this list of procedures is "customer." That's because all of these practices were developed for the sole purpose of protecting customers from shady lenders. And like the Best Practices, the OLA Code of Conduct has a similar intent: "Treat people fairly and with respect."
When a company becomes an OLA member, customer satisfaction becomes its top priority. Borrowers can rest assured that if their lender is a member of OLA, they will be treated respectfully during the entire transaction. The Online Lenders Alliance takes the risk out of web-based short-term lending.