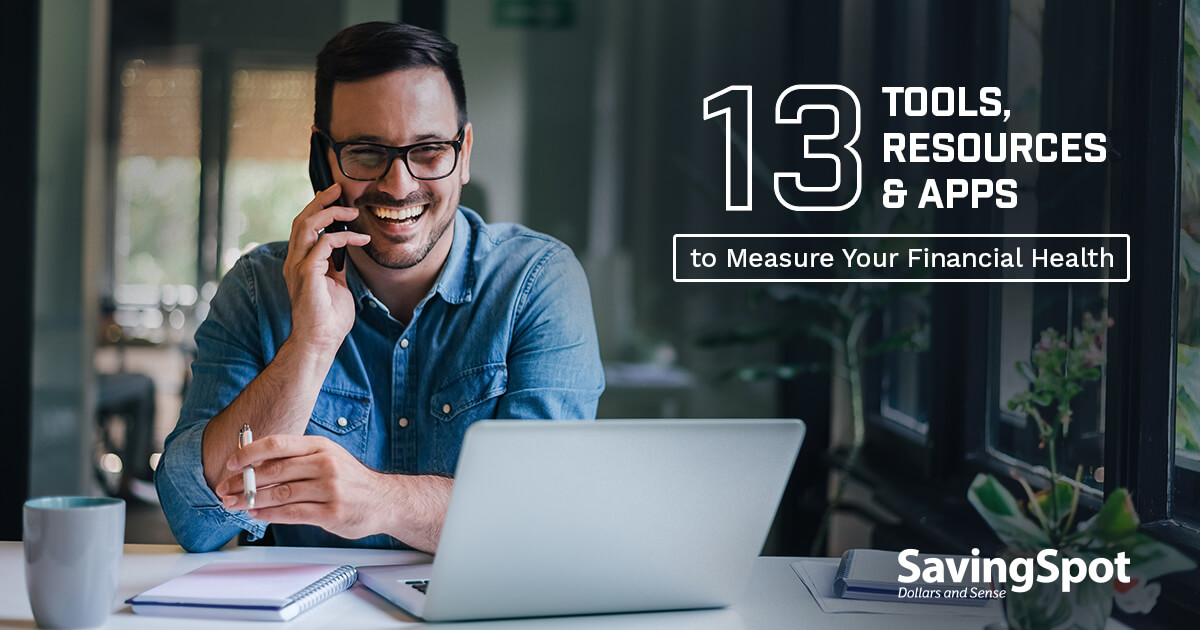 Easy Ways to Measure Your Financial Health
Staying on top of your personal finances can be challenging. After all, everyone makes mistakes, and financial health often takes a back seat to other priorities like paying rent. In fact, according to the Financial Health Network, only 29% of people in the U.S. were financially healthy in 2019.
Want to learn more about your financial health so you can start making improvements? Here are a few tools, resources and apps to help you keep your finger on the pulse of your personal finances.

1. Net Worth Calculator
A good way to start measuring your financial health is to determine your net worth — that is, the value of all your assets minus all your liabilities. The premise is simple: when your net worth goes up, it typically means your financial situation has improved. When it goes down, it's usually a bad sign. To find out your net worth, you can use this calculator by NerdWallet.
2. Credit Monitoring
While it doesn't offer a total snapshot of your personal finances, your credit score does measure your creditworthiness. Even if you can take out a loan with less-than-perfect credit when needed, it's a good idea to monitor your score using free tools like Experian CreditWorksSM Basic. That way, you'll know when to take steps to build up your credit.
3. Debt-to-Income Ratio Calculator
When you want to take a closer look at your personal finances, your debt-to-income (DTI) ratio can help you see whether or not your debt is under control. To find your DTI ratio, you can use this free calculator by Credit.com. As a general rule of thumb, if your DTI ratio is 30% or lower — your debt is considered manageable.
4. Financial Well-Being Questionnaire
If you'd like a clearer picture of your personal finances without having to search for a ton of hard-to-find documents, this questionnaire by the Consumer Financial Protection Bureau may be for you. The quiz assesses your financial wellness without using data like your income or credit score. Plus, you'll even get advice and tips on how to improve your score.
5. Retirement Planner
To really get an idea of your financial health, you can see if you're on track to retire when — and how — you want. Retirement planning tools, like the one offered by MarketWatch, can give you a quick overview of what your financial future might look like and offer personalized options to help you better reach your goals.

6. Investopedia
Without the proper financial know-how, it can be difficult to see where you stand in your personal finances. Investopedia makes it easier to understand and manage your money situation by offering a helpful financial dictionary, in-depth articles and much more.
7. CNN Business
In order to keep tabs on how well you're doing financially, staying current on the state of the economy — and your investments — is key. Financial news sites like CNN Business can give you the insights you need to know in order to properly analyze your financial picture.
8. Dave Ramsey's Complete Guide to Money
Knowing the basics can only get you so far when it comes to self-auditing your personal finances. Dave Ramsey's Complete Guide to Money can help explain the complexities of how money works, so you can measure your financial health more accurately.
9. Stacking Benjamins
Though it may come off as a bit tongue-in-cheek at first, Stacking Benjamins is the go-to podcast for those who are serious about their financial well-being. If you want to brush up on your financial knowledge so you can monitor your money like an expert, it's definitely worth a listen.

10. Mint
Widely considered one of the best personal finance apps, Mint offers a full range of features to help you keep track of your financial health. The easy-to-use dashboard lets you connect several financial accounts, making it simple to see all of your money and bills at a glance.
11. Credit Karma
Keeping up with your credit score is critical, even if it isn't the be-all and end-all of your financial health. Credit Karma has made it easier than ever to monitor your credit as often as you'd like for free. Plus, the app even offers free online tools and resources to help you better understand your score.
12. Wally
You'd be hard-pressed to find a simpler way to log your personal expenses than with Wally. This intuitive app allows you to take photos of your receipts to help you see where your money is going, and the dashboard gives you a 360 view of your personal finances.
13. You Need a Budget (YNAB)
Budgeting isn't only good for avoiding bank overdrafts, it can also help you see if you're spending your money wisely. YNAB is perfect for those who want to keep a watchful eye on their financial health. This app makes it easy to know when your personal finances have gotten off track — and what you can do differently to balance your budget.
Now that you know about all the ways to improve how you measure your financial health, you can start to see which solution works best for you. It may seem overwhelming at first, but starting small can make a world of difference when it comes to tracking your personal finances.