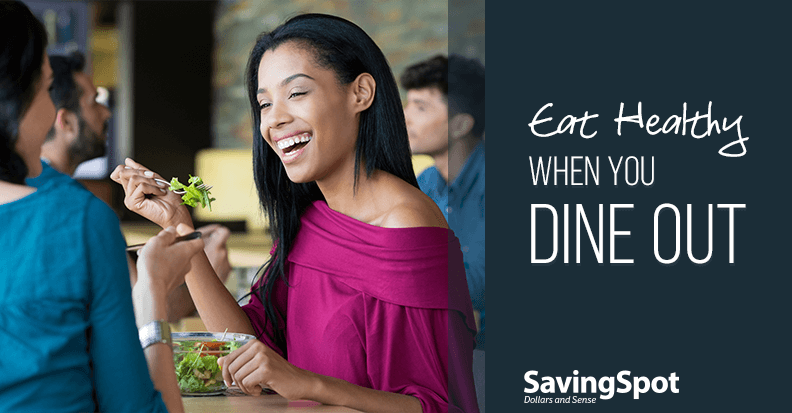 7 Ways to Eat Healthier Next Time You Dine Out
If you've been watching what you eat, you've probably already experienced the difficulty of eating healthy when you go out to eat. Even when choosing a restaurant that provides many healthy items, the less healthy options always seem to tantalize the taste buds. So how do you override those urges and stay on track? Use these seven tips and your body will thank you in the long run!
1. Eat Fruit or Vegetables Before the Meal
The mistake many dieters make is saving their appetite to splurge on the meal they are going out for. By eating a healthy snack before heading to the restaurant, you can control your appetite and look at the restaurant menu with a clear head.
2. Order a Side Salad
Can't eat healthy before the restaurant? Order a side salad as soon as you put in your drink order. This will help you to stay away from the complimentary bread or any shared unhealthy appetizers while also helping to fill you up alongside a healthy meal.
3. Get Drinks Another Time
If you are going out for dinner, consider just drinking water or iced tea with the meal. Alcoholic beverages and soda can add a lot of extra calories to the meal and get in the way of your overall health improvement goals! If you'd really like to have drinks with someone, do it separately from going out for dinner.
4. Choose Something Healthy and Look No Further
 Once your server delivers the menu, scan quickly for a healthy option, choose one that you'd like, then look no further. Close the menu and set it aside. Menus do a great job of enticing us to choose options with more food (and more calories). Keep them out of sight and out of mind by closing that menu as soon as you find your healthy option. If you want to take things a step further, look at the menu online in advance to know exactly which healthy option you'll order before you arrive, and don't scan the menu at all!
5. Order First
As it is likely easier to eat healthy when you don't look at the unhealthy options on the menu, it may be easier for you to eat healthy when you don't hear about the unhealthy options either! Hearing about the other options may tempt you to order the same or look for something similar. If you use this tactic, consider it courteous to ask your table if they mind letting you order first.
6. Split Your Food
Many restaurants provide more than generous portions to justify more than necessary prices. Be sure to ask your server in advance about serving size. You may find that you only need half of the serving for the item you'd like, which you can then consider asking to split with someone else at the table. If another person would like to share, let your server know and the chef may be able to split the portion.
7. Ask for a To-Go Container Before You Get Your Meal
If no one wants to split your food with you, split it with yourself! As soon as you order, ask for a to-go container and box up some of your meal to take home. Or, if you know you want to eat exactly half of the serving, ask the server to have half boxed up for you before it even comes out. When freshly served food is sitting on your plate, it can be hard to stop eating it. Put some away right away!
For more dining out tips or to see how the cost of your "to-go" diet is affecting your budget, check out this monthly challenge.