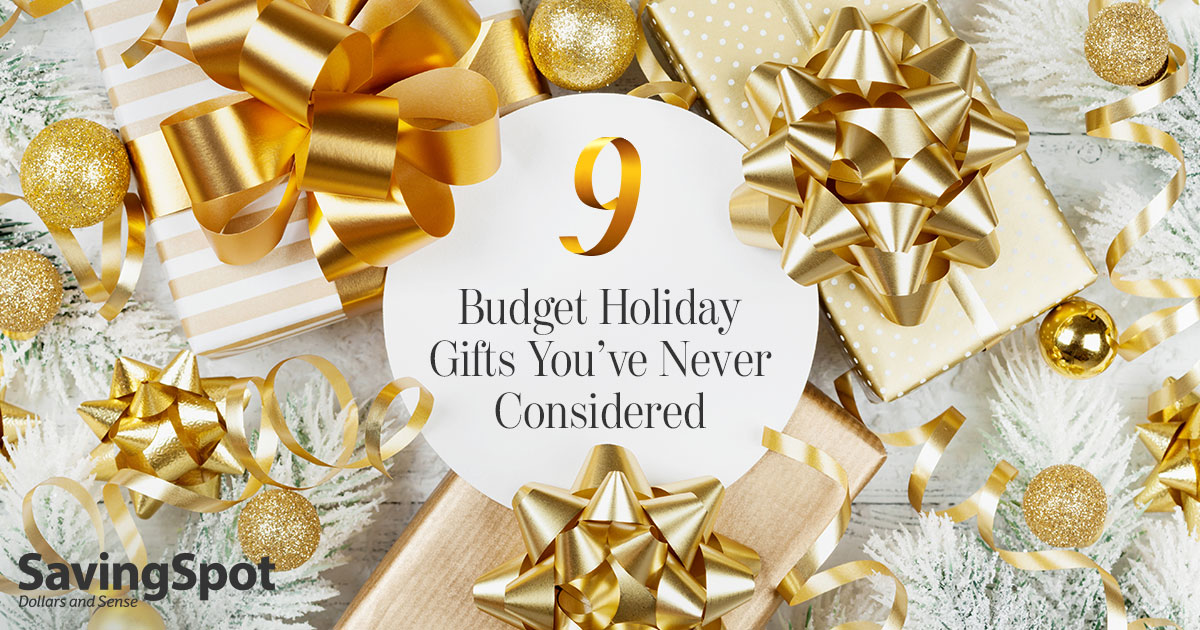 Unconventional Holiday Gift Ideas for Everyone On Your List
Do you have a long list of holiday gifts to purchase or make? It's certainly not too early to get your holiday gifts in order for a stress-free season. Although gift exchanges are a great way to save money over the holidays, it's a good idea to have a few extra presents on hand for all of the unexpected guests, long-distance relatives or neighbors that make a visit. And sometimes, a physical gift isn't practical or necessary, but you'd still like to give something to your loved ones. If you need some inspiration, these nine crowd-pleasing, yet inexpensive holiday gift ideas are the perfect way to brighten a loved one's day without breaking the bank.
1. Host a Workshop Event
You're probably highly skilled in some unique way — why not donate your time to someone (or a group of friends and family, for that matter) to show them a glimpse of how you do it? You can host a cooking, baking, crafting or other tutorial workshop in your own home for the most unique gift of the whole season. Not only can you have all your friends over for a fun social gathering, but you can teach a valuable skill that can actually improve someone else's life. An experiential gift doesn't add to clutter, and doing something together can be more meaningful and satisfying than a gift the recipient might put away and forget about.
2. Cover the Basics
Everyone wears a variety of wardrobe essentials practically every single day — but many people neglect these basic, staple layers until they're well past their prime. Why not help your gift list recipients stretch their laundry cycles a little bit longer? Think comfy socks, quality t-shirts and sleepwear basics that are versatile enough to wear in any climate or time of the year.
3. Make an Edible Gift
Anyone with a sweet tooth would love a sugary treat, but the sheer volume of holiday bakers who already bring their cookies to every gathering may actually have that food group covered. What often gets neglected is a crowd-pleasing and substantial savory dish, platter or charcuterie board for a gift. Buy in-season ingredients and look for bulk discounts and sales to save even more. Pay special attention to the arrangement of your dishes and gift platters; presentation makes a difference!
4. Host a Movie Night
Invite your friends and family for an all-out cinema night. Pop the popcorn, rent a new or favorite title and make everyone's seasonal beverage. Make your living room extra cozy with added pillows and invite everyone to wear their pajamas. If you have any room in your budget, send your guests home at the end of the evening with swag bags filled with holiday treats.
5. Gift a Cleaning Session
Let someone else do the dirty work with a session or two of a professional cleaning service. Busy parents, party hosts or stressed out students can especially use a little help around the house, and a cleaning service isn't always something that people think to do for themselves. Look for local companies that offer a variety of cleaning services so that the recipient can get what their home needs and make the most out of their session.
6. Make Commuting Easier With a Travel Mug
Chances are, your friends and family are keen on caffeine. And if they're like most Americans, they probably commute to work at least part of the week. Give the gift of a brand-new, stain- and leak-free travel mug to help fuel their day. Throw in a bag of fancy coffee or box of tea if you're extra nice.
7. Spoil the Pets With Treats and Toys
A "fur baby" is still someone's baby. If your friends and family have pets, they'll appreciate the extra-special attention given to their furry friends. A selection of nice treats or toys is an inexpensive, yet thoughtful gesture that shows how much you care. Look for a variety pack and divide up the toys and treats between your friends to stretch your money even further. If you can afford a bit more, a pet treat subscription box is a great way to keep the surprises coming after the holiday season.
8. Make a Stress-Relief Care Package
Any gift that helps combat stress is a great option for anyone that takes their work home. A selection of candles, scalp and/or foot massagers, a reusable heating pad, a journal, coloring book and stress balls or toys can go a long way to help someone unwind and relax.
9. Run an Errand
If you're not a fan of cooking, shopping or crafting, this time of year can be especially exhausting for you. Instead of searching for another trinket that might just accumulate dust, give your loved one the gift of your time and energy! Run an errand for them to take something off their busy agenda; pick up some groceries, take their pet for a walk, cook a special meal or do something else entirely to make their day a little easier.