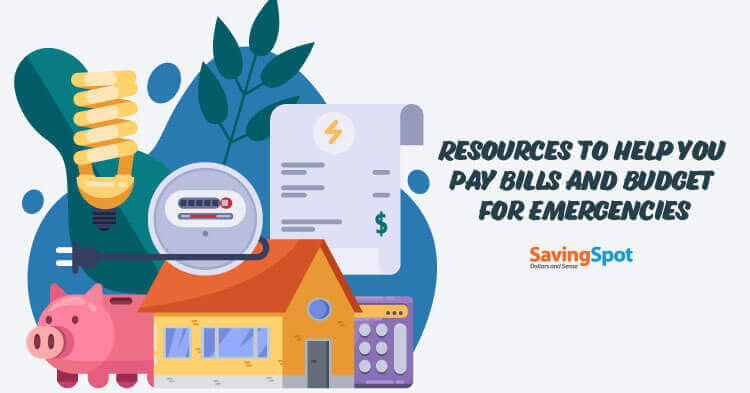 Tools to Help When You Can't Pay Your Bills
When you can't afford to pay your monthly bills, you might feel like doing nothing is your only option. What else can you do when a surprise bill comes your way and the bank account is empty? But the truth is, falling behind on bills today can lead to bigger issues, like poor credit, mounting debt and a host of other financial problems.
No matter if your situation is temporary or if you're consistently coming up short on funds, taking care of the situation now can prevent serious problems later down the line. If your bills are getting out of control, here are several tools and resources to help you budget and pay your bills.
Tools to Access Financial Aid
Depending on your situation, you may qualify for certain financial aid and government assistance programs to help you cover expenses and basic needs. Here are a few resources to explore if you need financial aid to help pay your bills.
Tools to Budget and Plan
Living within your means is an ongoing effort. You may need to revisit your budget and cut down on some expenses if you can't afford your monthly bills. These resources can help you budget, plan and trim your expenses for free.
Tools to Help Manage Your Bills
Some creditors may be willing to adjust your payment terms if you can't pay bills. You may be able to free up money in your budget with the following resources.
Tools to Monitor and Protect Your Credit
Your credit health is just as important when money is tight. The stronger your credit score, the more affordable it will be to borrow money. However, your credit score may take a hit if you can't pay your bills. Here's how to monitor and protect your score for free.
Tools for Emergency Funding
Sometimes, unplanned expenses can't wait and you need to access money fast. Emergency funding is available to help you pay for unplanned expenses and bills quickly. Keep in mind that when you're short on cash, borrowing money can put you further into debt. Avoid borrowing money unless you're sure you can afford to pay it back.
The information in this article is provided for educational and informational purposes only, without any express or implied warranty of any kind, including warranties of accuracy, completeness or fitness for any particular purpose. The information in this article is not intended to be and does not constitute financial, legal or any other advice. The information in this article is general in nature and is not specific to you the user or anyone else.