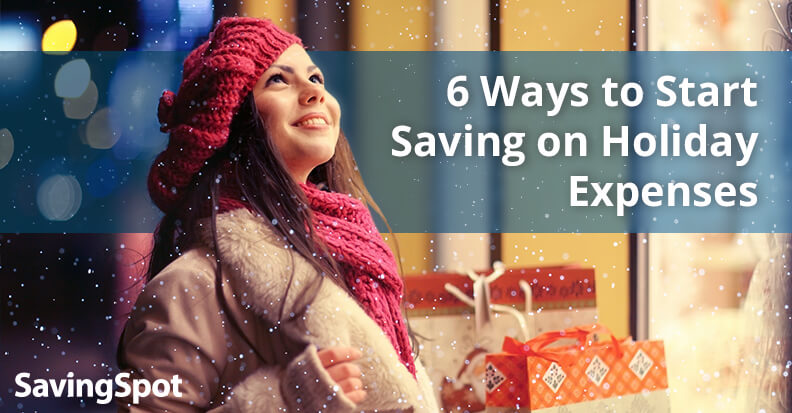 Tips to Save More on Holiday Expenses
The holidays are a time for friends, family, celebrating and… spending way too much money. Between gifts, parties and festive events, you end up starting the year at zero, which never feels good. This year, keep some of that money in your bank account without sacrificing any of the jolly old fun using these simple tips.
Start Shopping… Now
If you wait until the last minute to do your holiday shopping, you're making the biggest money mistake of the holiday season. Not only does this limit your options, but it rules out finding the best deal online, where items are often cheaper. Even if you do find a great deal online, you may have to pay more for expedited shipping. While that doesn't seem like a huge expense, doing it for every gift adds up. Here are a few tips for starting your shopping early:
Write your holiday list now, including new decorations you want to buy, gifts for friends and family, even food and drinks. Then keep your eye out for discounts and deals. Look for everyday deals at the grocery or liquor store too — these are often random but can help you save a lot, especially on alcohol and non-perishables.
Plan to do most of your shopping during big sales, including Black Friday and Cyber Monday. A number of retailers also do annual and semi-annual sales — mark those on your calendar and check a bunch of items off your list at each one.
Shop when you're traveling. You'll find more unique gifts than anyone else, and you'll spread out your spending, so you avoid going over budget during the holiday season.
Make Travel Plans Early… and Track Prices
The holidays are the most expensive time of the year to travel, but if you book early, you may just find a price that doesn't give you a minor panic attack. According to the CheapAir.com flight price tracker, prices are lowest in mid-August to mid-September for Thanksgiving trips, and the beginning of June to the beginning of October for Christmas and New Years.
You can also use an app like Flight Tracker to get updates on flight prices and predictions for when the prices will drop.
Create a Budget… and Write it Down
The holidays might as well be the season of mindless credit card swiping, when we spend and spend, regardless of what the budget says. This year, instead of simply saying, "I'm going to spend $X on this and $X on that," set your budget in stone and stick to it with these ideas:
Write your budget month by month. For each month, detail the items you plan to buy and estimate what your expenses will be. To be even more accurate, look at your credit card bills from last year — the more realistic the numbers are, the better. During the first week of each month, look back and see if you stayed within budget. If not, write down how much you went over and why. How can you fix that next month?
When setting out for a shopping trip, take out cash and leave your credit card at home. Nothing stops you from mindlessly swiping like not having anything to swipe in the first place.
My husband and I keep a detailed budget year round, including a breakdown for each month during the holiday season, in a Google Sheet. If you'd prefer not to do the organizing and math yourself, Mint is a great app to use. You'll be able to visualize your budget on the go and get up-to-date spending alerts.
Spend Less on Gifts… With a Gift Exchange
Buying a gift for every person in the family adds up fast, but you also don't want to skimp on presents for the people you love. Avoid this predicament by organizing a Secret Santa or a White Elephant gift exchange, which is much more affordable.
Organize one of these gift exchanges with your family, friends and coworkers. You'll have a great time shopping for something fun, and you'll spend less thanks to a realistic budget, ranging from $10 ­– $50 per person. Then you can delegate a little extra for the people you really want to spoil this year.
Spend Less on Food… With a New Grocery Store
A potluck dinner will definitely save you time and money on one big meal, but if you have guests coming to town, you'll likely be the head chef for the duration of their stay, providing breakfast, lunch, dinner and snacks. To save as much as possible, you may need to find a new grocery store, even if it's less convenient to get to.
Check out this grocery store analysis, which analyzed prices at five nationwide grocery chains, including Publix, Aldi, Trader Joe's, Walmart and Kroger. Some of the most interesting finds include:
Aldi offers the highest number of "lowest price items" (66), with Trader Joe's coming in second (13).
Publix is the best place to save on cheese.
Trader Joe's has the best prices for canned beer but highest prices for imported beer.
If you don't have an Aldi or Trader Joe's nearby, do your own analysis. Make a list of what you need for the holidays and then check different stores each week to see which one seems to have the most consistently low prices. When it comes time to shop, bounce from store to store, getting the best deals on everything you need. It may take a little more time, but you'll end up spending less.
Host Your Holiday Dinner… Potluck Style
Cooking a full Thanksgiving or Christmas meal complete with appetizers, ham, a turkey, sides, desserts and cocktails is never cheap or easy with all the time and money that goes into the preparation and execution.
To lighten your workload and save at the grocery store, ask each attendee to bring something, while you focus on the main course. My family does this for Thanksgiving, and my aunt creates a list and assigns everyone an item on the list. If there's a conflict, people can switch, but this keeps everything organized and reduces redundancies. It also ensures that you're still in charge of the meal, so you can be confident it turns out as you planned.
Use these tips to save money during holiday season this year. With so much going on, you'll be glad you have one less thing to stress about.