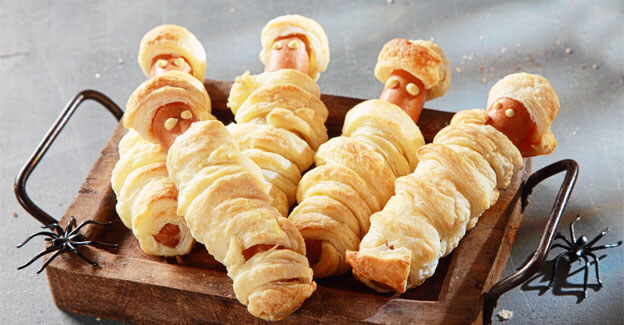 Spooky Snacks: Hot Dog Mummies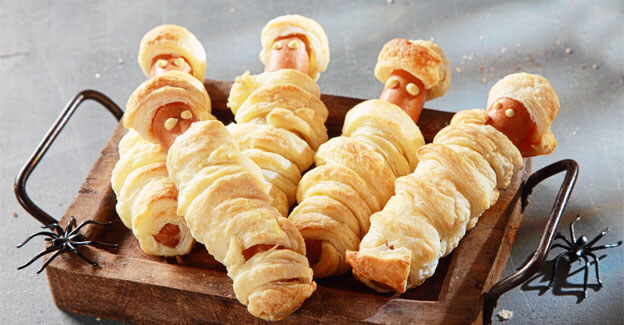 Halloween is the time for scary stories, crazy costumes and of course – delicious treats!
When deciding on which treat to make for your next Halloween party, impress guests with these cute and easy pastry-wrapped hot dog mummies. They're not only spooky, but mess-free and tasty too!
Follow the recipe below for these yummy mummies!
Ingredients
1 can of refrigerated dinner rolls
2 ½ slices of American cheese
10 large hot dogs
Cooking spray
Mustard or ketchup, if desired
How to Prepare
Preheat the oven to 375 degrees F.
Unroll dough and cut into 4 rectangles.
Cut each dough rectangle into 10 thin pieces and each cheese slice into 4 thin pieces.
Place hot dog on cheese and wrap 4 pieces of dough around the hot dog. Make sure to separate the dough so the hot dog shows.
Place on an ungreased cookie sheet, cheese side down, and spray lightly with cooking spray.
Bake 13 –17 minutes until the dough is lightly browned and hot dogs are hot.
Draw features using ketchup or mustard.
http://www.pillsbury.com/recipes/crescent-mummy-dogs/d52a57d7-ab8a-4a1c-8dae-f9f90d03b912