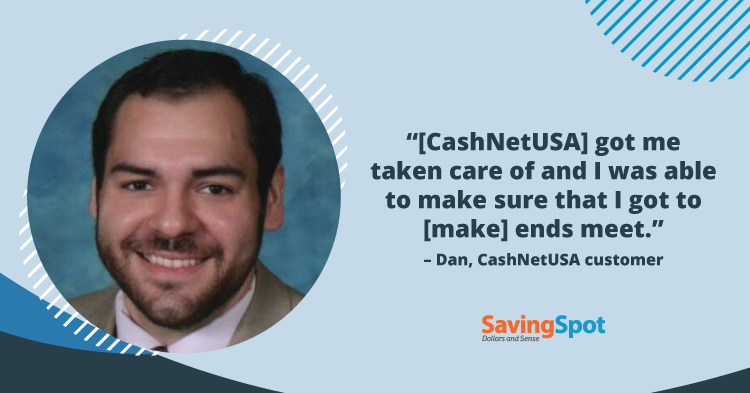 Your Safety Net in Uncertain Times: A CashNetUSA Success Story Video
Disclaimer: Customer was compensated for sharing their experience
Nearly 66% of households in the U.S. faced financial trouble caused by the COVID-19 crisis.1 Dan, a special education teacher from Louisiana, was one of them. Dan worked a second job to supplement his teaching salary. Unfortunately, that job was one of the millions lost due to the coronavirus.
When Dan accidentally collided with a deer on his way home from his school, he was faced with a heavy auto deductible for the repairs. Without his supplemental income to rely on, Dan needed help. See how Dan used CashNetUSA to help cover his unexpected expense and provide a safety net for the future.
 Dan's Approach to Personal Finance
"My approach to personal finance is to try to get as many of the big things out of the way. Like maybe it's debt, maybe it's the needs…things like that. And also being able to make sure that you have it budgeted somehow to have a little bit.  
If I get like a little email when I'm monitoring my credit score, it's one of those things where it's a challenge because sometimes you don't want to see it, but it's better to know than not to know."
Dan is familiar with many basic financial best practices like budgeting for needs over wants and monitoring your credit score. But like so many people impacted by the pandemic, Dan was faced with a financial roadblock that was out of his control.
Unprecedented Times Left Dan Unprepared
"I was driving home from work one day. The job that I work at is actually in a rural community. So there's plenty of animal life between here and there. And on the way home, a deer ran out in front of me. And unfortunately, I hit it. It was, uh, I had to pay $500 and $500 is a lot to come up with out of nowhere. So I reached out to CashNet[USA]. They got me taken care of. [I] only had to talk to somebody once to make sure my bank was taken care of all my information matched up. And after that, it was super easy. 'Here's the payment plan and talk to us if you need help with anything.'
I was so worried because the unfortunate thing about the COVID crisis is yes, teachers were getting paid at the time, but if you don't know, a lot of teachers have second jobs. And unfortunately, I lost my second job in retail, and that job is no longer there. There just isn't that demand anymore. So, I would have had that in my budget, but unfortunately, due to the COVID crisis, we weren't really able to keep up with that — [I] wasn't able to pay for some of my bills."
Dan was one of millions challenged financially by the COVID-19 crisis. He'd done what he could to be prepared for unexpected expenses, but as many Americans have unfortunately been forced to realize: You can't plan for everything. Dan turned to CashNetUSA to help cover his car repairs and was able to continue going to work.

Dan Found the Relief He Needed When He Needed It Most
"I felt really relieved because I knew I was going to be able to get my car back. I was going to be able to continue on getting what I need to get done for school, for example, for my job at the school and everything like that. So it really gave me that sense of not only confidence, [but] specific security, knowing that I was able to rely on this cash unit in order to meet my needs in an emergency situation… they met me where I needed to be at, and they made sure that I knew what the payment plan was going to be for."
Dan's CashNetUSA line of credit wasn't just a relief from this one car repair. Empowered with the knowledge of his payment plan and access to his line of credit, Dan now had the confidence of a financial safety net.
Moving Forward in Uncertain Times
"I had my car fixed. I was able to not have to worry about the deductible for it. And also, I knew that if I ever needed [CashNetUSA] down the road, especially in this COVID world that we're in, that it was easy just to pull up the app, get on the web and access the funds if I need it. 
I feel like I'm [in] a little bit better control, especially with an emergency. The thing is, you know, we're getting a sense of normalcy, even though it's a new normal. We're getting a sense of normalcy with this COVID world. So I know what to expect… either shut down again or how to budget myself a little bit more lean given the situation, but I feel like I have a better grasp of what I can do when I can do."
It's hard to be prepared for unexpected expenses, especially when they come at a time of economic turmoil. As society works toward a return to normalcy, there's one thing Dan knew he could count on: CashNetUSA. Dan is able to access his available funds whenever he needs them. His access to credit not only gives him the funds he needs — it gives him peace of mind.
Thank you to Dan for sharing his journey with us and showing how a CashNetUSA line of credit can help bridge the gap during trying financial times. If you'd like to read more customer experiences, visit our success story page.
References
1Farmer, Blake (September 28, 2020). Nearly Two-Thirds Of U.S. Households Struck By COVID-19 Face Financial Trouble.