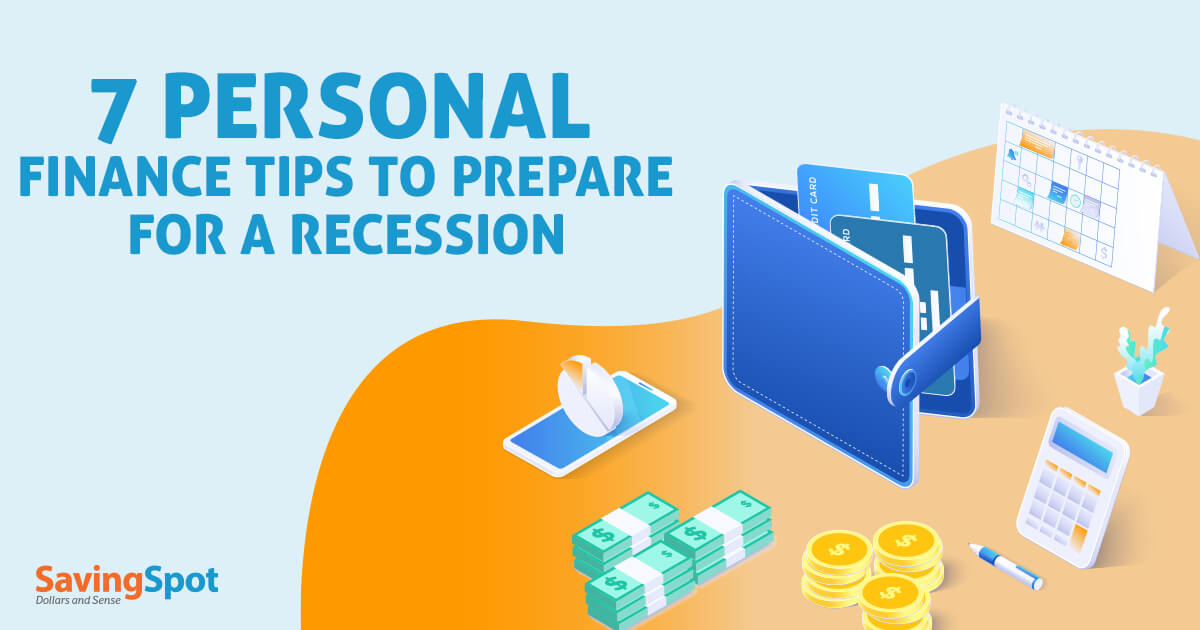 Are Your Personal Finances Recession-Ready?
During uncertain financial times, it's a good idea to hope for the best and prepare for the worst. So while we can and should be optimistic for our current economic downturn to reverse itself, it's also wise to make sure your finances are ready for a recession. Are you ready to recession-proof your finances to the best of your ability? Consider these 7 tips.
1. Tighten Your Budget
Sticking to a budget now can help to keep you from difficult financial situations in the future. Don't worry if you haven't been using one before — you can create one today. For each expense, consider if it is a need or a want. Generally, you should strive to have 50% of your take-home pay go toward needs, 30% toward wants and 20% toward debt payments and/or savings. When preparing for a recession, you'll want to cut down as much of the "wants" category and increase money allocated to debt and/or savings.
2. Create or Add to an Emergency Fund
 If you don't have a savings account set up yet, now would be a good time to do so. You may want to consider an app like Acorns or Qapital to get started. Typically, it would be best to have 3 – 6 months' worth of monthly expenses set aside. However, if you have little-or-no savings to this point, don't let that thought daunt you — anything you can set aside at this time is worth saving.
3. Cut Down Your Bills Where Possible
There are a number of ways you may be able to save money on expenses you pay every month. During times of widespread economic hardship, leniency or relief for payments are made available by many companies. Negotiate your expenses wherever possible. Don't hesitate to communicate your needs to the businesses to which you owe money.
4. Consider a Balance Transfer Credit Card or Debt Consolidation Loan
As its name suggests, balance transfer credit cards allow you to transfer balances from other credit cards onto a new credit card. This new credit card then accrues no interest for a period of time — typically anywhere from 6 – 21 months — so long as minimum payments are made on time and the balance is paid off prior to the end of the promotional APR period. This then allows a person a period of time to put aside money into their emergency fund/savings account rather than worry strictly about outstanding debts. Similarly, a debt consolidation loan might allow you to pay off all of those outstanding debts and just have the one payment for that loan to take care of.
5. Look for Opportunities to Earn More
 Where there are challenges, there are opportunities. So while new employment opportunities can seem dire during an economic downturn, there will be areas where this isn't so. Delivery services, for example, are in high demand for labor right now. If you are a healthy individual who heeds proper precautions to prevent the spread of COVID-19, perhaps you could take up a delivery job. For ideas on how to make money from home and save money, check out our Coronavirus Resources page.
6. Learn About Money Management
If you're reading this, you're off to a good start! But don't stop here. Anyone with a CashNetUSA account has free access to our financial education modules. In addition, look for other free financial resources that may be available in your community or online. For example, the U.S. Financial Literacy and Education Commission's MyMoney.gov has tools for those young and old.
7. Take Care of Yourself
Finally, and while this isn't necessarily a finance tip, do your best to stay level-headed and calm. While that may be easier said than done, there are actions you can take to help. Exercise when and how you can. Don't use food to cope with stress. Talk about your feelings with family members, friends or a licensed therapist. Taking care of yourself can help to keep your emotions balanced and (subsequently) your finances in order. As we suggested to begin this post — hope for the best, and prepare your finances for the worst.