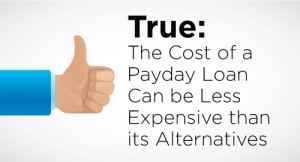 Did you know that 71.6% of Americans are living paycheck to paycheck? Shocking, but true. So it's no wonder why after covering living expenses like rent, utilities and groceries, many people have little or no money left over when an emergency expense arises.
That's why many consumers who don't want to turn to friends or family and don't have access to a credit card find themself turning to short-term credit options such as payday loans. Payday loans, also known as cash advances or payday advances, can help cover small, unexpected expenses that pop up when you least expect them (think a doctor's visit that isn't covered by health insurance or a car repair that can't be put off because you need to get to and from work).
Why use a payday loan over other options? Because the cost of a payday loan can actually be less expensive than the alternatives — e.g. credit card late fees, credit card over-the-limit fees, checking account overdraft fees, bounced check/nonsufficient fund (NSF) fees, late fees or reconnection fees on utilities (such as phone, gas and electric).
One of the biggest benefits of using a payday loan is that they help avoid bank overdraft charges or late fees, which can negatively impact a person's credit score. Here's why according to a report in Economic Review:
Some payday lenders don't report to traditional credit bureaus, which means defaulting on a payment won't necessarily hurt your credit score.
Credit can sometimes be affected by outstanding loans but payday loans don't appear on credit reports so your credit won't be negatively impacted.
Using a payday loan frees up credit, lowering the debt-to-credit limit ratio, which positively impacts a credit score.
The bottom line is that, in a pinch, payday loans can sometimes offer lower fees than other short-term credit options. So if you find yourself in an emergency financial situation, you might want to consider applying for a payday loan.