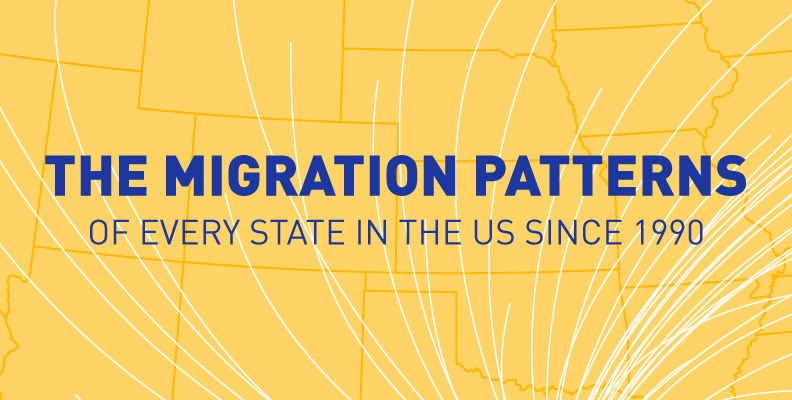 The Migration Patterns of Every State in the US Since 1990
Whether it's for the climate, living costs, job opportunities, or just for a change of scenery, millions of Americans relocate to a different state every year.
But where does everyone go? By reviewing each individual tax return, the IRS is able to track which states people move to and from. We have used this migration data to create these interactive maps that visualize inter-state migration patterns from 1990 to 2015.
So what patterns have emerged? Not surprisingly, we see large numbers of people migrating to their immediate bordering states. For example, residents of the southern states appear to be keen on staying in the south. Maybe it's the hot weather, the food, or the south's famous hospitality, but whatever the reason, each year the southern states swap thousands of residents with their next door neighbors. Texas is a popular choice for people migrating from the smaller states surrounding it and it's easy to see why. Cities like Dallas, Houston, San Antonio, and Austin all have a lot to offer in terms of work opportunities and a vibrant culture.
It's not just Southerners though, citizens across the country most often tend to migrate one state over.
The larger states are, of course, popular; California and Florida appear again and again, year after year. We can guess that Florida is popular with retirees, the state is known for its tropical climate, diverse wildlife, and plentiful beaches, so it's not hard to see why they choose Florida.
California is the USA's most populous state and home to some of the largest and most developed cities in the entire country, which means a whole host of job opportunities for those willing to deal with a higher cost of living. For those Californians feeling the recent rises in rents, a move to Texas is popular. There are many good reasons to move to Texas; for a start it's one of the few states in the US that has no income tax.
Larger states that contain huge cultural centers like New York, Washington, Massachusetts, and Illinois draw people in for their bountiful education and job opportunities. These states have some of the biggest and best cities in the country; Seattle, Boston, Chicago and of course New York City, are all major draws.
As you can see, many US citizens cross state lines to migrate every year. Take a closer look at this visualization and the patterns will illuminate you as to which states have the biggest draw. Where are people from your state moving to?
Methodology
To create these visualizations, our researchers gathered data from the IRS, which provides migration data, based on year-to-year address changes reported on individual income tax returns filed with the IRS.
Sources
IRS. (2019). SOI Tax Stats – Migration Data. irs.gov