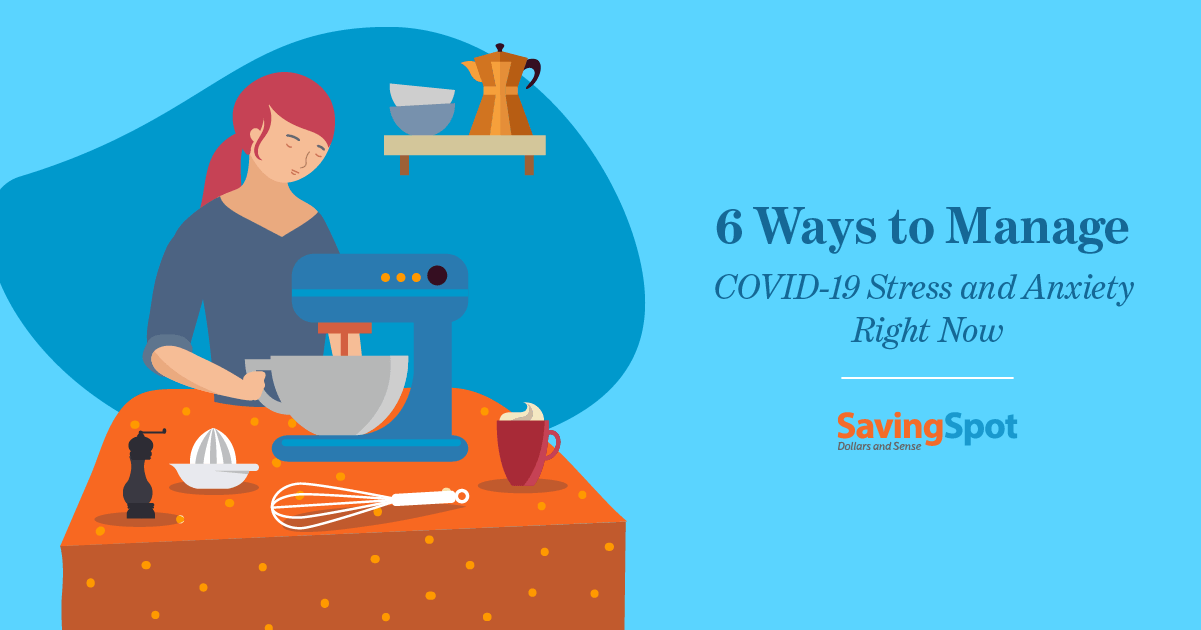 How to Manage Stress and Anxiety from the COVID Crisis
The COVID-19 crisis is ever-present — breaking news stories, shelter-at-home orders and widespread closures have inundated our everyday lives. It's hard to escape from the stress and anxiety of such an overwhelming situation.
Coping through unprecedented times like these can be incredibly challenging, both mentally and physically, but it's important to try to stay calm and realize that we're all in this together.
Although we can't do much right now to end the situation, we're here to help you lift your mood. These stress-relieving strategies and tips can help you feel better immediately.
Connect with Loved Ones from Afar
Social distancing is essential for the near future, but isolation and a lack of significant interaction can take a toll on your mental health. Don't wait for another reason to reach out — everyone is going through this together, from a distance. Connect with your loved ones with fun and interactive tech:
If you want to video chat…
Keep in touch without face-to-face contact with these options:
If you miss movie nights with friends…
These free apps can turn a typical evening at home into a private, remote viewing party:
If you're a game-night person…
Pass the time with a few friends and a selection of these free and low-cost options:
Limit Media Time
With the constant barrage of breaking news, it's easy to feel very overwhelmed. While you don't have to disconnect entirely, consider turning off news story notifications and limiting your time on social networks. Or, take a break from the media for as long as you need — you can check the news when you're ready. Consider also limiting your sources; choose one or two trusted outlets for your news to help manage information overload.
Upgrade Your Surroundings
Your environment can impact your mood and stress level even if you're comfortable in your own home. Research suggests that aromatherapy, such as scented essential oils or candles, may help you relieve stress and anxiety.
Other studies suggest that reducing clutter in your home can help you reduce stress and even reduce procrastination. Cleaning your surroundings can help you regain a sense of control. If you have a small house or apartment, these strategies can help you maximize your living and storage space.
Prioritize Exercise
Exercise is widely proven to benefit your everyday health —physical activity lowers the stress hormone, cortisol, while it releases dopamine and serotonin, which make you feel good. Social distancing makes the need protect your mind and body even more important.
If you live a dense area or can't get outside as much as you'd like, research shows that one kind of exercise is more effective in reducing stress. Experts suggest autoregulatory exercises, like yoga, deep breathing or meditation, to those looking to combat stress right at the source.
Stay Hydrated and Well-Nourished
Proper hydration can help you reduce stress, and a balanced diet can help you stay healthy. Under normal circumstances, it might be a lot easier to get the recommended exercise and nutrients from your diet.
Being stuck inside may limit your choices, but these YouTube channels can get you through. It may be hard or impossible to get out and find what you need at the grocery store. Before you venture out, try to call local stores to see if they have your item(s). You may also want to ask if they deliver, or look for stores in your neighborhood with curbside pickup services.
Do What You Can to Help
Giving feels good, and you could provide comfort to others in difficult times. If you have a way to responsibly help those in need, consider donating goods, food or other necessary items to a local shelter. You could also purchase goods online for delivery if you'd rather not leave the house. Reach out to your network — remember the elderly, those in particular health categories and anyone with special needs.
If you need help: