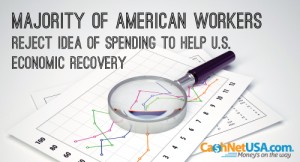 Economic Recovery And The American Worker
While the state of the U.S. economy is generally regarded as less-than-stellar, there's very little consensus on who's responsible for fixing it. In fact, over half of Americans don't feel any personal responsibility toward fixing the economy with their spending.
In a survey conducted by Harris Interactive for CashNetUSA, 57 percent of the 2,014 Americans polled indicated that healing the economy through spending is not their responsibility. This group included 1,833 individuals who are currently working and receiving a paycheck. At 53 percent, households sized five or more feel more responsibility than any other group polled. Men ages 18 to 34 come in second with 50 percent acknowledging economic accountability.
The survey also discovered that over the course of the last year, six out of every 10 American workers have seen either no change or a decline in the amount of each paycheck. This breaks down to 37 percent who have seen no change, and 24 percent whose pay has decreased.
This general sense of financial insecurity has led to many Americans altering their spending habits since August, with as many as 44 percent spending less on food and eating out, and 38 percent deferring purchases on technology products.
"As consumer confidence is rattled again, it is taking a toll on Americans' spending habits," says Megan Staton, CashNetUSA's director of marketing. "They are making these cutbacks to manage their personal finances through this uncertainty, with less interest in what their personal role might be in helping to fuel the economic recovery. That's no surprise when half of Americans are living paycheck to paycheck, and one in four says their paycheck has declined."