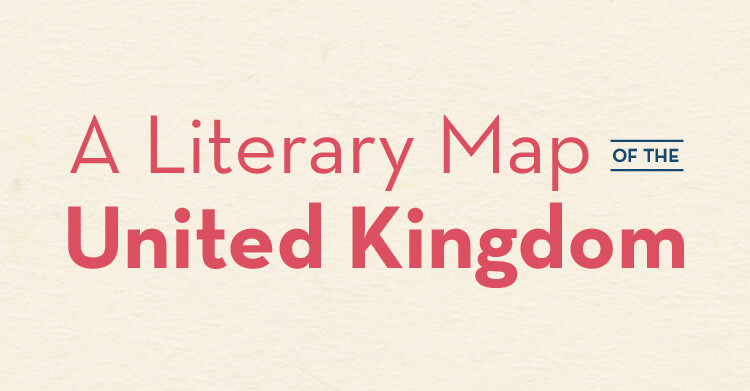 A Literary Map of the United Kingdom
Reading has the power to transport like no other art form. A good novel can suck you deep down into its pages and to a completely different place altogether. Sometimes – if you're lucky – you never fully come back and a little part of you lingers forever in that story.
Part of this literary escapism is, of course, simply about the reading experience – that magical process of mind and written word becoming one. But there's another layer of literary transportation: a novel's sense of place. What is Cider With Rosie without its dreamy Cotswold setting? Isn't London as much a force in Mrs Dalloway as any of the human characters?
And while place often seeps into a novel, sometimes a novel seeps into a place. For many, Brighton is forever tainted (deliciously) by the connotations of Graham Greene's Brighton Rock, while the Yorkshire Moors will be stalked by Heathcliff for perpetuity in the minds of others. Children, meanwhile, are likely to experience the Lake District or Ashdown Forest all the more vividly thanks to their Peter Rabbit and Winnie-the-Pooh connotations.
The United Kingdom overflows with stories – stories that animate the land, which animates the stories right back. Our map plots some of the UK's memorable literary works in the locations that inspired them. As maps go, it may not do your navigation much good – but it'll do wonders for your imagination.
Now, we wouldn't normally discourage reading but – just this once – how about getting your nose out of that book and chasing your literary kicks out on the road?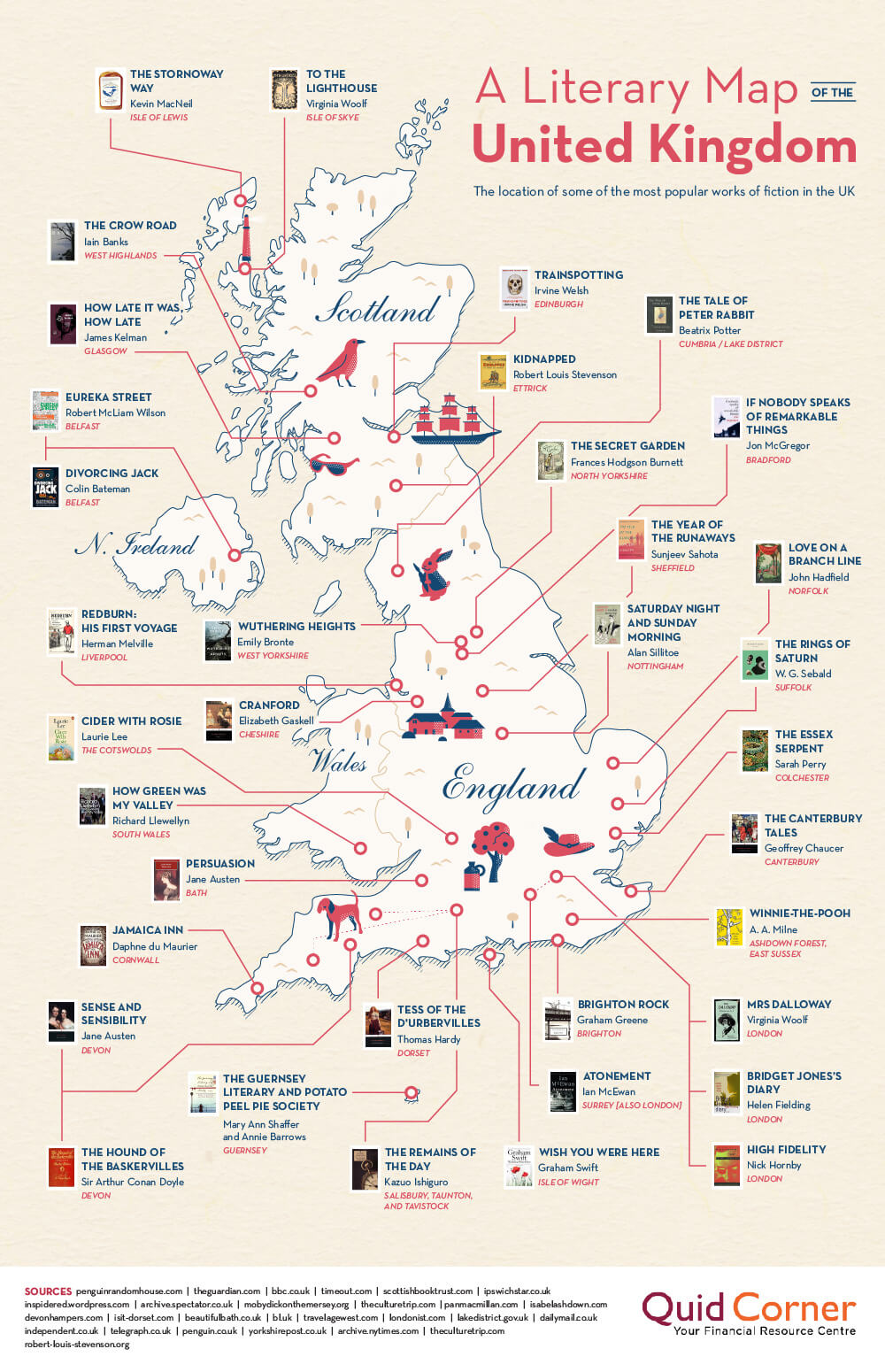 Sources
Penguin Random House. (2018) Atonement Readers Guide. penguinrandomhouse.com
MacInnes, P. (2015) The Rings of Saturn by WG Sebald – walking through history. theguardian.com
BBC. (2004) Irvine Welsh. bbc.com
Ronning, M. (2015) Ten books set in Glasgow. timeout.com
Scottish Book Trust. (2018) The Stornoway Way. scottishbooktrust.com
Miller, C. (2008) Saturday Night & Sunday Morning. theguardian.com
Silksonte, M. (2017) Mark World Book Day with 18+ novels set in the beautiful East Anglian countryside. ipswichstar.co.uk
The Spectator (1927) Herman Melville and Liverpool. spectator.co.uk
McKenna, N. (2016) 10 Literary Depictions of Belfast. theculturetrip.com
Firebird (2014) Jamaica Inn by Daphne Du Maurier – review. theguardian.com
Pan Macmillan (2018) 5 Books set in Devon. panmacmillan.com
Ashdown, I. (2013) Ten Books to read on the Isle of Wight. isabelashdown.com
Smith, L. (2015) 5 Famous Novels That Are Based In Devon. devonhampers.com
Visit Dorset. (2018) Literary Dorset. visit-dorset.com
Moore, A. (2016) Top 10 seaside novels. theguardian.com
Beautiful Bath. (2018) Bath in literature and film. beautifulbath.co.uk
British Library. (2018) The Canterbury Tales by Geoffrey Chaucer. bl.co.uk
Chudnovsky, N. (2014) 12 Spots for Literary Travel in the U.K. and Ireland travelagewest.com
Brown, M. (2015) What Are The Best London Novels? The Results. londonist.com
Lake District National Park. (2018) Beatrix Potter, Peter Rabbit and The Lake District. lakedistrict.gov.uk
Lee, L. (2015) Cider with Rosie and the death of my childhood idyll. dailymail.co.uk
Tep, R. (2018) Back to the lighthouse: In search of Virginia Woolf's lost Eden in Cornwall. independent.co.uk
Telegraph Travel (2018) How to visit the real Hundred Acre Wood, home of Winnie the Pooh. telegraph.co.uk
Penguin. (2018) How Green Was My Valley. penguin.co.uk
Herron, T. (2015) 13 books that define Yorkshire best. yorkshirepost.co.uk
Davies, S. (2008) Bright and dark. theguardian.com
Uglow, J. (2007) Band of women. theguardian.com
Graver, L. (1989) What the butler saw. nytimes.com
O'Hagan, A. (2018) Bridget Jones's diary is funny and charming. telegraph.co.uk
Turner, J. (1995) I've Got Your Number (Written on the Back of my Hand). lrb.co.uk
Andrew, K. (2018) Top 10 books about the Scottish Highlands and Islands. theguardian.com
McGovern, N (2017) The Top Recommended Books Featuring Northern Ireland. theculturetrip.com
RLS Website. (2018) Kidnapped, 1886. robert-louis-stevenson.org