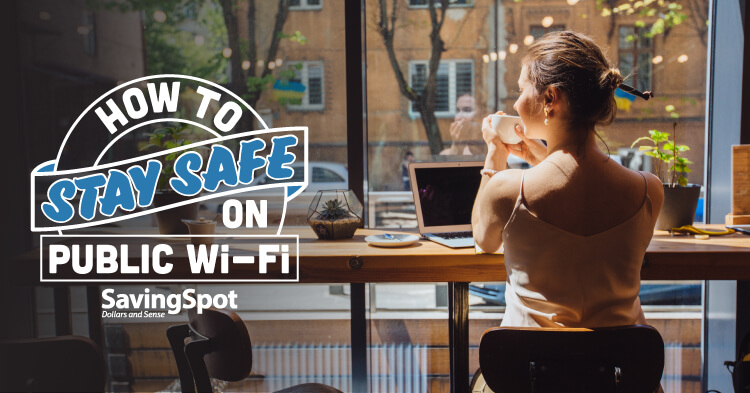 Is Public Wi-Fi Safe to Use?
You've probably accessed the internet for free via a coffee shop, library, airport or other public access point, but have you considered your online security? Public Wi-Fi is generally a lot safer today than it used to be, but it's still important to keep your data secure on public or free networks.
Whether you use a smart phone, laptop or other mobile internet device, free Wi-Fi is hard to resist, but it may not always be the best option. We'll walk you through some of the risks associated with free or public Wi-Fi, and how to stay safe online if you use it.
What is Public Wi-Fi?
Public Wi-Fi is free internet access from a shared connection, such as a business, airport, hotel, public building or other access point. These networks are either secured with a password or other login, or unsecured and free to use within a geographic area.
What Are the Risks of Using Public Wi-Fi?
In general, whenever you use a public Wi-Fi network to access the internet, your information may be visible to others. While secured public networks are typically safer than unsecured public networks, they still may be vulnerable to attacks or security breaches.
Most websites use HTTPS web encryption for an added layer of security, which is denoted with a lock symbol near your browser's URL bar. And though HTTPS web encryption is safer than it used to be, cybercriminals may still be able to expose security flaws on encrypted websites in some cases.
Here are some of the security attacks and risks associated with public, open or unsecure Wi-Fi:
Man-in-the-middle: With this type of online attack, traffic is redirected from the intended source to a different network in order to steal information.
Spoofing: Hackers set up a fake network that mimics an official or legitimate network to steal information from unsuspecting victims.
Snooping: This refers to some type of software, device or hardware that spies on your activity in order to steal information like passwords or other sensitive data.
Malware: Cybercriminals may be able to take advantage of software security vulnerabilities with viruses or malware designed to harm or infect your computer, network or other property. 
How Can I Protect My Online Security on a Public Wi-Fi Network?
Sometimes, you just need to connect to the internet when you're away from home. If public Wi-Fi is the option, you can help protect your online security with a few tips:
Use sites that have encryption: If a website uses HTTPS encryption, you'll see a lock symbol near the browser URL bar.
Limit your use: Refrain from using free Wi-Fi to access sites with your confidential details, like financial information, demographics or other personal data, in addition to sites that may have access to sensitive information, such as shopping, location and email services.
Log out if you're finished: Sign out of your accounts when you're done.
Watch out for phishing and other tech fraud: Phishing, vishing and smishing attacks may happen whether you're at home or on-the-go, but it's always a good idea to stay vigilant and keep your information safe.
Avoid using smart phone apps on public Wi-Fi: Smart phone apps may not always use an encrypted connection while you use public Wi-Fi. Additionally, your smart phone may or may not display the lock symbol while you're using an app, which makes it difficult to tell if your connection is secure.
Connect to a Virtual Private Network (VPN): If possible, connect to a VPN for an added layer of security on public Wi-Fi networks.
What Are Some Alternatives to Public or Open Wi-Fi Networks?
If you prefer not to use a public Wi-Fi network, you may be able to use other methods to access the internet securely while you're on-the-go. These alternatives may be safer than using a free or open network:
Phone hotspot: If your smartphone has a hotspot function, you can use it to connect other devices to the internet, such as a laptop or tablet.
Use mobile data: Your smart phone's data connection is generally encrypted and more secure than the typical public Wi-Fi network. If your data plan is costly or limited, you can limit your mobile data to sensitive information and personal services, and use Wi-Fi for general needs only.