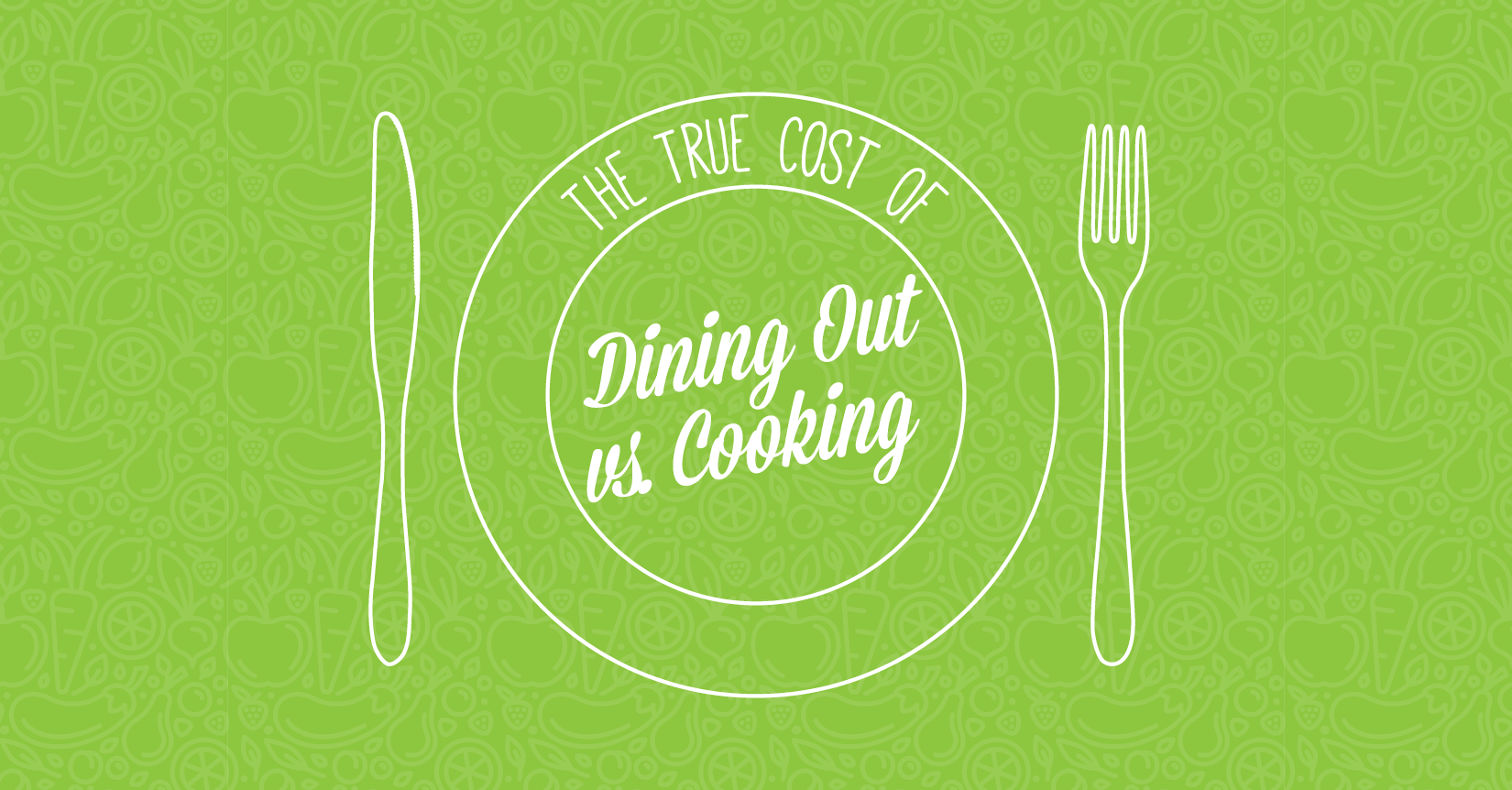 Is Eating Out or Cooking Less Expensive?
Now, more than ever, consumers are devoting large portions of their paycheck to eating out. The percentage spent on dining out has grown increasingly since 2009, and in 2015, the amount Americans spent on dining out finally surpassed the amount spent on groceries.1
So what does this mean exactly? While Americans have always been led to believe that cooking one's own meals is the less-expensive option, certain economic factors actually make it more complicated than that.
Between work and raising a family, very few Americans have the spare time to shop and prepare meals each night. These things take time, which is not a luxury that many of us have. That, on top of the growing price of groceries, could mean that eating out may be becoming cheaper for the average consumer. Over the past two decades, grocery store prices have increased a whopping 2.6 percent per year on average — driven by an increase in fuel prices, higher demand for meat and shortages of corn, a majority of which is used for ethanol.2
With this information in hand, one has to wonder: Is eating out really cheaper than cooking? We compared various meals from well-known restaurant chains to their homemade counterparts to find out.
Breakfast
Blueberry Banana Nut Oatmeal from Major Fast Food Chain: $2.49
Fresh blueberries, two full servings of natural whole grain oats, a satisfying crunch of premium walnuts and a hint of banana.
Homemade Blueberry Banana Nut Oatmeal: $2.00
Grocery Store Items:
Blueberries: $0.85
Bananas and cream instant oatmeal: $0.75
Walnuts: $0.40
Winner: Cooking at home
Lunch
Cobb Salad from Major Restaurant Chain: $9.99
Chargrilled chicken, crisp bacon, avocado, cheddar cheese, hard-boiled egg, black olives, tomatoes and blue cheese on salad greens. Choice of dressing.
Homemade Cobb Salad: $10.40
Grocery Store Items:
Chicken breast: $2.25
Bacon: $1.50
Avocado: $0.50
Cheddar cheese: $1
Egg: $0.50
Black olives: $0.65
Tomatoes: $1
Blue cheese: $1.50
Salad greens: $1
Dressing: $0.50
Winner: Dining Out
Dinner
Shrimp Primavera from Major Restaurant Chain: $15.75
Shrimp, bell peppers, onions and mushrooms in a bold arrabbiata sauce over penne.
Homemade Shrimp Primavera: $9.45
Grocery Store Items:
Shrimp: $5
Bell peppers: $1
Onion: $0.50
Mushrooms: $1
Spicy marinara sauce: $1
Penne pasta: $0.95
Winner: Cooking at home
From this one case study, it appears that the bigger meals of the day seem to be cheaper when made at home, but that the price of breakfast food is comparable. As mentioned above, the cost of meat has gone up significantly — you can see this effect in the higher cost of lunch and dinner. Breakfast, typically a much simpler meal, isn't as dramatic of a difference.
Take the time to compare prices between grocery stores and your local restaurants and consider the extra cost of dining out like beverages and tip. The important thing here is to stay up to date with typical prices to help maintain the right balance between dining out and cooking at home.
Interested in cooking more at home but not sure where to start? Check out our guide to delivery meal subscriptions.
Grocery store items calculated using prices at Peapod.com and adjusted to typical restaurant serving size. Poultry price based on 6-ounce portion of chicken. Seafood estimates based on one-third pound of shrimp. Restaurant prices are calculated based on review of national food chain website price listings at time of publication and can vary by location.
References
1Shah, K. (April 17, 2015). Americans live paycheck to paycheck because they dine out too much. Retrieved June 01, 2017, from https://www.eater.com/2015/4/17/8447119/americans-live-paycheck-to-paycheck-because-they-dine-out-too-much
2Amadeo, K. (May 22, 2017). 4 reasons why food prices keep going up. Retrieved June 1, 2017, from https://www.thebalance.com/why-are-food-prices-rising-causes-of-food-price-inflation-3306099