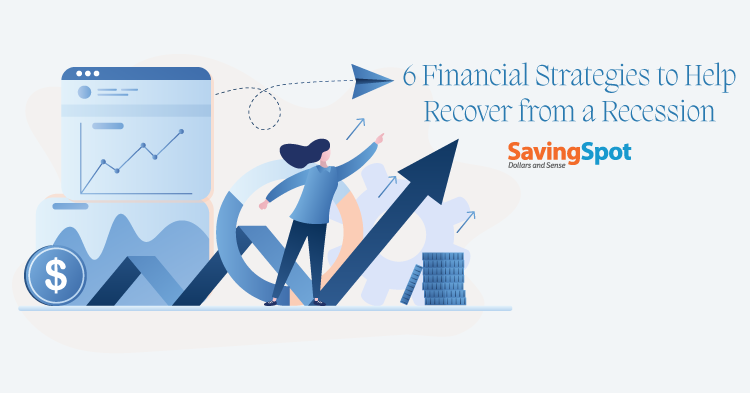 How to Improve Your Finances From the COVID Recession
As COVID looms, many Americans struggle with job loss, a lower income and/or fewer opportunities to make ends meet. Without an end or cure in sight, prolonged financial stress and anxiety can seriously affect our lives.
If you're having trouble keeping up with financial responsibilities, it's always good to be proactive and take care of the problem before it affects your finances in the future. But what can you do if you've been financially impacted by a longer-lasting recession? Read on for six strategies to help get your finances back on track if you've suffered from the recent economic downturn.
Step 1: Apply for Resources
You're probably aware of state unemployment insurance, but you may qualify for supplemental programs that can help you recover financially. From free and reduced health care to low-cost home repairs and food services, SpringFour can help you locate and apply for financial resources and public aid in your area.
Step 2: Contact Your Landlord or Mortgage Provider
Notify your landlord or mortgage provider as soon as possible if you've been financially impacted by COVID and/or expect problems meeting your payment responsibility. While each situation is unique, you may be able to work out a new agreement with your landlord or mortgage provider and prevent negative marks on your credit report.
Furthermore, the CARES Act and CDC eviction moratorium provide additional protections to renters and homeowners who have been affected by the pandemic.
For renters:
In order to be protected under the temporary eviction ban,  you must complete this form and send it to your landlord. Make sure to document when you sent it, and call them to confirm receipt of the form. Keep a signed copy for your references.
Additionally, you may want to contact your landlord to request a new payment agreement. While it's not guaranteed you'll be able to adjust monthly terms, it doesn't hurt to try.
The following scripts can help you work out a more favorable financial agreement with your landlord. Customize them to fit your situation:
Hello _______,
 I have recently lost my job and am experiencing financial hardship. I'm reaching out to you to request a new payment plan. Would you also consider waiving fees for a late payment?
If you have a security deposit:
Hello _______,
I've been financially impacted by COVID, and I'm writing to ask if you would consider using my security deposit as rent for this month. I will still remain financially responsible for any damages to the unit above and beyond normal wear and tear, pursuant to my lease agreement.
Document your call with your landlord, including the date, time and new payment details. Make sure to get any new financial agreement in writing.
For homeowners:
Homeowners with federal or government-sponsored mortgages are protected under the CARES Act, which temporarily prevents foreclosure and provides a mortgage forbearance option to pause, lower or adjust payment terms.
Use this resource to locate your lender and explore CARES Act resources or find out who owns your home mortgage. If your mortgage isn't covered under the CARES act, you should still contact your lender to explore your options.
Before the conversation with your mortgage lender, gather all your account information and be prepared to provide details about employment, finances and other related matters. The Consumer Financial Protection Bureau (CFPB) has provided a thorough list of questions to ask your lender while discussing COVID mortgage relief and forbearance options. We've included some of the key questions to ask during a COVID mortgage relief conversation in the script below:
Hello _______,
 I'm reaching out because my finances have been affected by the COVID pandemic, and I need help making payments. I want to learn about my CARES Act options and/or related financial programs available to me.
The representative will then walk you through the options, where available. These questions can help you make a more informed decision:
What fees, if any, are associated with each of the options?
What happens at the end of the forbearance or relief period? What's my responsibility, and/or what should I expect?
What are my payment options at the end of the forbearance or relief term?
What fees, if any, can you waive to help a good customer?
Write down all the important details of the call. If necessary, review your options and call back later with a decision. Use this guide to learn more about forbearance and what to do if you receive mortgage relief.
Step 3: Contact Service Providers
Local service providers may offer programs to help residents impacted by COVID pay for essential needs, like electricity, heating and gas. Look for the customer service phone numbers for your utility and service providers on your bills, or search for the information online.
Ask each company representative about COVID payment relief programs to help reduce costs or find a more affordable option for your bills. You can use this script for your call:
Hello _______,

I'm calling for more information on any financial hardship and/or relief plans available for my account. I'm struggling to pay bills due to COVID, and need help managing payments.
The representative will walk you through options, if available. Keep notes of your call, whom you spoke with as well as details of any new payment options. Make sure to confirm any changes to your account in writing.
Step 4: Contact Creditors
If you have personal debt and are having trouble making payments, you should also contact creditors to notify them of your situation. Many lenders also offer payment deferment plans to help manage repayments, lower interest or adjust contract terms. Use this script when calling personal creditors:
Hello _______,
I'm calling because I've been financially impacted by COVID, and I want to explore relief accommodation options that are available.
The creditor representative will discuss any available options to help you manage payments, reduce monthly responsibility and/or adjust payment terms. Keep notes of any changes to your account. You should also receive a written confirmation of any updates.
Step 5: Watch Your Budget
Due to the uncertain nature of the pandemic, it's a good idea to eliminate any unnecessary expenses from your budget immediately. A shoestring budget generally doesn't include expenses outside the most basic fundamentals required to live and get to work — costs associated with housing, utilities, transportation and food.
Use these tips to help stretch your money further:
Step 6: Look for Employment
The pandemic and economic recession have severely affected the global and national economies. Some industries may take years to recover, while other fields are growing during a pandemic. If you lost a job or are living on a reduced income, it may help to look for part-time, seasonal or remote positions in other industries while the economy recovers. Use this this guide for more information on securing employment after a recession.
The information in this article is provided for educational and informational purposes only, without any express or implied warranty of any kind, including warranties of accuracy, completeness or fitness for any particular purpose. The information in this article is not intended to be and does not constitute financial, legal or any other advice. The information in this article is general in nature and is not specific to you the user or anyone else.