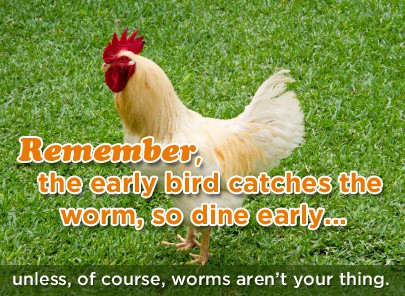 One of the largest monthly expenses most people face is food. The easiest way to cut down on this cost is to skip eating out in favor of home-cooked meals.
However, it's difficult to cut out restaurants completely so the next best thing is to limit your meal costs while there. Here are some tips for how to do just that:
The early bird catches the worm. If you're looking to try a specific restaurant, you can usually save by testing out their lunch menu instead of dinner or seeing if they offer specials for early dinner reservations.
Skip the drinks. One of the biggest costs on a restaurant tab is alcohol. You'll be pleasantly surprised at how inexpensive a meal can be when you cut the wine and beer (or even soda!)
Split a meal. Restaurants typically serve much larger portions than the average person needs so why not split a meal with someone or, at the very least, ask the waitstaff to wrap up half of your meal before you even start eating so that you have leftovers for tomorrow's lunch or dinner!
Order an appetizer as your meal. Many establishments will offer a meal on their appetizer list that is similar to an entrée that they offer. This is a great way to pay less for the same meal, and if you're at a restaurant that serves bread before dinner, you're probably pretty full by the time your meal comes anyway.
Look online for savings. Many restaurants will offer coupons on their website, so check it out before you go. You can also find plenty of great deals on sites like Groupon and LivingSocial.
Using some of these tips and tricks can help you slash food costs without completely giving up dining out. They are also great habits to develop for situations where you're forced to hit a restaurant (group dinners or travel)!