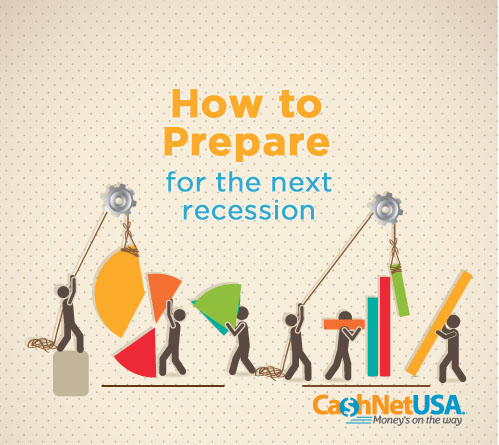 If you only watch the news occasionally, you have probably heard about the recent recession a few times. A recession is when the country's economic growth goes into decline for two quarters in a row. This past recession may have seemed like a one-of-a-kind event because of its severity and the number of job losses. However, the reality is that throughout history, the U.S. (and all other free markets) goes through recurring series of recessions and recoveries every few years. It's called the business cycle, and it typically repeats itself every four to five years. What this means for you is that since we're now a few years into the recovery from the last major financial crisis and what was termed the "Great Recession," we should be anticipating another recession within the next couple years. While recessions typically result in economic pain in terms of decreasing sales for companies and layoffs for employees, a recession also presents opportunities. Here's how you can set yourself up for some opportunities in the upcoming recession:
Your Negotiating Leverage Goes through the Roof – One of my favorite aspects of a recession is that retailers will go to great lengths to sell anything in their inventory for fear of lost sales and discards. When a recession begins, consumers hear about it in the news and even those who still have a steady income and a good job tighten up their purse strings and stop buying. This is shown in the broader data. But at the personal level, what I do is use that fear to my advantage. During the last recession, I negotiated an incredible car deal, saving me probably thousands of dollars over buying during boom times. Next, I told my utility company that I was considering dropping some cable services and switching to a lower cost option due to financial strain, and they offered me those services for free to keep me! Finally, I started to step outside my comfort zone and just ask for discounts for regular market merchandise. I was buying my wife a gift at the mall and I asked the manager how much they could sell it to me for — "considering the recession and all." He gave it to me for 20 percent off!
Buy Low – Aside from being able to negotiate better deals on your purchases, stock markets usually crash during a recession and housing usually at least stalls, if not go into a decline. This can be a great time to dollar cost average into better stock valuations or also to buy a home or investment property. Many people react to each recession as though "this time is different," and they fear we'll never recover. They are willing to sell at fire sale prices. Historically, we always recover. And those who bought when there was fear in the air end up doing quite well.
Better Use of Your Time – There's a non-financial aspect to recessions that I don't mind either. It's my time. We have some favorite restaurants, movie theaters and other venues that are usually so booked that they're frustrating to frequent during boom times because they're so crowded on a weekend that you waste hours of time. Even when you make a reservation at a hot restaurant, you still end up waiting! During a recession? Empty. We've gone out to some great places and had zero wait during a recession. Traffic also declines, there are more empty seats on airplanes, and Disney World is much more enjoyable. If you can think of a frustrating experience due to crowds, it's much better during a recession.
The information in this article is provided for education and informational purposes only, without any express or implied warranty of any kind, including warranties of accuracy, completeness or fitness for any particular purpose. The information in this article is not intended to be and does not constitute financial or any other advice. The information in this article is general in nature and is not specific to you the user or anyone else.