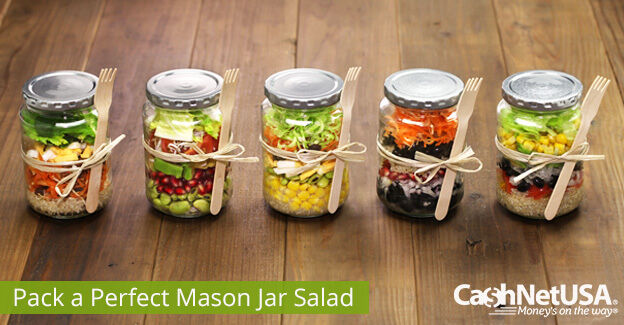 How to Make Mason Jar Salads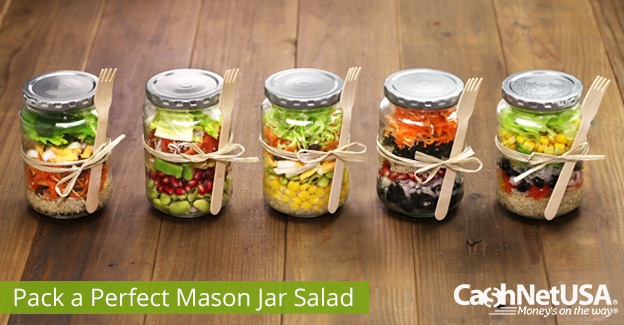 Have you ever made or bought a salad that wasn't mixed quite right? Where the vegetables, meat and dressing weren't exactly equal throughout? That is a small issue that can easily be solved by making your own Mason jar salads!
A Mason jar salad is similar to a salad made in a bowl — except for the fact that it's mixed better and much is easier to transport. Don't believe us yet? We'll show you how to pack the perfect Mason jar salad in 6 easy steps1 and share a few of our favorite recipes below.
Step 1 – Add the Dressing
The secret of Mason jar salads really isn't a secret — it's all about the layering. The first layer should always be your dressing. If you have a quart jar, we recommend adding about 3 tbsp. of a delicious dressing.
Step 2 – Base Layer
Carrots, tomatoes, onions and snap peas — these veggies are considered to be your base. However, something more substantial like chicken, beef or bacon will work also. Not only will they add tremendous taste to your salad, they also soak up your dressing so you get the most out of the flavors.
Step 3 – Keep on Layering!
That's right, keep on adding your choice of vegetables! Pack your vegetables as tight as possible because that will help keep your salad fresh and wilt-free. Also keep in mind that the more colorful your salad is, the better!
Step 4 – Finally, Greens and Cheese
Okay, now you can add the salad portion to your salad. If you like cheese, we recommend putting a couple spoons of your choice of cheese. Then, add more salad on top to keep in the moisture.
Step 5 – Salad On the Go!
Twist the lid on right, place in the refrigerator at home or in the office and take it out when you're ready to enjoy. All you need to do is shake it a few times for a perfectly mixed Mason jar salad.
Mason Jar Salad Recipes2
Summer Salad

In this order, add the following ingredients:
• Dressing
• Apple
• Radish
• Celery
• Walnuts
• Greens!
Shrimp Salad

In this order, add the following ingredients:
• Dressing
• Sautéed Peppers
• Sautéed Onions
• Shrimp
• Guacamole
• Greens!
Burrito Salad
In this order, add the following ingredients:
• Greek Yogurt
• Sweet Potato Cubes
• Cilantro
• Quinoa
• Bacon
• Chicken
• Beans
• Greens!
References
1Perry, N. (12 June 2015). How to pack a perfect mason jar salad. Retrieved July 7, 2015 from http://www.popsugar.com/food/How-Make-Mason-Jar-Salad-35032843#photo-35032843
2Kylstra, C. (10 December 2014). 18 mason jar salads that make perfectly healthy lunches. Retrieved July 7, 2015 from http://www.buzzfeed.com/carolynkylstra/mason-jar-salads