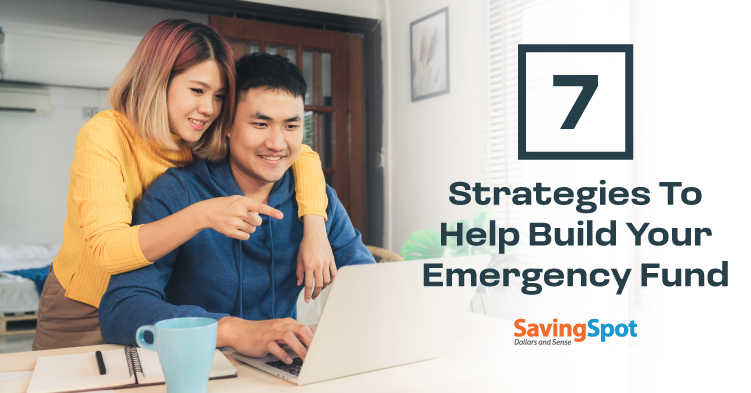 How To Build Your Emergency Fund
An emergency fund is a separate account to help you manage unplanned bills, reduced income and other unexpected expenses. It's also a good indicator of your overall financial health.
While specific needs vary, experts recommend saving roughly three months' worth of expenses in an easily accessible savings account. If you don't have an emergency fund, now is the time to start putting money away for a rainy day. Read on for seven strategies to help build your emergency fund.
Set Up a Savings Goal 
Research suggests that you're more likely to attain your goals when you document them on a regular basis. For best results, write down your savings goal and place it in a highly visible location to serve as a reminder. Aim to review and update your savings goal every few months as your needs change. If you're just starting your emergency savings fund, aim to save at least $500 or $1,000 and build it up from there.
Many banks offer feature-rich apps that allow you to track expenses, create savings goals and monitor your money from anywhere. If your bank does not offer this option, you can use a free budgeting tool to track your savings progress.
Update Your Budget 
Once you have a savings goal that works for you, comb through your budget and update expenses. Your budget should reflect your savings strategy. These resources can help you manage finances and stay on top of your savings plan:
Track your spending and reduce your expenses with these useful budgeting tools.
Use a free online budget calculator to manage and plan your monthly finances with ease.
If you have an irregular paycheck, these tips can help you plan your budget even when your income is inconsistent.
Utilize Automatic Bank Transfers  
Set up recurring transfers to a separate savings account so you can save money without lifting a finger. If you don't get paid on a regular schedule, create a recurring calendar reminder to deposit money into your emergency savings fund each month.
Make Money off Your Money 
An emergency fund should be easily accessible in case you need to access money fast. However, most savings accounts from traditional banks do not offer a high return on your money. You may be able to find online banks and financial apps that offer a better interest rate than the average savings account from a traditional bank. If possible, consider saving your money in an easily accessible high-interest savings account.
Save Unexpected Income 
Whenever you receive unplanned earnings — like monetary gifts, bonuses, raises and other cash windfalls — aim to save all or as much of it as you can. If possible, stay on a reduced budget, even if your income increases.
Earn Extra Cash
Earning more money can help you save at a faster rate. These tips can help you increase your income:
Look for opportunities to advance or earn more money at your existing job, like picking up extra shifts, pursuing a promotion and continuing your education.
Use the Steady app to find flexible on-demand or part-time employment to increase your income on a schedule that works for you.
Pursue your passion with a side hustle or a work-from-home career you can do from anywhere.
Look for Bank Account Cash Bonuses
Occasionally, you can find bank account cash promotions for referrals, new accounts or other products. If you don't already have a checking or savings account, consider searching for new account cash bonuses. Make sure to read any fine print and promotional requirements before signing up for any new product or service.