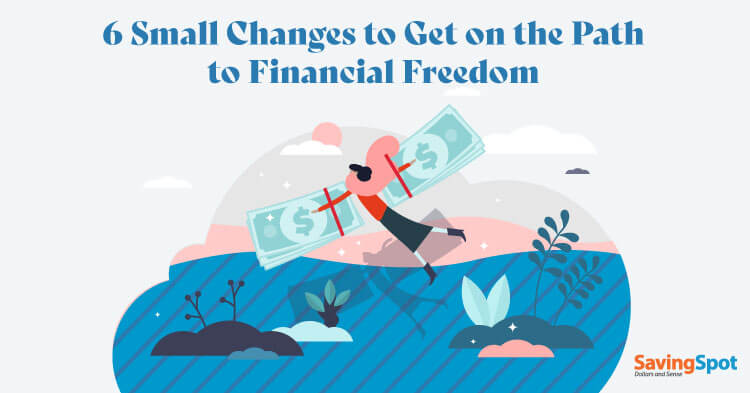 How to Start on the Path to Become More Financially Free
Financial freedom may feel like a long way off if you can't make progress on your debt or live on a small salary. After all, how can you save for the future or advance your situation if you live paycheck-to-paycheck to make ends meet?
There's no easy way to get rich quick, but some habits can really help you improve your financial situation and security. Read on to learn about six lifelong behaviors and habits that can help you become more financially secure.
1. Watch Your Debt
Credit can be an incredibly helpful financial tool, but carrying too much debt can hold you back financially and even lower your credit score. In order to avoid falling financially, aim to use credit only when it's needed. Making more than one payment per month and/or paying more than the minimum amount due can help you pay off debt sooner.
2. Be Realistic About Your Situation
No matter your goals or aspirations in life, you'll need to start your journey from somewhere. Take a good, honest look at your financial situation, from your accounts, debt payoff strategy and credit score to your earning potential, career prospects and long-term savings strategy.
If you don't already have them in place, you should establish important financial building blocks, like an emergency fund and retirement fund, that can help you later in life when you need it most. Similarly, establishing access to some form of fast cash, like a line of credit, can help you pay for expenses if you ever come up short on funds.
Setting (and reaching) small, attainable financial goals can help you build up your confidence as you cross things off your list and advance to the next goal. Do you have $500 in your emergency fund? If so, aim to double it, and so on.
3. Work on Yourself
Investing in yourself and on your education can pay dividends over a lifetime. Whether you explore career-related programs to sharpen your skills or look for ways to advance at your current position, you should always strive to keep growing personally and professionally. With more knowledge, experience and skills, you can improve your earning potential and advance your career path.
Beyond job-related training and education, financial education can also help improve your fiscal situation and approach to managing money. Not sure where to start? Check out some of these financial 101 topics to learn more of the basics:
4. Embrace Frugality
Thriftiness shouldn't limit you or scare you away — think of it as a budgeting strategy that prioritizes opportunities and experiences that you want most. Embracing a frugal lifestyle means limiting waste, saving and planning for the future. Try to review your budget often, and look for ways to trim down on essential expenses, like rent and food costs.
It may help to measure your monetary choices in terms of the number of hours you need to work to pay for the expense. For example, do you want to go out for dinner and a movie for $50 — roughly three hours' worth of pay — or is there a better use for the money? A frugal lifestyle can help you reach bigger savings goals.
5. Use Technology to Autosave
Your banking app or software can actually help you reach your savings goals over time. With autosave features, you can create your own rules so that money is transferred automatically, such as a $10 transfer into a savings account every time you get paid. You may also want to set up your autosave into a separate account that you can't easily access so you're not tempted to spend or withdraw the money.
6. Maintain Good Credit Habits
Do you know your credit score? If you haven't checked recently, now is the perfect time to review your credit report. While they may be less common, credit reporting errors do happen from time to time. Make sure your report is accurate and dispute incorrect information; your credit score may update or improve after incorrect information is removed!
Your credit rating is an important indicator of your overall financial health, so you should check your score as often as possible. Paying bills on time and maintaining a low credit utilization are examples of positive habits that can help you maintain good credit.