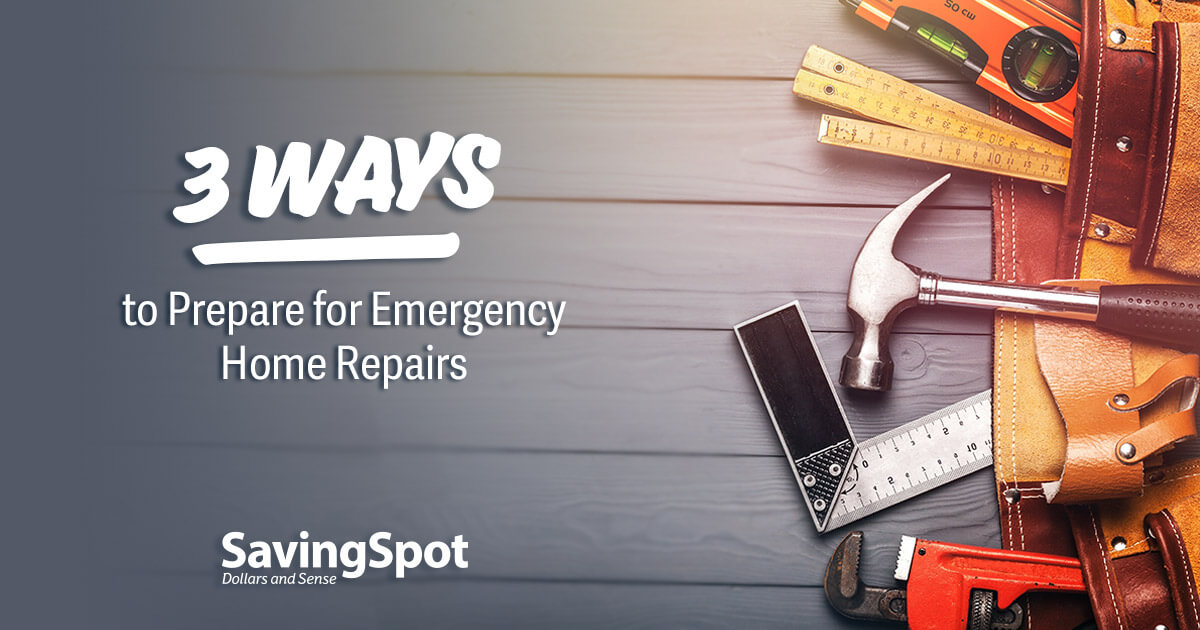 How to Pay for Emergency Home Repairs
Mapping out your budget for a home renovation or a room remodel may seem fairly overwhelming and costly as you begin to total up all of the financial elements it can entail, including labor rates, material price points, and design fees, amongst other things. Now imagine having to do all of this without having adequate time to prepare or budget for it. Unfortunately, homeowners can find themselves face to face with this challenge when the need for emergency home repairs arises.
Whether you're dealing with disaster-related home repairs or more ordinary occurrences like water damage from a leaking roof or pipe burst, the bottom line is that these issues are unexpected and often unaffordable. Hopefully, your home remains safe and sound from any unforeseen damages, but should you find yourself in such a predicament, below are three ways to pay for emergency home repairs.
Homeowners Insurance
Before you begin any home repairs, take a moment to enquire what perils your homeowner's insurance covers as some insurance companies will pay to repair your home, or replace various items. Coverage is subject to the terms and conditions of each unique policy, but the Insurance Information Institute notes the following perils as those most typically covered by homeowners insurance:
Fire or lightning
Windstorm or hail
Explosion
Damage from an aircraft, car or vehicle
Smoke
Vandalism or malicious mischief
Theft
Falling objects
Weight of ice, snow or sleet
Water damage
It's important to note that there are exceptions to the list above, like flooding. Although flooding is known to cause severe water damage, most standard homeowners insurance policies don't cover flood damage. In this case, some homeowners purchase separate flood coverage as a preventative measure.
Rainy Day Fund
A rainy day fund refers to money set aside for use during times of smaller-scale financial crises, like unexpected home repairs, for example. To decide how much money you ideally want in your rainy-day fund and to budget accordingly, you'll need to take into account several factors. For instance, do you live in an area prone to natural disasters? Is your house an older home? Are any of your appliances more than 10-years-old or on the brink of breaking?
A general rule of thumb is to save $1 per square foot of your house, per year, for home maintenance and repair costs. Others suggest putting aside 1 percent of your home's value every year. Either way, it's wise to account for average project costs related to your home's size and location when budgeting your rainy-day fund, as well. For instance, kitchens typically occupy 15 percent of a home's overall square footage and tend to have the most significant impact on your home's value. Therefore, estimating the cost to remodel a kitchen can help you form a better idea of your budget's needs.
Personal Installment Loans
When all else fails, and you don't have a savings fund to fall back on or your insurance doesn't cover your repairs, loans can be your best bet for financial support against surprise expenses. Many homeowners turn to personal loans — a type of installment loan — to pay for emergency home repairs because of the flexibility and benefits they provide, such as larger loan amounts, better interest rates, and the ability to pay off multiple installments over an extended period of time.
As opposed to other options, like a home equity line of credit (HELOC), which allows you to use the equity in your home to pay for emergency home repairs, an installment loan is a great alternative for those who haven't built enough equity in their home yet. Not to mention installment loans are unsecured, meaning you don't have to put up any collateral, unlike a HELOC, which uses your home as collateral if you fail to pay the loan. Loans are not long-term financial solutions, but they can provide a temporary buffer against these types of unexpected financial emergencies.
Should you need help paying for an emergency home repair, be sure to weigh all of your options to keep you from digging yourself into a deeper financial hole. It's best to take the time to do your research and find the financial solution that saves you the most money in the long run in terms of out-of-pocket expenses and repayments. The saying goes, "expect the unexpected," so knowing your options ahead of time can help to prepare you better if an emergency comes your way.