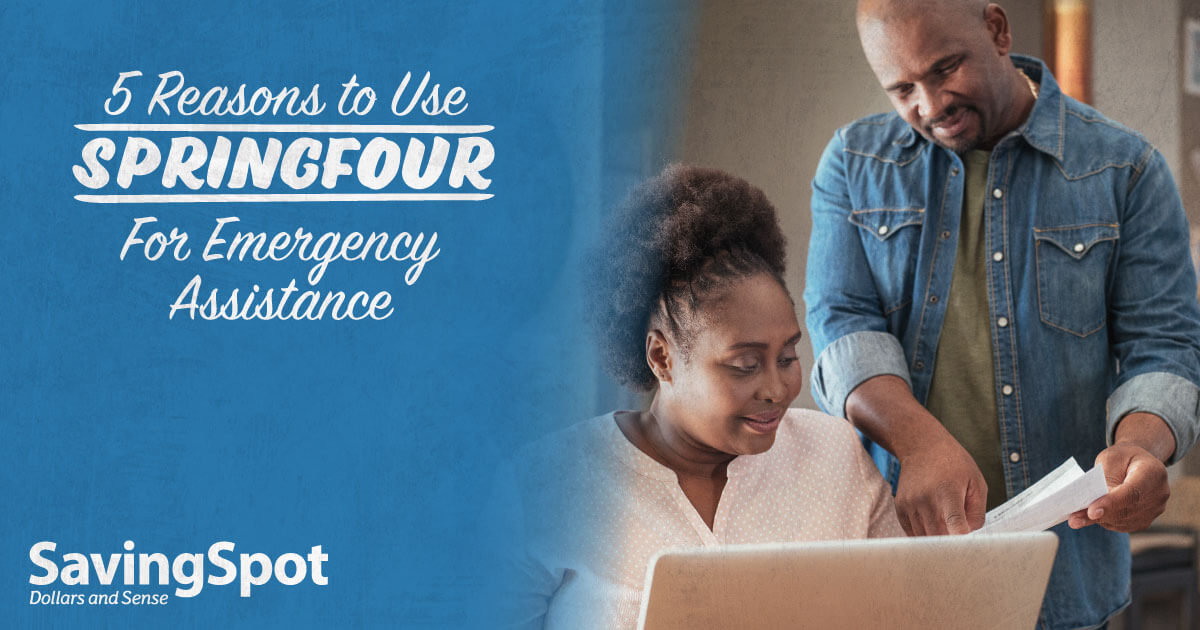 How to Find Emergency Financial Assistance in Your Area
Sometimes, budgeting and saving just aren't enough to cover your expenses or put food on the table. Financial instability and stress can take a serious toll on your overall health, but we're here for you when you're in need of assistance.
We've partnered with SpringFour to bring you relevant and timely resources to help get you through to the other end. With financial aid services for your health, family, home and more, you can find the programs you need, specific to your local area. And best of all, it's a completely free service with no login required!
Just head to our SpringFour page to access what's available in your region. These are some of SpringFour's best free features to connect you with financial aid and assistance.
1. Emergency Food, Financial and Healthcare Assistance
A recent study suggests that nearly 60 percent of Americans are living paycheck to paycheck. If you experience an unexpected hardship, such as the loss of a job or income in some way, you might require urgent financial assistance to make ends meet.
If you're in need of food support or other emergency aid, SpringFour can connect you with a variety of local programs and resources to access what you need:
Emergency Food Assistance: From food banks to local public lunch programs, you can locate emergency resources in your area to help feed your family.
Financial Assistance: Find resources and programs like unemployment insurance, aid or other resources to help you pay for your basic needs.
Health Services: Access low-cost healthcare and testing services, as well as prescription savings programs for your area.
Additional emergency relief programs may be added to the platform as they become available, so check back for the latest updates and offerings in your area.
2. Home Placement and Utility Services
Financial experts recommend spending no more than 30 percent of your gross income on housing needs, including your rent/mortgage payment and any utility costs. However, the nation is facing a severe housing shortage that is primarily affecting households on a budget. According to data published by the National Low Income Housing Coalition, over three-quarters of households on a budget are rent-burdened with over 50 percent of their monthly income being spent on housing.
SpringFour brings you more resources that can help ease the financial strain of these expenses, from low-income housing placement programs and financial rental assistance to subsidized utility plans that can help qualified participants lower their monthly payments.
3. Home Repair Services
Unexpected and urgent home repairs can easily eat away at your emergency fund, but SpringFour can connect you with programs that may ease the burden of these costs. While the options will vary based on your location, you may be able to find maintenance and repair services and programs in your area at significantly lower costs than what is normal.
4. Job Search Programs
Recent global hardships have caused a dramatic shift in the economy, like widespread business closures, stricter operating regulations and supply chain disruptions. Many businesses have temporarily closed, but will need time and more resources before reopening. As a result, many Americans are out of a job and/or will need to look for work outside their field or area of expertise.
SpringFour can connect you with local job search and placement resources, career counseling services or even training programs to learn new skills.
5. Additional Financial Resources
While some options may not be available in all areas, SpringFour has even more resources to help stretch your budget further. These additional resources may include:
Childcare Services: Locate childcare programs, options and assistance for your region.
Programs for Senior Citizens: Find resources like home aid, special healthcare or other financial services for the elderly.
Digital/Technological Services: Access a variety of programs that help you stay connected for less, like subsidized internet access or reduced-cost hardware.
SpringFour is not an affiliate or agent of CashNetUSA. CashNetUSA makes no representations, warranties, or guarantees about the information provided by SpringFour or the results of any referrals.