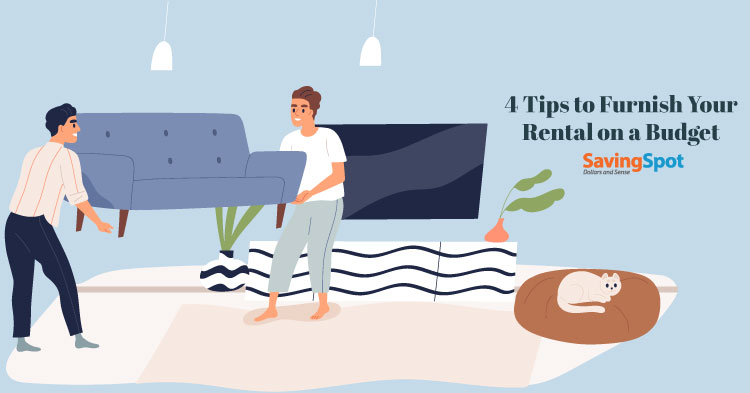 How to Budget for New Furniture
With an ever-changing global work landscape and an emerging gig economy, the way people live their lives has been shifting, and will continue to do so. According to a Business Insider article, 69% of millennials who said they're likely to "always rent" comes down to one single factor: affordability.
For many older Gen Z'ers and millennials, affordability is a struggle because of increased monthly rent prices and the burden of student loan debt. If, however, your goal is to become a homeowner, there are ways you can cut down on costs to begin saving for a down payment on a home. With your wallet in mind, we'll dive into a few budget-friendly ways you can cut back on costs related to furnishing your current rental and save up for your dream home.
Scenario 1: I Have Money to Spend but Want Furniture on a Budget
 So you're moved into your new apartment but are quickly faced with the challenge of furnishing your new spot. With the furniture and appliance category responsible for over $300 billion in annual revenue, there are plenty of options available for your needs from the glitz and glam to the more affordable options. Rather than wasting time and precious gas money on driving store to store just to find overpriced furniture, take to your smartphone or laptop and start your search from the comfort of your non-existent couch.
If you are in the market for a couch, for example, Facebook Marketplace is a great place to start for lightly-used goods ranging from electronics to sporting equipment, and yes, furniture! If shopping and conversing with strangers on a social media platform doesn't thrill you, there are plenty of brand new, budget-friendly couches available from retailers! Opting for online shopping can not only save you time, but can also be a great place to research multiple brands and outlets before making the most cost-effective decision. On top of the convenience factor, many retailers offer customization tools and some even offer the ability to see what the furniture will look like in your space before you buy it.
Scenario 2: I'm on a Very Tight Budget
Shopping for thrifted goods is an affordable way to shop for furniture and other necessities, and it can also be a fun way to find everything on your home wish list. While thrifting or consignment shopping has come with a stigma in the past, it has recently surged in popularity due to the fact it is not only frugal and eco-friendly, but also bursting with exciting finds for any buyer.
There are over 25,000 resale/consignment shops in the U.S alone, and one thredUp study found that in 2017, 40% of 18 — 24 year-olds shopped resale. As is evident, the market for thrifting is there and can be your saving grace while furnishing your home as long as you aren't too strict about everything matching a certain feng shui. While you're navigating through your local thrift store, it's important to keep in mind some thrift shopping tips, specifically when it comes to searching for furniture.
Scenario 3: Give Me Anything and I'll Fix It 
So far, we've touched on furniture shopping tips from smart shopping on a budget to thrifting. This next one is somewhat in the middle of those two for those with no budget at all for buying new, which brings us to do-it-yourself projects. Disclaimer before you read too far, in order to tackle DIY projects, you have to have a bit of creativity, knowledge working with different tools and materials, and patience for the fact that the piece doesn't come ready-made.
For example, it may be nice to have a brand new dining room table arrive at your apartment, but depending on your budget, it may just not be feasible. This can lead you to picking up a table you find on the side of the road (free), bringing it back to your apartment and taking a weekend to clean it, sand it, and maybe stain it to your liking. If this avenue piques your interest, it's worth reading into a few DIY how-to tips to familiarize yourself with some best practices and offer up some inspiration.
Scenario 4: I'd Rather Not Spend Any Money
If your furnishing budget is non-existent, don't be afraid to ask friends and family! Odds are people you know have a spare chair or couch lying around collecting dust in their basement, or a mattress in a guest bedroom that they never use. Rather than spending money on a piece of furniture, ask the people you're close to if they have anything or know of anyone who may be doing a home renovation that may be looking to clear some space.
While collecting second-hand furniture from friends and family may not allow you the design cohesion of picking out a new full furniture set, your wallet will certainly thank you. Additionally, keep in mind that the furniture you have now is only to hold you over until you save enough to put a down payment on your future home, by then you will hopefully have the purchasing power to buy new home goods that match the design eye.
As you can see, there are plenty of affordable, budget-friendly ways to furnish your apartment. From online shopping, thrifting, DIY, and asking for gently-used goods from those you know, you're bound to find a piece or two that will work for you! While it may not be your first choice right now, remember you are working toward your ultimate goal of purchasing your own house where you can start the process over again with a little extra money. In the meantime, be frugal, make your dollars stretch, and keep on saving!