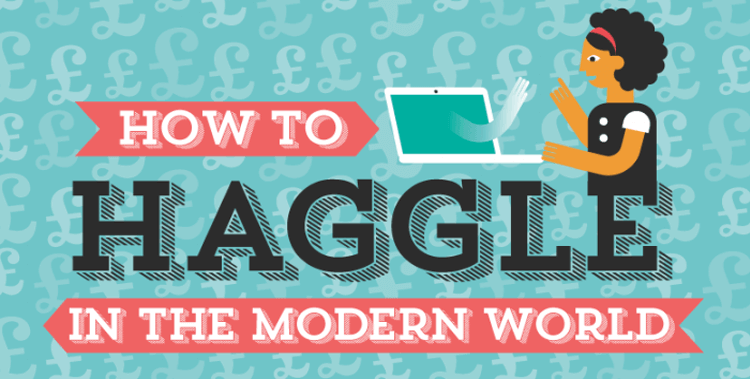 How to Haggle in the Modern World
The modern world is an organized and regimented place. We obey the rules of the road for our safety, we pay our taxes to keep our cities running smoothly, and most of us unquestioningly pay the ticket price for the things we buy online and in the shops.
However, in this last case, sometimes the prices we pay for things have been arbitrarily chosen or inflated — and there's actually no harm in paying less if we can convince the trader to give us a deal. That's the tricky part, though: how can you go about talking a car salesperson, checkout assistant or internet provider into a discount?
Fortunately, there are plenty of frugal experts on hand with tried-and-tested techniques to improve your chances of a price cut. Did you know, for example, that your internet service or cellphone contract provider probably has a so-called 'retentions department'? This is the last person you get to talk to before cancelling your contract — and it's their job to entice you to stay. Knowing this can be valuable information when your contract is nearing its end.
One key point to remember is you're (usually) dealing with a human. If it's the owner of the store, they may be keen to win your loyalty; if it's a salesperson on commission, she may be keen to make that sale at a reduced price than to miss out on it altogether. You can use this knowledge as leverage for a better deal — but be sure to use charm rather than aggression for better results.
Check out this new guide to haggling in the modern world, and add some magic to your experience while saving a few hard-earned bucks next time you reach for your wallet.

Sources
Tuttle, B. (2012). The Passive-Aggressive Way to Haggle Online: Abandon Your Shopping Cart. time.com
Marcel (2016). Haggle with Sky, AA & more. moneysavingexpert.com
Jenny (2016). Haggle on the high street. moneysavingexpert.com
CBS News (2007). How To Negotiate Your Way Out Of Bank And Credit-card Fees. cbsnews.com
White, M. C. (2011). Fighting Fees: 3 Ways to Negotiate With Your (Big) Bank. time.com
Her (2016). You Can Negotiate at the Supermarket! makelovenotdebt.com
Merrill, L. (2014). How to haggle your way to a bargain. azcentral.com
Weisbaum, KH. (2013). The Art of Haggling: What Have You Got to Lose? cnbc.com
Mannini, N. (2016). Survey: Haggling Statistics. creditdonkey.com
Montypython.net (2014). 'Life of Brian' Haggling Scene. montypython.net
Friend, C. (2016). Social Contract Theory. utm.edu
Lewis, M. (2014). Martin Lewis: My 10 tips for haggling with call centres. telegraph.co.uk
Dachis, A. (2011). How to Screw with Car Salesmen (and Get a Better Deal). lifehacker.com
Embed This Image On Your Site (copy code below):