Packing a lunch for work may seem tedious and time-consuming, so many of us default to dining out daily. But there is a better way to eat, and we have the recipes to prove it!
Before you get to our versatile recipes below, read more about the benefits of packing lunches for work and learn some tips to help make food prepping simpler and more enjoyable.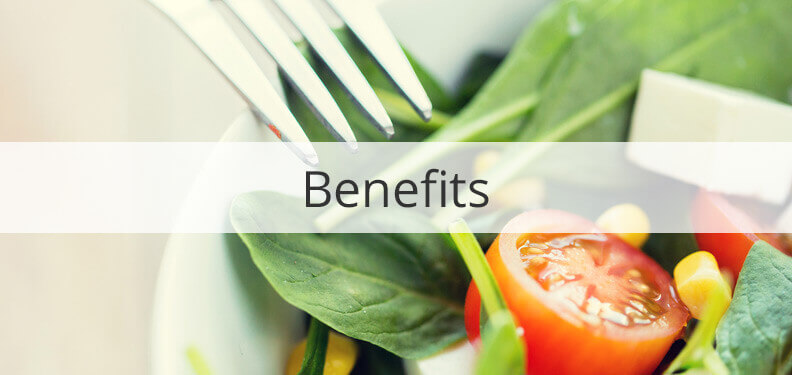 | Financial Perks | Health Perks |
| --- | --- |
| The average Americans spends approximately $10 on each lunch outing.1 If you dine out every work day, that's over $2,500 a year! | You'll know exactly what is going into your food. Avoid hidden calories and unknown nutritional information. |
| The average packed lunch is around $4 per day, saving you 60% of your lunch budget. That's a savings of over $1,500!1 | Portion control can be tough to judge with restaurant portions, especially with items that are mixed. If you bring food from home, you can easily measure! |
| Dining out regularly is linked to high cholesterol and other diet-related illnesses.2 While it could be years before problems surface, proactive measures now could help you stay out of the doctor's office and avoid medical bills. | If you're trying to eat healthy while dining out regularly, your options are slim. Making food at home gives you a wide range of options. |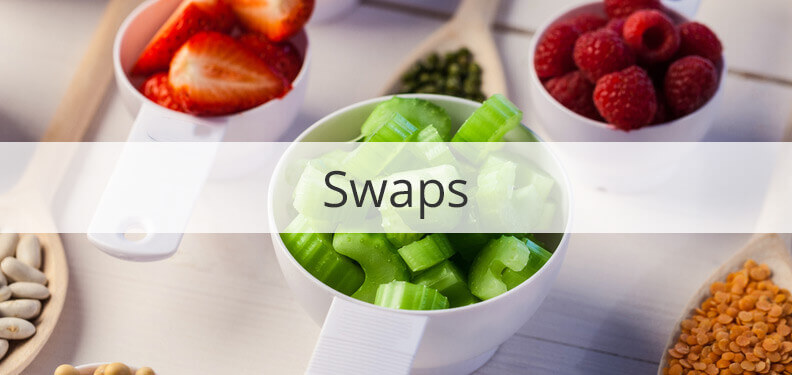 Pass on this…
Pick this!

Mayonnaise, 1 tbsp
90 calories
10 g fat
0 g fiber

Avocado, 1 tbsp
25 calories
2 g fat
1 g fiber

White rice, 1 cup
205 calories
53 g carbs
4 g protein

Quinoa, 1 cup
223 calories
39 g carbs
8 g protein

Flour tortilla, 1 tortilla (8 inches)
120 calories
3 g fat
22 g carbs

Corn tortilla, 2 tortillas
100 calories
2 g fat
18 g carbs

Sour cream, 1 tbsp
28 calories
3 g fat
0 g protein

Plain Greek yogurt
8 calories
0 g fat
1 g protein

French fries, ½ cup
200 calories
11 g fat
2 g fiber

Baked sweet potato fries, ½ cup
175 Calories
6 g fat
4 g fiber

Potato chips, 1 ounce serving
160 calories
10 g fat
15 g carbs

Kale chips, 1 ounce serving
50 calories
1 g fat
9 g carbs

Lasagna noodles, 2 pieces
180 calories
37 g carbs
1 g fat

Zucchini, 1 ounce
15 calories
1 g carbs
0 g fat

Soda, 1 can
140 calories
39 g carbs

Seltzer water, 1 can
0 calories
0 g carbs

Bagels, 1 bagel
260 calories
1 g fat
56 g carbs

Whole wheat English muffin
57 calories
1 g fat
11 g carb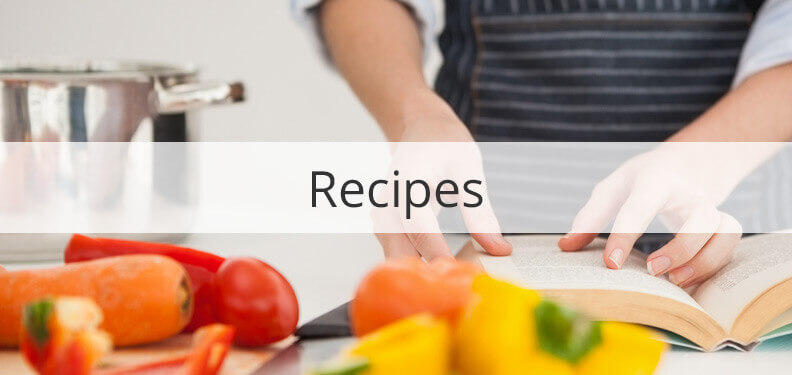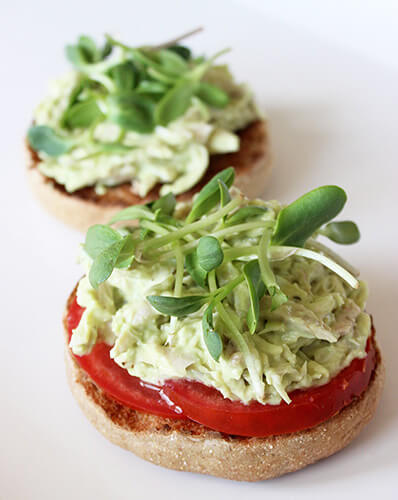 Avocado Chicken Salad
Use it to: Spread on an English muffin, fill a lettuce wrap or top a salad.
Ingredients:
¼ avocado
2 tbsp plain Greek yogurt
1 tsp lemon juice
¾ cup shredded chicken, precooked
In a small bowl, mash the avocado together with the Greek yogurt and lemon juice until combined well.
Add chicken and mix until chicken is coated.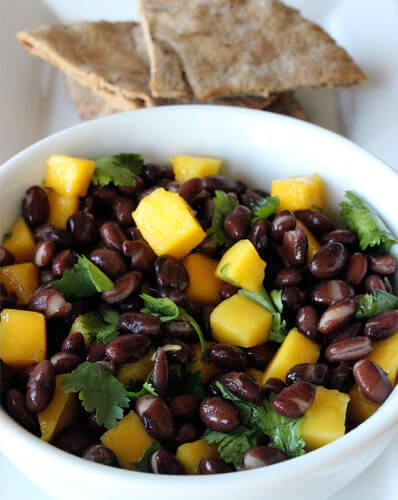 Black Bean Mango Salad
Use it to: Eat as a side, sprinkle on tacos or mix with vegetables.
Ingredients:
8 ounces of black beans
10 ounces mango, diced
1 tbsp lime juice
1 tbsp lemon juice
1 tbsp orange juice
1 tbsp agave syrup
3 tbsp cilantro, chopped
Salt and pepper to taste
Mix black beans and mango in a bowl.
In a separate bowl, mix all juices with syrup.
Mix together the contents of both bowls. Add cilantro.
Salt and pepper to taste.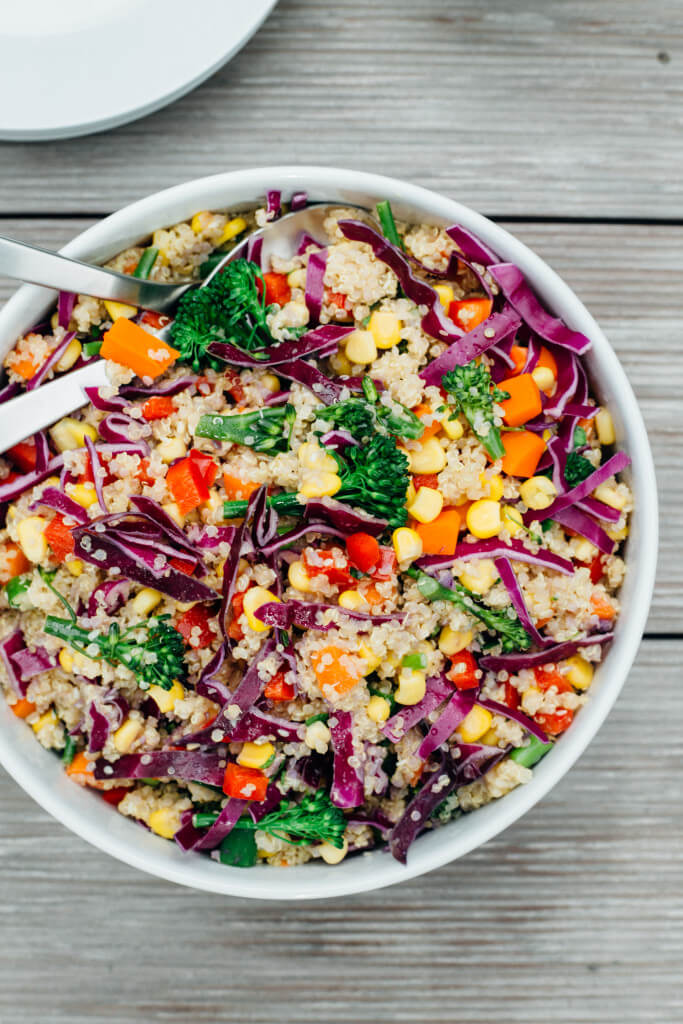 Rainbow Quinoa
Use it to: Add stir-fry with soy sauce, top with cheese and cook under a broiler or stuff into a bell pepper and cook.
Ingredients:
1 cup quinoa, rinsed
2 cups water
¼ tsp salt
½ yellow pepper, diced
½ red pepper, diced
1 cup broccoli
1 cup red cabbage
½ cup corn kernels
2 tbsp avocado oil
Salt and pepper to taste
Put quinoa, water and salt in a covered pot. Heat until water boils. Once boiling, turn the heat to low and simmer for 15 minutes or until water is absorbed.
Turn the heat up to medium and add in vegetables and oil. Cook until vegetables are heated.
Sprinkle with salt and pepper to taste.
Zucchini Pasta
Use it to: Freshen up a pad Thai dish, eat it with parmesan cheese or add it to a broth for homemade ramen.
Ingredients:
2 zucchinis
Salt
2 garlic cloves, minced
¼ red pepper flakes
1 tbsp extra virgin olive oil
Spiralize the zucchini and spread it across paper towels. Sprinkle with salt and let sit for 20 – 30 minutes to help remove excess moisture. Blot the zucchini with paper towel.
Heat oil in a frying pan over medium heat. Sauté garlic for 5 minutes just prior to adding zucchini.
Add zucchini and red peppers flakes to the pan and sauté for 2 – 3 minutes, tossing frequently.
Remove from heat and serve!