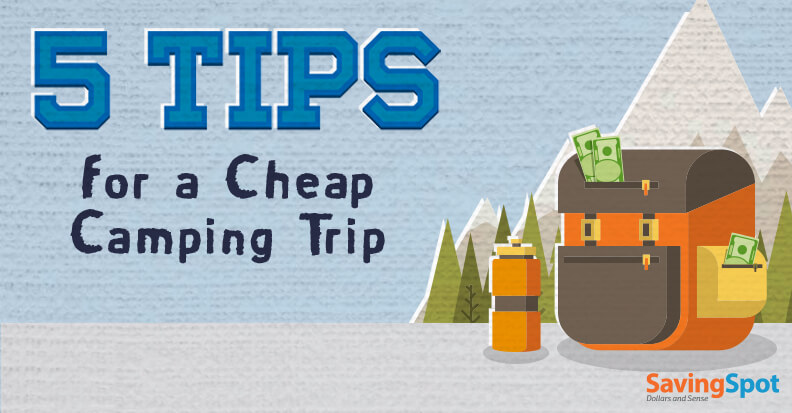 Guide to a Cheap Camping Trip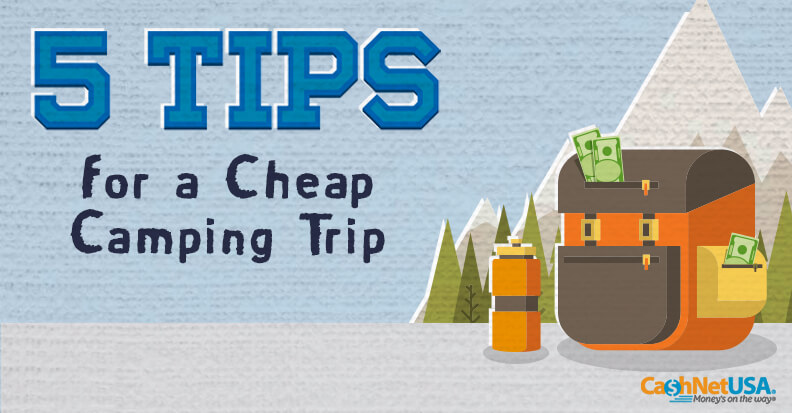 Camping is a great, budget-friendly vacation option for those looking to disconnect from technology and reconnect with friends and family. You may choose to invest in your own camping gear (which may be costly up front), but once those big-ticket items are collected, each subsequent trip is exponentially cheaper.
Need help planning your next outdoor adventure? Check out our five-step guide on camping for less:
Click to reveal tips!

Lodging

Borrow camping gear like tents, sleeping bags and various supplies to avoid the costs of new equipment.
If you have a slightly bigger budget or prefer to buy instead of borrowing, consider purchasing your gear from Craigslist or a used sporting goods store to help cut back on the cost.
Check with your chosen campground to see if they rent out supplies. Not only will you save on the upfront cost of the equipment, you won't have to worry about transporting it to the site since it will already be there!
Avoid planning your trip within a week of leaving or on a holiday weekend — both times tend to see higher lodging prices.
Location
If you're planning on camping with your kids for the first time and are not sure how they'll hold up, try camping in your backyard to start. Not only is it free, but it also will make it easier to transition to somewhere farther away.
Sometimes the great outdoors are closer than you think. Perform a search for state and national parks near you and see if they have campsites available. The new backdrop of greenery may be all you need to feel like you're out in the wilderness.
Prices of campsites vary a lot, even within one site. Do your research before you commit — many upgrades, like outlets or proximity to the bathroom, aren't necessary for shorter trips. Private campgrounds will generally be more expensive than state or national parks.
Food

Be selective with your snacks — while cooking over a fire is half the fun, it's important to also bring non-perishable snacks to have for the car trip to the grounds, hiking on the trails or between meals. Try jerky, dried fruit or nut mixes.
Use ice blocks rather ice bags. They will stay frozen longer and preserve your food better. You can also freeze meats and other cold foods at home before you leave to extend them even further.
Skip paper plates and plastic utensils. They'll end up being more expensive than reusing the same dishes, and they're bad for the environment. Don't forget to bring dish soap and sponges to clean them!
Entertainment

If you're on the water, pack equipment for free or low-cost activities like fishing or tubing.
Plan for a rainy day — even if the weather forecast calls for sunny days, you never know if things may change. Pack things like board games, cards and crafts to pass the time. If you're still unsure of what to bring, check out these 10 ideas to keep your kids entertained when camping in the rain.
Take advantage of your remote location and the resources you have around you. Learn to skip a rock or draw a picture to capture your surroundings.
People

Invite friends to help split the cost of food and campsite fees.
Assign group meals to each person, couple or family to help disperse the costs across all those who are participating in your trip.
Assign each person an essential camping item so the cost of supplies doesn't all fall on one person.
Not all campgrounds are handicapped-accessible. Call and confirm before you book if necessary.
Sometimes families include grandparents, children, cousins and even furry friends. Camping trips are a great way to vacation with your pup, but there are a few extra steps you need to take to prep.