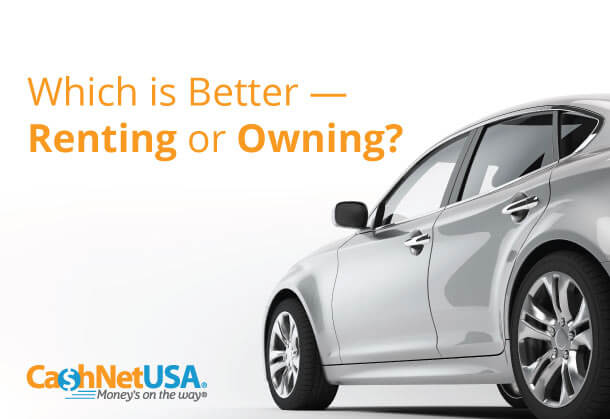 Getting a New Car — Rent or Own?
2013 saw new-vehicle leasing increase from 24% to 28%, the highest leasing rate since 2006.1 While an increase in car leases is notable, it doesn't change the fact that more consumers make the choice to buy than lease. Still, there are positives and negatives to both sides.
So what are they?
Ownership Pros:
Paying It Down
It's unrealistic for many of us to walk into a dealership and purchase a car outright with a wad of cash. The route that far more people take is to commit to an auto loan from the dealership, and pay the car off over time. Once the car has been paid for in full, chances are good that you'll have transportation for years at just the cost of upkeep. Additionally, if you make your payments on time and in full, you can contribute positively to your credit.
You Buy It, You… Do What You Want With It
Owning a car means that that car is yours. Obvious, sure, but also worth mentioning, as ownership can lead to all kinds of benefits you may not have considered. For one thing, your car can serve as a tangible asset going forward. For another, owning a car represents a crucial rite of passage for many. And owning your car means you don't have any obligations to anyone else, which means you can treat it pretty much however you want. Want to trick it out? Or layer your bumper with stickers? Go for it! After all, it's yours!
Leasing Pros:
Pay Less
While leasing a car won't result in owning that car unless you decide to purchase it once your lease term is up, that doesn't mean ownership is necessarily better. If your top priority is keeping your general costs down, then leasing may be the better option, as a lease will often cost you less per month than paying off the car's full price.
Less Chance of Substantial Repair Costs
While owning a car means you can avoid monthly payments, it also means you have to cover the cost of any necessary repairs as your car begins to age. Oftentimes, this isn't the case with a lease. Many car leases are in the range of 2 to 3 years, which — assuming no accidents occur — generally isn't enough time for a car to need costly repairs.
Ownership Cons:
The Wear of Time
Many individuals who lease choose this route because it keeps their vehicle fresh and up to date, an option not necessarily available to those of us that purchase. And while the draw of having the latest, greatest ride on the road can be strong, that's a far more superficial motivation than the wear and tear of time. The reality is that owning a car means taking on the responsibility of upkeep, which is both unavoidable and unpredictable.
Leasing Cons:
Fear of Damage
Because a leased vehicle has to be returned at the end of the lease, the stakes are a bit higher when factoring in wear and tear. If your leased vehicle takes on any kind of damage, then chances are you'll be heading to an auto body repair shop to avoid the exaggerated costs a dealership will almost certainly charge. But because car accidents are generally few and far between, major damages aren't where the real stress can lie. Day-to-day damage, like bumper dents or car door scratches are the sort of issues that a car owner can ignore, but a car lessee has to have fixed. Each and every ding, dent or other minor damage means lost money.
The information in this article is provided for education and informational purposes only, without any express or implied warranty of any kind, including warranties of accuracy, completeness or fitness for any particular purpose. The information in this article is not intended to be and does not constitute financial or any other advice. The information in this article is general in nature and is not specific to you the user or anyone else.
References
1Henry, J. (2016, Jun 30). Leasing bounces back. Retrieved from http://www.forbes.com/sites/jimhenry/2013/06/30/leasing-bounces-back-3