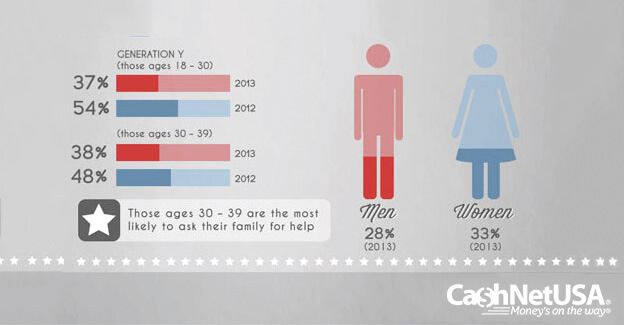 Generation Y Asking for Less Help from Parents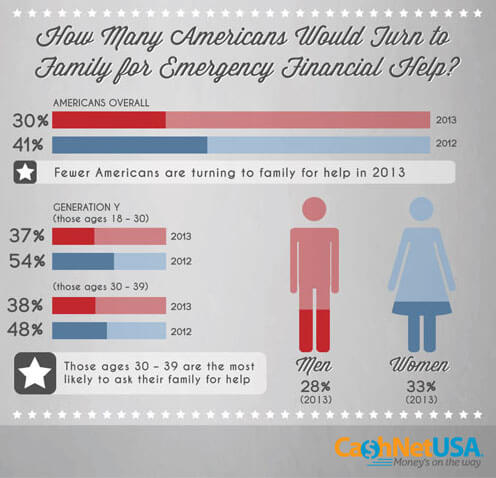 According to a recent TNS Omnibus survey conducted by CashNetUSA, 30 percent of Americans would turn to family members for assistance in the event of a financial emergency. That's down from the 41 percent of Americans who reported a willingness to seek help from family in last year's survey. This decline was especially pronounced among Generation Y — those individuals born between 1980 and 2000. (Those surveyed did not include individuals under the age of 18.) The survey found that 37 percent of Generation Y individuals would be willing to ask family for financial help — a proportion well above the national average but down 17 percentage points from a year ago. Members of Generation Y aren't the only ones easing up on requests to family members; 38 percent of those between the ages of 30 and 39 would ask their family for financial assistance in a pinch, down from 48 percent a year ago.
Despite these findings, the drought of rainy-day funds observed in last year's survey hasn't eased for most Americans. The proportion of people with less than $100 in savings remained relatively stable across much of the U.S. at 22 percent, while there was a seven percent increase for residents of the Western states and a seven percent decrease for residents of the North Central region.
Nationwide, 54 percent of adults maintain more than $800 in savings. Among adults ages 50 – 59, this figure declined from 69 to 59 percent, while the number of adults ages 40 to 49 with over $800 in savings increased from 47 to 56 percent.
"The scarcity of rainy day savings remains a concern for too many Americans, and it hasn't improved since last year," says Megan Staton, CashNetUSA's director of marketing. "Americans are unprepared to handle financial emergencies and less willing to turn to family for help, especially young adults."
Of those living in the Western United States, 24 percent would "definitely not" ask for help from a family member, as compared to 14 percent a year ago. Those ages 30 to 39 rank as the most likely to seek help from family. Women remain slightly more likely than men to ask a family member for a loan; 33 percent of women surveyed said they would ask a family member for help in a financial crisis as compared to 28 percent of men.
Read more information about the survey here.