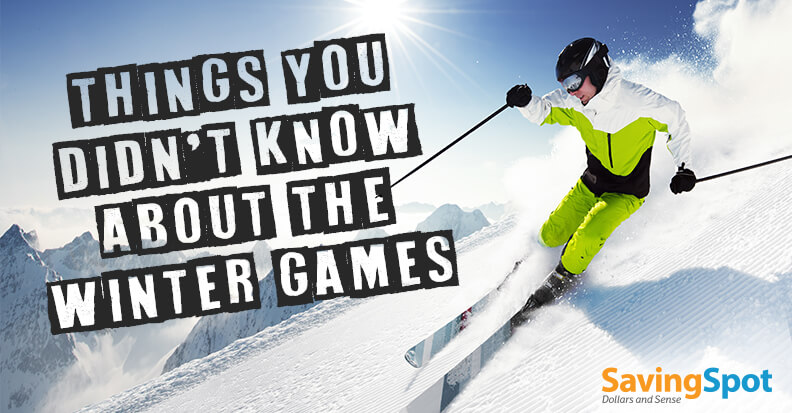 Fun Facts About the Winter Games
Every four years the worldwide view of snow changes. Instead of being seen as a part of the morning news forecast, that fluffy white powder becomes a platform for some of the greatest athletes to perform their remarkable skill. Athletes from roughly 90 countries will participate in the 2018 sporting extravaganza.1 Lasting 17 days, featuring 7 sports, 15 disciplines and spanning over 100 events, the Winter Games are something everyone is sure to watch, cheering on their country.
Here are some of the most interesting facts about this international athletic spectacle!
The Cost of the Games
The Sochi games were the most expensive games ever, costing $21.89 billion.2
The most efficient Winter Games were held in Vancouver, Canada — they only overran their budget by 13%.2
Denver is the only city to win a bid for the Winter Games and reject it. The reason? The massive projected costs.3
The average cost to attend the winter games for a week in South Korea will run you $4,683.
Way Back When…
The first Winter Games were in 1924.4
World War II interrupted the games of 1940 and 1944, but they were resumed in 1948.4
Up until 1992, the Winter and Summer Games occurred in the same year. However, the committee decided to have them alternate, allowing a 1992 and a 1994 Winter Games.4 This decision greatly affected those who competed in the 1992 games, and many athletes saw it as a chance for redemption (though it led to some controversy).
Back when the games occurred over several months rather than several days, figure skating and ice hockey were actually held during the Summer Games. It wasn't until 1924 that they made the transition to winter.3
Humans aren't the only species to participate in the Winter Games. In 1928, skijoring was a demonstration sport. Skijoring involved competitors racing on skis, towed by riderless horses!3
Calamity at the Games
The 1964 games in Innsbruck were at risk of cancellation — there wasn't any snow! The Austrian army saved the day by scaling local mountains and carting down more than 50,000 cubic yards of snow and 20,000 blocks of ice to the local courses and tracks.3
In 1948, two U.S. men's hockey teams showed up to compete at the St. Mortiz games, both claiming they were the rightful team. The committee eventually decided that the team backed by the American Hockey Association was eligible to compete. The other team booed their fellow Americans when they took the ice.3
Japan and Germany have been banned at times from competing at the games due to wartime conflicts.4
Mountains of Medals
Norway has won the most medals of any country at the Winter Games. They have taken home 303 total medals, 107 of which are gold.3
Only three countries have won more medals at the Winter Games than the summer: Austria, Norway and Liechtenstein.3
Only one person has ever won gold at both the Winter and Summer Games: American Eddie Eagan. He won the light-heavyweight boxing event in 1920 and won as part of a four-man bobsled team in 1932.3
It took 84 years for the 1924 British curling team to receive a gold medal for their efforts. Curling was considered to be a demonstration sport in those games, but in 2006 the International Olympic Committee overruled that.3
The U.S. has won gold medals at every winter game.4
By the Numbers
In order to be included in the program, a sport or discipline must be practiced by at least 25 countries on three continents.4
The Winter Games have been hosted on three continents by 11 different countries. The winter games are generally limited to bids from countries in the northern hemisphere due to timing (February is the height of summer in the southern hemisphere).4
12 countries have sent athletes to every Winter Games: Austria, Canada, Finland, France, Great Britain, Hungary, Italy, Norway, Poland, Sweden, Switzerland and the U.S.4
Six of the above countries — Austria, Canada, Finland, Norway, Sweden and the U.S. — have earned medals at every one.4
References
1Leonhardt , M. (November 9, 2017). Winter Olympics 2018 ticket prices and costs: What to know. Retrieved January 17, 2018, from http://time.com/money/5013664/winter-olympics-2018-ticket-prices-costs/
2McCarthy, N. (August 4, 2016). The massive cost of hosting the Olympic Games. Retrieved January 17, 2018, from https://www.forbes.com/sites/niallmccarthy/2016/08/04/the-massive-cost-of-hosting-the-olympic-games-infographic/#117792e52e38
3Klein, C. (February 18, 2014). 10 things you may not know about the Winter Olympics. Retrieved January 17, 2018, from http://www.history.com/news/10-things-you-may-not-know-about-the-winter-olympics
4Wikipedia. (17 January 2018). Winter Olympic Games. Retrieved 17 January 2018, from https://en.wikipedia.org/wiki/Winter_Olympic_Games