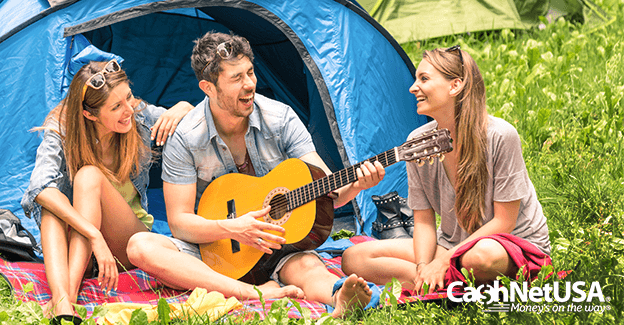 Planning a Frugal Camping Trip
Camping is inherently more frugal than most vacations you can take — you're skipping hotels and restaurants to sleep in a tent and cook your own food! Still, there are some expenses that can really add up, even if you're just headed to the woods for a couple of days. If you want to make sure you're getting the most bang for your buck, check out our infographic below for some ways to save on your next weekend camping trip!

Infographic Roundup
Infographic Roundup
Frugal Camping Tips
Location
Where you camp can have a big effect on how much it costs!
Save gas by camping near your house! Some destinations might be worth the extra miles, but check to see what options are nearby first.
State and National Parks have campsites with fees varying by season and amenities (e.g. water or electricity).
As long as you follow certain rules, you can camp for free in a National Forest. Be sure to check the dispersed camping guidelines on the Forest's webpage!
Gear
Camping gear can get pricey, but it's not something to skimp on if you want to stay warm and dry!
If you're willing to hunt, websites like Craigslist will often have gently used camping equipment for cheap or even free!
Outdoor equipment stores like REI will sometimes have members' sales where you can get big bargains on returned merchandise. If you don't have a membership, see if you have a friend who does!

Food and Drink
Being smart about your meals can mean the difference between a frugal and expensive trip!
If you're travelling with a group, split up cooking duties and plan communal meals. It's cheaper when one person cooks a meal for everyone than if everyone brings their own food.
You can put together a small mess kit for free by grabbing a few extra condiments and prepackaged cutlery when you're at fast food restaurants.
Before you pack your cooler, freeze all your drinking water. It will keep your food cold without needing to buy a lot of cubed ice, and you can drink it as it melts!